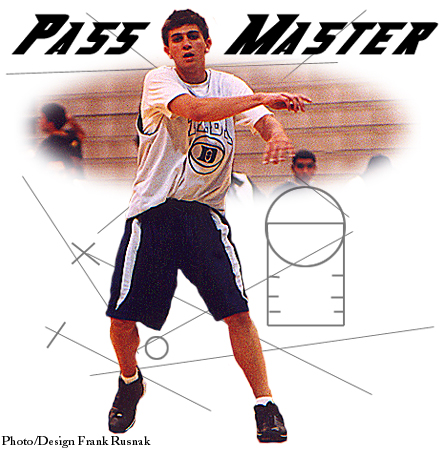 Rice-bound Jason Okrzesik of Fenwick is one of the state's finest passers.
Okrzesik to Rice
By Frank Rusnak
Shoosh, whip, wish. Over someone's shoulder. Another, this time taking off the opponents ear. It is called threading the needle, and recent Rice-committee Jason Okrzesik is a one of a kind seamstress.
A 6'1" point guard for Fenwick, Okrzesik averaged 13 points, six assists, five rebounds and two steals last year for a 21-5 team that fell in the second round of the state playoffs.
---
"I'd much rather have 12 assists than 25 points. I just love passing and doing something cool with the ball."
Jason Okrzesik
Fenwick
---
Friar coach John Quinn looks for the quick and crafty Okrzesik to lead his team to bigger and better things this year.
"It depends on how the new state arrangement works, but getting Downstate is definitely a goal of ours," said Quinn.
A four-year starter for Fenwick, Okrzesik is 123 points shy of becoming the school's fifth 1,000-point scorer in Quinn's 23 years at the Oak Park-based school. The other four are current NBA player Corey Maggette, current Ball State guard Chris Williams, Ad Kotowski (1993) and Ed Gad (1989).
Okrzesik has been the team's captain since the beginning of his junior year, which was voted on by his teammates.
"Jason's the standard barer for our team," added Quinn. "He's never missed a practice. He's only missed school a couple of times. He wants to be an all-state player and that's definitely something he's capable of doing."
While Quinn wants Okrzesik to be more vocal this year – he says that he usually lets his play do the talking – he compares his to a baseball hurler.
"He's like a baseball pitcher sometimes," said Quinn. "He can make a great pass one time down, but then he'll go and walk people, too. We've been after him with the walk count. He can really elevate his game though."
And the Rice Owls don't disagree.
"I just went there and loved it," Okrzesik said of the Houston, TX-based school. "The players and coaches treated me great. Just playing and talking with them that was the most important thing."
Also receiving interest from Western Michigan, Northern Illinois, Holy Cross, William & Mary and a large portion of the Ivy League, it is his passing ability and court awareness that turns people on to him.
"I'd much rather have 12 assists than 25 points," Okrzesik said. "I just love passing and doing something cool with the ball. I've watched a lot of basketball and I'm one of the best passers in the state. Ryan Paradise (Naperville Central), Charles Richardson (Proviso East), Andre White (Zion-Benton), I really like how they play, and I'm right up there."
With Okrzesik and 6'4" junior Vince Humphrey the only returning starters, Quinn expects his star point guard to take a different philosophy this season.
"Last year we had great balance," said Quinn. "Sometimes we'd have four or even five guys in double figures and that was in large part because of Jason. This year I expect him to be in the 18-20 point range each game. He can be the most explosive scorer when he wants, but doesn't always utilize it."
While his scoring might increase for his senior year, don't expect Okrzesik to become a stranger with the pass, because that's what he finds the most joy in doing.
"One time down the court I happened to call my teammates' attention and the ball was right there for him," said Okrzesik. "It's just a good feeling when you make a good pass and score; then everyone's happy, instead of me just scoring."


Copyright © 1999-2000
High School Elite, All rights reserved.