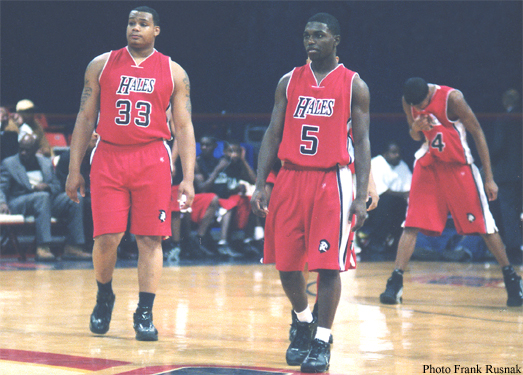 Nate Minnoy (33) returned to action Tuesday for Hales Franciscan. Mike Robinson (5),
Jeff Wilson (not pictured) and Minnoy led the Spartans in a victorious effort
with 21, 18 and 17 points respectively.

Robinson not a bad second option
--1-19-05--
By Frank Rusnak
When Hales Franciscan star Nate Minnoy sat out the first of his two-game suspension last Friday, the Spartans Mike Robinson set a career high with 33 points.
---
"Defense wins games and I'm the best defender in the state."
Mike Robinson
Hales Franciscan
senior guard
---
But all that satisfied Robinson was his team's victory. In fact, all the 6'2" senior ever wants is to win – at anything.
"Mike wants to win at whatever he does whether its checkers or basketball," Hales Franciscan coach Gary London said.
A third-year varsity player, Robinson plays the role of unsung hero on a Spartans team that features the strength of the Purdue-bound Minnoy and flamboyance of junior Jerome Randle.
"His competitiveness is the biggest strength to Mike's game," London said. "I've never been around someone as competitive as him. He doesn't want to lose at anything."
His competitiveness also extends to the defensive side of the ball, which Robinson calls one of his strengths.
"He's the first to raise his hand to guard the other team's best player," London said.
Self proclaimed as the state's top defender, Robinson held top-10 nationally rated guard Louis Williams from Georgia to six points at nationals with his summer team last year.
Robinson's acumen on defense assisted Hales Franciscan to a Class A state title in 2003 and he hopes to follow that up this season as the Spartans are off to a 14-4 start going into their match up with conference foe Loyola on Friday.
Most recently, Robinson led Hales with 21 points in a an 85-69 win Tuesday over De La Salle. In that game Minnoy, who confronted a fan in the bleachers at the Rich South Holiday tournament on Dec. 29, returned to action and scored 17 points.
"Defense wins games and I'm the best defender in the state," Robinson said. "But on offense, nobody can stop me when I'm having one of those games and catch fire."
Robinson has had several of 'those games' this year, going for 30 points against conference rival Brother Rice and again in the semifinals of the Big Dipper tournament against Rich Central.
Now Robinson hopes to prove to Division I scouts that he can play on their stage. Undersized for the shooting guard position on the next level, he has never been able to show any point guard abilities as he played behind current Idaho point guard Jerod Haynes and now Randle.
"The jury is out on whether he can play the point guard position for the next level, which is what he'll have to do at his size," London said. "He can in my mind. He just has never had to."


Copyright © 1999-2000
High School Elite, All rights reserved.