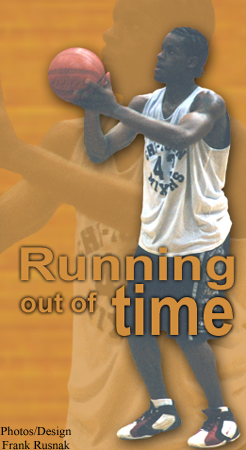 Tyrone Evans' senior season will end prematurely
because of a mistake when he was in eighth grade.

Running out of time
--1-8-05--
By Frank Rusnak
Tyrone Evans could do no wrong.
Here he was, an eighth grader asked to play with high school boys. He began as a sixth man on the freshmen B team, but was promoted almost immediately to start on the freshmen A team.
Now, almost four years later, Evans, a senior guard for East Aurora, knows he can do wrong – that he already did do wrong.
---
"They shouldn't have taken advantage of me like that."
Tyrone Evans
East Aurora senior
---
Evans is suspended for the second half of this season as he pays penance for what he did as an eighth grader when he used up his IHSA eligibility a semester early.
"Things were just moving fast but I was loving it," said Evans about his experience as an eighth grader. "Come on, you ask me to play ball and I'm going to say yeah. I was having a good time. There is no way I would've done it knowing what I know now though.
"They shouldn't have taken advantage of me like that."
In the second semester of Evans' eighth-grade year, he transferred to East Aurora's pilot program called Communities in Schools to try and accelerate his learning, said East Aurora coach Wendell Jeffries, who was not the coach at the time.
"At the time there were high school kids at the school, and (also) there were only 13 eighth graders at the school," Jeffries said. "When the freshmen coach went and asked if he could play on the freshmen team, the athletics director at the time looked on the computer and saw he was listed at that alternative school, which was a high school. It was a clerical error."
To show the IHSA that it was an honest mistake, Jeffries and East Aurora initiated the contact with the IHSA to let them know. When the IHSA was told, they ruled Evans could not play the second semester. After East Aurora got a lawyer for Evans, they took it to court, but to no avail. The IHSA also said the last two semesters must be connected, so he could only play the first semester of this season.
"I can't take my team Downstate," Evans said. "That's what every basketball player wants to do is take their team Downstate and I can't do that."
Averaging 24 points and five rebounds this year Evans was unsuccessful in guiding the Tomcats to their third consecutive year of winning their own Holiday Tournament. Despite that, Evans was still named the tournament MVP. He had a game-high 29 points in a 76-68 loss to Bolingbrook in the championship game.
Evans' last game will be against Hyde Park on Jan. 16 at the Dr. Martin Luther King Dream Classic Shootout at Whitney Young.
"It's unfair and he's been down about it," said Evans' teammate, senior guard Kevin Vinson. "But he just keeps telling us that we're going to have pick it up for next semester."
Evans will continue to practice with the team until the end of the year.
"I'm still trying to get college looks and help make my teammates get better," said Evans, who lists Akron, Ole Miss and Hutchinson (KS) Junior College as possible destinations for next year. "If I would've quit on them I would've sold them out. Kevin Vinson came up to me and just said, 'Don't quit, just play this half of year with me.' And when my half of year is over with I'm going to go on my college visits and have a good time."


Copyright © 1999-2000
High School Elite, All rights reserved.