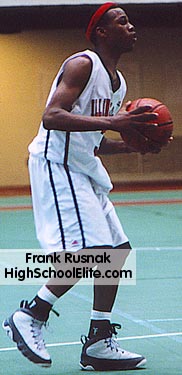 Foreman's Don Brown has scored
over 1,700 career points..

Foreman Donning a new role
--2-21-05--
By Frank Rusnak
Donald Brown wasn't supposed to play varsity as a freshman. It came as a surprise, and with two days to prepare, he was more nervous than he'd ever been.
"We didn't have any plans on playing him on varsity," said coach Terry Head, in his fifth season at Foreman. "Then one of our seniors ended up stealing some juice out of the cafeteria and I punished him and that's how Don ended up on varsity."
---
"In the Red you've got to be on your game and in the Green it's like whatever, really."
Donald Brown
Foreman senior guard
---
Getting the nod at guard, Brown has started every game since, leading the Hornets to three conference championships and a city title.
A 6'1" senior combo guard, Brown leads Foreman into the Class AA state playoffs, where his team holds a No. 4 seed in the Niles West Sectional.
Brown certainly has landed at the opposite end of the spectrum from when he first graced the halls of the North Side school.
In Head's first season, Foreman finished in last place in the Green North. In his freshman year, Brown hit the game-winning jump shot to beat Brooks in the Green Division city title game.
The next year, he brought his game to another level.
"As a sophomore he just carried us," Head said. "With him, we won the Blue Division."
The win sent Foreman into the Red North for the first time since 1993.
Now, sharing this year's Red North title with Von Steuben, Brown reflects on the years' past.
"The Green wasn't all that tough," he said. "I mean it was OK; but once you hit the Red it's some tough competition. It's a whole different ballgame. In the Red you've got to be on your game and in the Green it's like whatever, really. Looking back on it, it's kind of like a freshmen level game and the Red is like national AAU."
This season, he is averaging 25.6 points and has over 1,700 points during his career.
"And it's all within our offense," Head said. "He doesn't force many shots."
Outside of Brown, Foreman boasts an experienced team that includes fellow four-year varsity player Anthony Ross, seniors twins Bryon and Brian Smith and sophomore Jamill Harris.
As the Hornets get ready for the state playoffs with their first game on March 1, they hope to really open some eyes.


Copyright © 1999-2000
High School Elite, All rights reserved.