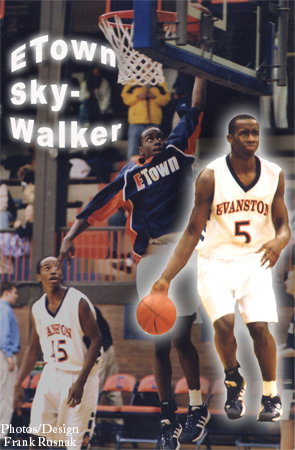 Evanston point guard Mike McKinney was second place
in the state dunk competition last year..
Northern Illinois Recruits
By Frank Rusnak
On Monday at the United Center, home of the Chicago Bulls, there was a coming-out party for a future star player.
---
"Mike is the best rebounding guard I've ever coached."
Paul Pryma
Evanston Coach
---
However, this player, while not far in age from this pubescent Bulls squad, isn't in the NBA.
Facing Chicago Hubbard in a super-sectional game, Mike McKinney posted 27 points and grabbed seven rebounds in guiding his Evanston team to the win.
A 6'3" senior, McKinney has signed with the Northern Illinois. Averaging 16 points for his 21-7 team, McKinney will guide Evanston into Peoria for a 12 p.m. game today against Belleville West in the Class AA state quarterfinals. Playing point guard, McKinney contributes more than just points and assists.
"Mike is the best rebounding guard I've ever coached," Evanston coach Paul Pryma said
Averaging nine rebounds a game, McKinney guides a starting lineup with five Division I players, a rarity for a high school team.
Beginning the year in preseason polls as a top 10 team, Evanston has underachieved this season, but is on a roll at the right time. If it defeats Belleville West, it would play at 11 a.m. on Saturday against the winner of Peoria Central and Chicago Von Steuben. If it wins that one, too, the Class AA Championship is at 8:15 p.m. Saturday.
For McKinney, times weren't always as good for him.
"Last year, he was ineligible for half the year," Pryma said. "He had a 1.99 grade point average, but we wouldn't let him play."
While Pryma holds his players to a more strict academic standard than what the IHSA does, McKinney had to miss about the first half of the season as a junior. But he has learned.
"I got my grades back in order," he said. "I don't want to let that happen again."
When McKinney begins play today, he will have support of his future teammate at NIU, Naperville Central's Ryan Paradise.
"I'm going down to see him play," Paradise said. "[Evanston] is on a roll, and he just came off a huge game."

Paradise is bliss
He wrote right-handed, threw and batted right-handed, kicked right-footed and shot a basketball right-handed. That all changed in fourth grade for Ryan Paradise.
---
"I was right-handed in everything I did. For whatever reason, I just started shooting left-handd in the fourth grade."
Ryan Paradise
Naperville Central Guard
---
"I was right-handed in everything I did," the 6-foot-1 Paradise said. "For whatever reason, I just started shooting left-handed in the fourth grade. When I look back, I don't know why I did it, but it just felt like it was smoother for me. Once I was able to do that from longer range, I became more accurate with that."
Being ambidextrous is just one part of what makes Paradise a special basketball player.
A sharp-shooting point guard, Paradise averaged 20 points, five rebounds and four assists for Naperville Central.
Paradise ended his prep career in a regional championship game against Naperville North earlier this month. He finished with 36 points and 12 rebounds in the game.
"Ryan works very hard and is a very intense player and a good leader," Naperville Central coach Bob Sterr said. "He's our best shooter, our best ball handler and just overall best player."
While Paradise is his team's go-to-player and only one expected to pursue basketball after high school, his career at Naperville Central has been tough at times.
The transfers that West Aurora has gotten in the past two years, Paradise understands.
"I don't blame anybody that goes to West Aurora," Paradise said. "I wouldn't say that he recruits, I think people just want to play with him. I play with what we got at Naperville."
His situation at Naperville Central got frustrating enough to where he was all but out the door. He was almost set to transfer to Downers Grove North and be with good friend Stephan Bolt and many other DGN players who grew up playing with. Then Steve Josyln, DGN's former coach, resigned.
"I was pretty close to transferring," Paradise said. "I thought about it pretty much everyday. I liked it when coaches cared about their kids, but when he resigned it wasn't going to happen."
Going into high school, Paradise nearly never even attended Naperville Central. He took the entrance exam for Oak Park Fenwick, along with Downers Grove South's star guard Brendan Mullins.
"The reason I was even thinking about going to Fenwick was the publicity that I thought I would get," Paradise said. "Naperville Central is really non-existent as far as basketball goes. Then, I figured if I am good enough, they will find me."
And the colleges did find the fundamentally-sound zone buster.
Paradise now works out with a personal trainer several times a week for about the past two years, which have helped sure-up his 185-pound frame.
"If he's got a fault, it's that he tries to carry everything himself," Sterr said. "But he is our best player and we ask a lot of him. He needs to lay everything out on the line and get us going, and he does."


Copyright © 1999-2000
High School Elite, All rights reserved.