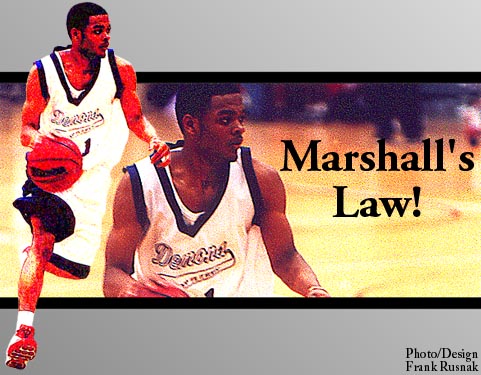 Carl Marshall is stuck behind higher profile players on a talented Crane team
and sometimes doesn't get credit for what he brings to the table.
Marshall guides Crane
By Frank Rusnak
His team won the city title, but that doesn't satisfy Carl Marshall.
Crane's Marshall, a 5'10" senior combo guard, can score bushels of points in a hurry for the 2003 City Champion Cougars. He isn't quite on the level of former Detroit Piston Vinny Johnson, nicknamed "the microwave," for his ability to heat up so quickly, but Marshall, who's known for routinely putting up 15 points in a quarter then going scoreless the rest of the game, definitely is deserving of a tag such as "the toaster."
---
"I would consider high school a disappointment if we don't win a state title this year."
Carl Marshall
Chicago Crane Guard
---
Marshall used his quick, cock and launch outside jumper to light up the United Center rims for 6-of-7 shooting on Feb. 22 en route to 23 points as Crane took down Julian 80-68. This gave the 25-0 Cougars their first city title since 1972.
Marshall and company aren't content though. They want more. And this year they have to prove it.
The first year the Chicago Public League Champion does not get an automatic berth to the Elite Eight, Crane, in the highly talented Whitney Young Sectional, will play the winner of St. Ignatius and Dunbar on Friday.
"I would consider high school a disappointment if we don't win a state title this year," Marshall said.
Not a small statement by any means. Especially for a four-year varsity player that got to the city championship game last season and is averaging 18 points, five assists, four rebounds and three steals for the most talented assembly of seniors on any one team in the state.
Along with Marshall, the starting lineup consists of 6'8" center Lorenzo "Zo" Thompson, 6'6" power forward Florentino "Tino" Valencia, 6'3" small forward Tremel Gilot and 5'11" combo guard Jamale Tidwell. Super freshman, 5'8" point guard Sherron Collins occasionally jumps in the starting lineup, as well.
With all that senior talent, one would think they would have a city title in each hand by now, especially with such recent graduates as Oklahoma State's Tony Allen and recent Arizona-Georgia Tech transfer Will Bynum.
"Everyone wasn't playing together and they were all out for themselves," said Marshall, about the former mentality at Crane. "We used to play no damn defense. One pass and then shot, it used to be crazy. They used to look out for their personal numbers. Now we just play together."
With two big guys down low to feed the ball to like Thompson and Valencia, and a skilled slasher from the wing in Gilot, Marshall needs to keep everyone happy. While Marshall isn't the loud and boisterous type such as Thompson and Valencia, and he doesn't have the dunking ability or flash to his game like Gilot, he often times rides in the backseat when awards are passed around, but his importance to the team is invaluable.
At the same time, he knows that, as the main outside threat, when he's hitting his three-point shot, it makes the game all the more easy for his teammates.
"If I don't score, the game is going to be close," Marshall said. "When I score, it opens the game up for Lorenzo and Tino. I think nobody in the state can beat us."
Crane coach Anthony Longstreet realizes the value of Marshall.
"He gives us a deadly outside shot and a very good player in transition," Longstreet said. "All of these guys on the team have been together for five years and they know their roles and he does a good job running the team."
When Longstreet says they've been together for five years, he refers to their days during the summer playing on the same AAU teams. After all, these five seniors didn't all start off at Crane.
Gilot transferred from Providence St. Mel and Marshall began at Prosser. Both saw what was capable of being accomplished if they came to Crane.
On the next level, it doesn't look like this quintet will be together. While Thompson is the only one who's decided where he wants to go (verbal commitment to DePaul), the others have scattered plans mapped out away from each other.
Marshall's plans are not so easily defined. He said he has a 2.6 GPA and scored an 18 on the ACT. That would qualify him for Division I next year. He has offers from Washington State and UTEP. He would love to play at Texas, the school of his role model T.J. Ford, but the Longhorns are not showing mutual interest. Another possibility is going to the same school as good friend and West Aurora guard Justin Cerasoli.
"Justin wants me to go to college with him," Marshall said.
One year his minor, Cerasoli is receiving interest from numerous high majors including North Carolina State, which Marshall hopes would show more interest in him. Another possibility he stated was to go to junior college for a year then transfer to a Division I school with Cerasoli.
While both are good friends off the court, Marshall has one objective for the rest of the season: to win a state title, and he wants that route to take him through West Aurora.
"I just can't wait to play West Aurora," Marshall said. "A lot of people are talking about how West can beat us. Tino is a man down there. He's a beast. I just don't think nobody can stop Zo and Tino down there together. And when we are hitting our jumpshots, nobody can beat us. It was a good moment winning City, but we don't want to be satisfied. We want to go Downstate and win that, too."


Copyright © 1999-2000
High School Elite, All rights reserved.