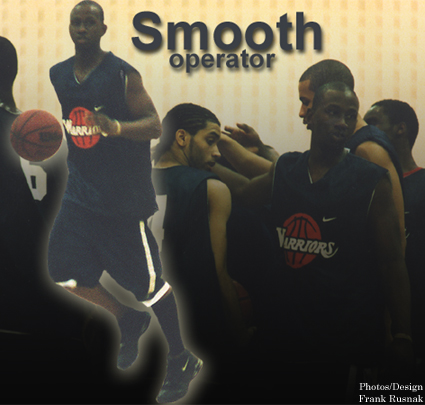 Senior Ray Nelson averaged 16 points during the Elite Eight in Peoria where
his Carbondale Terriers finished in second place to Glenbrook North.

State tournament notebook
--3-23-05--
By Frank Rusnak
Carbondale senior guard Ray Nelson has always been overshadowed throughout his career.
Up until this season, he played at tiny Class A Ullin Century. There he teamed with his cousin Josh Tabb, a Southern Illinois recruit.
---
"They always seem to know what the other one is going to do and have a really good relationship especially on the floor; they seeming to communicate without communicating."
Andy Palmer
Former Century coach
---
"They've played together since fourth or fifth grade on," said Andy Palmer, who coached Tabb and Nelson at Century before being relieved of his position last year. "They always seem to know what the other one is going to do and have a really good relationship especially on the floor; seeming to communicate without communicating. It's kind of a special thing there. Off the court they hang out quite a bit."
Teamed along Tabb, the defenses, press and everyone else focused away from Nelson. That is until last season, where, as a junior, Nelson took sole possession of the spotlight.
Tabb began Century's season missing the first seven games with a fractured left wrist. Input Nelson and watch his game explode.
"He took his game to another level," Palmer said. "He just carried us at times. He has such a huge heart. There were times he took the game over single-handedly. I told him when Josh comes back don't quite and he certainly didn't."
Nelson went on to garner first-team Class A all-state honors. He averaged 25 points, six rebounds and five assists while shooting 63 percent from the field.
Century ended with a 22-5 record and lost in the regional championship to Eldorado.
When Nelson and Tabb moved to Carbondale for their senior seasons, they both fell into the background giving up individualism for team. Their unselfishness ended Sunday with a second place finish at the Class AA state tournament.
At the center of the tournament run was the 6'2" Nelson, who averaged 16 points a game at the Elite Eight and garnered first-team all-tournament honors
Now, one of the state's top unsigned seniors he will look to again come from out of the shadows - at least in the recruiter's eyes.

Scorching Scheyer
Distinguishing himself as the top player in the state, Glenbrook North junior Jon Scheyer caught fire toward the end of the season.
His final four games he scored 134 points, including a 48-point outing to defeat Waukegan in the super sectionals.

All-tournament team
The first-team all-tournament squad was led by none other than Scheyer, the tournament MVP.
The rest of the first team consisted of Carbondale's Manual Cass and Ray Nelson, Downers Grove South's Bryan Mullins and Crane's Sherron Collins.

The second team had Glenbrook North's Sean Wallis, Brother Rice's Bobby Frasor, Carbondale's Josh Tabb and Downers Grove South's Elliot Engelmann and Rockford Jefferson's Robert Eppinger.

Playing for Coach
The Glenbrook North players played with added motivation at the state tournament.
They wanted to win for their coach, Dave Weber.
Weber and his older brother Bruce, the coach of the University of Illinois, lost their mother last week after undergoing surgery to repair a ruptured aorta.
"I think I cried about five times today," Dave Weber said after his team won the title. "This is just an an amazing situation to be in."

Making the trip a little late
Crane forward Tyrone Kent went to Peoria for the Elite Eight. Only problem is, he was a day late.
Kent, a 6'5" senior, had a good enough reason though. He underwent emergency appendectomy surgery in the middle of last week.
Even though his Cougars lost to Carbondale 78-55 on Friday, Kent still made the trip on Saturday to watch the action as a spectator after he was let out of the hospital.


Copyright © 1999-2000
High School Elite, All rights reserved.