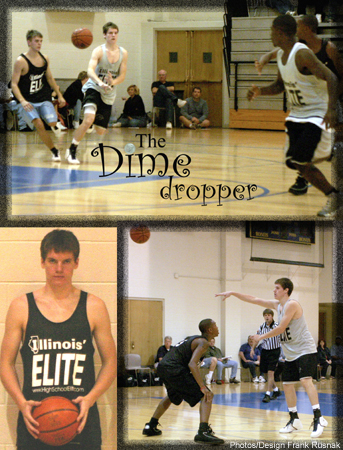 North Carolina-bound Bobby Frasor will watch his Tar Heels
take on Wisconsin today. His father, Bob, is a Badger alum.

Frasor feud
--3-27-05--
By Frank Rusnak
Maybe it's a good thing the players in the McDonald's All-American Game were asked to leave early.
If not, there would be no guarantees that this Easter Sunday would be argument-free at Bobby Frasor's house.
As North Carolina gets ready to tip of against Wisconsin today for a trip to the Final Four there are definitely some conflicting loyalties in the Frasor family.
Bobby Frasor, a 6'2" all-American guard, is committed to Roy Williams' North Carolina Tar Heels. His father, Bob, was a former captain for Wisconsin.
Bobby, who is in South Bend, Ind. for the 28th annual McDonald's All-American Game on Wednesday, helped Brother Rice to a 26-5 record and the school's first appearance at the Elite Eight where they lost in their first game to eventual champion Glenbrook North.
Bobby finished the season averaging 22 points, five rebounds, five assists and two steals. He was named the Lawless Award winner, as the top senior in the Catholic League.
Bob, who coached the last 27 years at Eisenhower High School, gave up coaching two years ago to watch his son play.


Copyright © 1999-2000
High School Elite, All rights reserved.