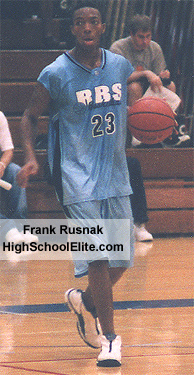 Neuqua Valley's Mike Rose is one
of the state's top unsigned seniors.

Rose blooming at Neuqua Valley
--3-4-05--
By Frank Rusnak
Neuqua Valley senior Mike Rose is called an all-state player by his coach, Todd Sutton. However, Rose likely won't receive many accolades saying such.
---
"It was a new atmosphere and I was just trying to fit in. It was just me being shy too"
Mike Rose
Neuqua Valley senior swingman
---
The 6'4" do-it-all type of player has flown under the radar this season for tragedy-struck Neuqua Valley.
Before the season, almost no one would've predicted the success Neuqua has had. But the Wildcats are 20-3 overall and in first place with an undefeated 11-0 mark in the Upstate Eight Conference. They have a No. 2 seed in the East Aurora Sectional behind West Aurora and hold legitimate Elite Eight aspirations.
Projected starting center Roosevelt Jones died in a preseason pickup game because of a heat condition, hypertrophic cardiomyopathy. Then Eastern Illinois-bound forward Billy Parrish (torn ACL) and super sophomore Jon Rice (two fractured vertebrae in his back) went down with season-ending injuries.
Rose has risen above all the adversity and flown beyond all personal expectations bestowed upon him when he moved to Illinois as a shy role player last year.
In only his second season at Neuqua, Rose is originally from New Mandrid, Missouri. When he came into the Naperville school last year, he definitely took a watch-and-see mentality with the team.
With current William & Mary freshman Kyle Carrabine running the team and Parrish, who was already a varsity veteran, Rose stood in the shadows waiting for his turn.
"They were new people to me," Rose said. "It was a new atmosphere and I was just trying to fit in. I didn't come out and try and do everything because I was new. Then I got comfortable and started playing my game. It was just me being shy too."
This season, his turn has come.
He is averaging 20 points and eight rebounds while assaulting opponents with his long arms, speed in the passing lanes and all-around game.
He is getting recruiting interest "from coast to coast," Sutton said. Rose lists Washington State, Boston University and Eastern Illinois, where he again could team with Parrish.
"That would be nice to be with Billy," Rose said. "I met him last year but we have become real close just playing together. He's more of a 3-4 man and college wise I'd probably be more of a 1-2."
Before he decides on a college, Rose has some other business to tend to.
"We are just trying to get to State, of course," he said. "We know there are going to be some tough teams ahead, but we are working on all of our weaknesses."
Update: Neuqua Valley was upset March 4 by Naperville Central, ending its Elite Eight hopes.


Copyright © 1999-2000
High School Elite, All rights reserved.