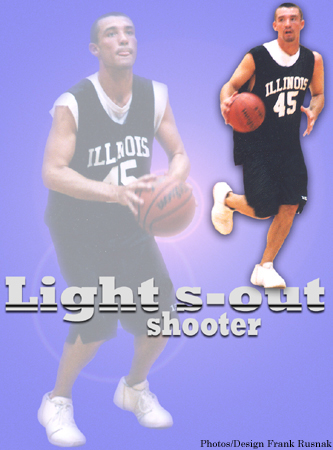 Bloomington's Brandon Holtz finished third
in the Class AA three-point showdown.

From way downtown, bang
--4-13-05--
By Frank Rusnak
With a combination of the splash of the net after his shot, grit of his teeth on defense and hours of hard work put into his game, Bloomington guard Brandon Holtz is the ideal high school player. Or, so says his coach Ron Rose.
"He's a high school coach's dream," Rose said. "He's the first one to practice and the last to leave; nobody works harder. He has great balance, quick release and great bounce, which is what you notice on all great shooters. You're almost surprised when it doesn't go in."
---
"I'm going to go at you on the basketball court."
Brandon Holtz
Bloomington Guard
---
A four-year varsity player, Holtz established himself as one of the state's finest shooters.
Advancing to Peoria to shoot in the finals, he finished third in the state's Class AA three-point showdown. Holtz's performance at the Peoria Civic Center -- home court of Bradley -- was only the start of what he'll be displaying there for four years to come when he competes in the Missouri Valley Conference against Bradley's rival, Illinois State.
"I know I can shoot it and I work hard," Holtz said. "I'm going to go at you on the basketball court. It's a great opportunity at Illinois State. Their three top guards are all leaving."
ISU's three-guard starting lineup of seniors Vince Greene, Trey Guidry and Gregg Alexander are all graduating, leaving an opening for Holtz and Bloomington teammate Dodie Dunson to make their presence felt.
Longtime teammates, Holtz and Dunson, both will take their backcourt act to ISU in hopes of having more postseason success than what they had with Bloomington.
This season ended just as last, with a disappointing bow out early in the playoffs. The Purple Raiders began the last two years with high expectations, a bevy of talent and all the materials to make a deep run in the playoffs. Despite returning 12 of their 14 players this season, it wasn't meant to be.
With his backcourt buddy, Dunson, there to assist him, Holtz ended the season averaging 20 points, five rebounds and four assists.
"He always competes and he's ready for the ball all the time," Dunson said.
Before they take off to ISU, Holtz and Dunson will take part in the June 25 Illinois Basketball Coaches Association (IBCA) All-Star Game at nearby Illinois Wesleyan's Shirk Center.

Illinois Basketball Coaches Association All-Star Game

Class AA North All-Stars
Class AA South All-Stars
Jerel McNeal - Hillcrest
Tony Freeman - St. Joseph
Mike Kolze - Lake Zurich
Maurice Acker - Hillcrest
Bobby Frasor - Brother Rice
Julian Wright - Homewood-Flossmoor
DeAndre Thomas - Chicago Westinghouse
Bryan Mullins - Downers Grove South
Tyrone Kent - Chicago Crane
Phillip Perry - Proviso East
Sead Odzic - Niles West
Matt Rogers - Rochelle
Adam Gregoriau - Brother Rice
Adam Powers - Lyons Township
Mike Rose - Neuqua Valley
Mason Stewart - Waubonsie Valley
Tyrone Evans (alternate) - East Aurora
Ryan Sharp (alternate) - Plainfield Central
Robert Strezmp (alternate) - Oak Park
Will Meister (alternate) - Conant
Brandon Ewing (alternate) - Julian
Eric Palm (alternate) - Harlem
Grant Surpurenant (alternate) - Palatine
Head Coach: John Quinn, Fenwick
Jarmar Smith - Peoria Richwoods
Chris Kellerman - O'Fallon
Josh Tabb - Carbondale
Ray Nelson - Carbondale
DeAndre Miranda - Peoria Central
Brandon Holtz - Bloomington
Dodie Dunson - Bloomington
Lorenzo Taylor - Alton
Nick Arth - Edwardsville
Drew Gensler - Mt. Zion
Jason Kvitle - Quincy
Matt Bone - Collinsville
Teddy Toliver - Springfield Southeast
Jordan Morris - Pekin
Chris Drennan - Normal Community
Kyle Myers (alternate) - Pekin
Michael DeWalt (alternate) - Carbondale
Jon Harmsen (alternate) - Lincoln
Pete Smidt (alternate) - Morton
Matt Reynolds (alternate) - Limestone
Head Coach: Steve Schupp, Morton
Class A North All-Stars
Class A South All-Stars
A.J. Eeten - Eureka
Nate Minnoy - Hales Franciscan
Mike Robinson - Hales Franciscan
Jeff Wilson - Hales Franciscan
Jeff Robinson - Lisle
David Phillips - Chicago Hope
Lance Young - Rock Island Alleman
Dan Kieres - Northridge
Ryan Burks - Midwest Central
Jeramiah Box - Rockford Christian Life
Ryan Martz - Lanark
Skyler McKinley - Carthage
Eric Klingenberg - Richmond-Burton
Greg Sieple - Farmington
Bob McCormick - Francis Parker
Jeff Wethersby - St. Anne
Chris Smock - Ridgeview
Tom Schneiger (alternate) - Lexington
Preston Jones (alternate) - Bureau Valley
Kyle Nelson (alternate) - Delavan
Felix Thurman (alternate) - St. Anne
Head Coach: Dan Sullivan, Princeville
Shaun Emerick - Quincy Notre Dame
Mark Gillingham - Carrollton
Kevin Lisch - Belleville Althoff
Sean Knox - North Greene
Derek Sloan - Galatia
Adam Eggemeyer - Steeleville
Ray Kissing - Crab Orchard
Drew McCool - Moroa Forsyth
Mason Woodside - Pinckneyville
Ken Detmer - Breese Central
Brent Ruch - Blue Ridge
Ryan Lake - Breese Mater Dei
Kyle Oldham - Gallatin County
Coy Bainter - Barry
Chas McFarland - Lovington
Tony Martin (alternate) - Nokomis
Matt Koger (alternate) - Riverton
Joe Starnes (alternate) - Liberty
Brent Owen (alternate) - Chrisman
Joey Ullery (alternate) - Webber Township
Ryan Patton (alternate) - West Frankfort
Lucas Stanford (alternate) - Flora
Mitch Ade (alternate) - Pana
Head Coach: Steve Kimbro, Nokomis
Rosters courtesy of www.ibca-il.org


Copyright © 1999-2000
High School Elite, All rights reserved.