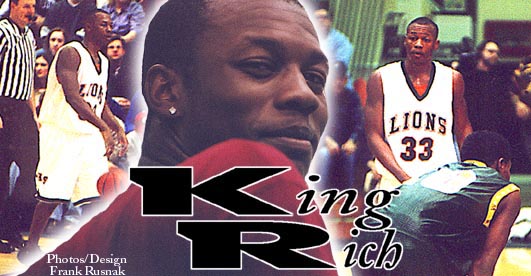 A longtime University of Illinois fan, Springfield Lanphier's Richard McBride
made a dream come true when he committed to the Illini.
Ruler of his Castle
By Frank Rusnak
A king usually doesn't prefer to veer too far from his castle, and the case of Springfield's King isn't much different.
That is why on Thursday, June 13, Springfield Lanphier's 3-year varsity starter Richard McBride chose to commit to the University of Illinois in nearby Champaign.
---
"He's been hurt with his elbow, but he's not the type of guy to make excuses."
Verdell Jones
McBride's AAU Coach
---
"This is what I wanted, what my family wanted and basically what everybody around me wanted, to stay close to home. So this was a pretty easy decision," explained McBride, who passed up on schools such as Indiana, Connecticut, Cincinnati, Memphis Louisville, Kentucky and Michigan State. "They didn't want me to leave them and they wanted to watch me play.
Wanting to be with the Illini since his younger days, his success on the court since his freshman year forced Illinois and then current head coach Lon Krueger to show mutual interest in King Rich, as McBride is called by friends.
Coming into Lanphier, there were many doubters when Lion's head coach Craig Patton put the ball into McBride's hands as the starting point guard. And the doubting was even starting to rub off on the rookie, as he deferred to the elder statesmen on the team and took a back-seat. That is, however, until two starters went down early in the year with injuries and the opportunity to shine presented itself to McBride.
"A couple of our star players got hurt, then our coach asked me to step up my game," remembers McBride.
Not one to let down his coach, McBride performed with far greater maturity than any freshmen, as he proclaimed himself to be the team's leader on offense. And when the injured players came back, McBride was unwilling to give up his role on the team, as he developed too much confidence from his coach and from proving his worth in practice with the rest of the team. He finished the year with a 14 point per game average, good enough to make all-conference and finish third in Central State Eight Player of the Year voting.
For McBride to do what he did at Lanphier as a freshman was no small feat. Realize that Lanphier is not a small country town that brings up any freshman that shows a rare glimpse of promise. It is a relatively large AA school (pop. 1,300) that didn't allow this year's Arizona-bound All-American Andre Iguodala a shot at varsity until his junior season.
It did help that McBride came into high school with body fitting more of a man past his teens. Entering high school 6'3" -- which is his current height -- he was a solidly built 185 pounds.
For his sophomore year, McBride had a big time running-mate with the aforementioned Iguodala coming into his own. While Iguodala took over the lead guard duties, McBride slid over to the shooting guard position. Feeling comfortable at the two-guard spot, McBride flourished as the conference POY and High School Elite Second Team All-State honors with a 17 point per game average. His team finished the year with a 25-4 record, but fell short of its ultimate goal of advancing Downstate to the Elite Eight, as they were ousted in the sectional finals by a talented Mt. Zion team that had three Division One seniors.
In his junior season, Springfield had big goals for its Lions after such a successful season and returning its two star players. Lanphier didn't let its fans down.
Throughout most of the season, Lanphier stood atop the team rankings from throughout the state and had a mere two dents on a 30-win season. Rolling through the playoffs, the only roadblock that McBride and company found was in the Class AA State Title Game against Chicago Westinghouse, whom they defeated earlier in the year at the Pekin Holiday Tournament.
Loosing narrowly, 76-72, McBride did all he could to bring his team back after a 32-18 first-half deficit that looked insurmountable. Finishing with 22 points, 11 rebounds and four assists, he torched the nets for six second-half 3-pointers.
While it wasn't enough, McBride has not lost hope on getting just as far -- if not farther -- for his senior year, despite losing three starters. And why shouldn't he?
In the course of three seasons at Lanphier, he has accumulated an 81-11 mark while starting all varsity games for his team, and he just finished a season that saw him average 18 points, five rebounds and four assists while shooting 49-percent from the floor and 43-percent from beyond the arc.
"I'm not worried about the individual stuff this year," said McBride, who gets ready for games by going home and taking a nap. "Anything less than a return trip to State is a disappointment to me. All we've got to do is play hard. We are going to be a little deeper and quicker, so our press should be able to work way better than this year, and I think that was a major reason why we did so well this past year."
This summer when McBride isn't taking summer courses looking to improve his GPA (he has not taken the ACT yet), he is performing with the Ft. Sooy No Limit AAU team.
In its first year on the national AAU circuit, Ft. Sooy, not represented by a shoe company, has ran through the competition while being crowned champs of the Spiece tournament in Fort Wayne, IN on May 3-5. While the current 205-pound McBride has contributed to the success, he has not been at 100-percent according to his AAU coach Verdell Jones.
"He's been hurt with his elbow, but he's not the type of guy to make excuses," said Jones referring to McBride's injury in the beginning of May at the Kentucky Hoop Star Classic when he bumped his elbow and it swelled on him. "It was a nerve on his elbow, his arm felt really heavy and he wasn't able to extend on his shot or anything. He just needed some time for it to heal. But he's assured me that he's healthy now and he's going to have a blockbuster July."
McBride will need to be ready for what looks to be a busy summer with the 3-Stripes Camp in New York, the Adidas Big Time in Las Vegas, the Colorado Springs USA Hoop Festival and the Adidas ABCD Camp in New Jersey.
"I think Rich has really been a stabling force for us," continued Jones. "He's so good and solid; he has the ability to take over when we need him to. Whatever needs to be done out of him, he'll do it."
You'd expect nothing less of a king.


Copyright © 1999-2000
High School Elite, All rights reserved.