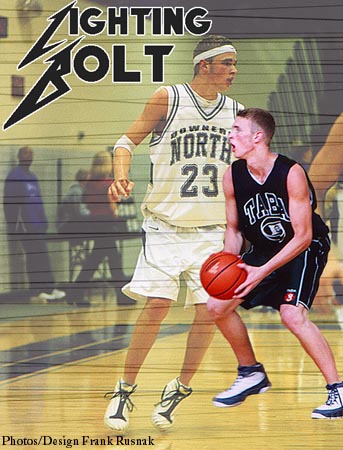 Former Downers Grove North forward Stephan Bolt,
averaged 21 points and 10 rebounds a game his senior year.

Wing Forwards: Stephan Bolt
By Frank Rusnak
The varsity career for former Downers Grove North star Stephan Bolt began about as smooth as a jeep ride on an African safari.
The 6'5" then-sophomore had big dreams of starting on the varsity along with a talented cast of seniors for the Trojans. That is until he tore cartilage in his knee. He came back from the injury too early and had reoccurring problems the entire season before he finally decided to give up on his sophomore season.
---
"It was just a nasty year. I worked so hard to make varsity my sophomore year and I could've started."
Stephan Bolt
Downers Grove North H.S.
---
"It was just a nasty year," recalled Bolt, now signed with Lipscomb University. "I worked so hard to make varsity my sophomore year and I could've started. Then I got my knee drained eight times during the season and finally I just couldn't go on and had arthroscopic surgery."
Using the unfortunate situation to pave the way for his future, the rehabilitation process inspired Bolt to pursue a career in physical therapy -- a large reason he choose Lipscomb.
"That's pretty much the thing that I look back on that got me interested in physical therapy," said Bolt, of his recovery time at the Orthosport facility in Downers Grove. "The people that helped me out were awesome. I want to go to Grad School for physical therapy and they've got a very high acceptance rate for that. That was a big plus."
While Bolt has his vision steered straight down the road of academia for college, it is basketball that is guiding his journey to the Division I university in the Atlantic Sun Conference.
After DGN went on to a 26-3 record his sophomore year, powered by current University of Illinois athletes 6'2" Kyle Kleckner (football) and 6'8" Andy Sigerich (baseball), Bolt made up for his sidelined season.
While the Trojans went on to have two barely .500 seasons (16-13 and 14-13), Bolt was the driving force for his team.
With an outside jumpshot that can catch fire quicker than a chain smoker pumping gas and the tenacity of a wild lion attacking its prey, few could stop him when he got going.
"His versatility, his desire and his enthusiasm are what separate him," said DGN coach James Haack. "He's a hard worker and he wants to win more than anybody. But he knows about preparing to win, too. He doesn't think you can just step on the floor and just win. You've got to work hard and he works very hard in practice. He's versatile, can knock down the three and take you inside. He's tough."
Preparing to win and working hard while preparing are things Bolt has done very hard his entire career, but, looking back, he realizes more could always be done.
"If anything, if I could go back and do anything over again, everyone thinks they work hard at the time, but I'd just go back and work that much harder," Bolt said. "You can always work harder and I would just go over the edge that much more."
Division I-bound Wing Forwards

| | | | |
| --- | --- | --- | --- |
| Ht. | Player | High School | College |
| 6'6" | Nick Brooks | Robinson | Butler (IN) |
| 6'7" | Marcus Heard | Springfield Southeast | DePaul |
| 6'8" | Brian Randle | Peoria Notre Dame | Illinois |
| 6'5" | Ben Rand | Rochelle | Iowa |
| 6'5" | Stephan Bolt | Downers Grove North | Lipscomb (TN) |
| 6'5" | DeWitt Scott | Chicago Whitney Young | Maryland Eastern Shore |
| 6'7" | Michael Rudoy | Latin | Princeton |
| 6'7" | Josh Lawrence | Ashton-Franklin Center | Wisconsin-Green Bay |
| 6'5" | Craig Anderson | Prospect | Youngstown State (OH) |


Copyright © 1999-2000
High School Elite, All rights reserved.