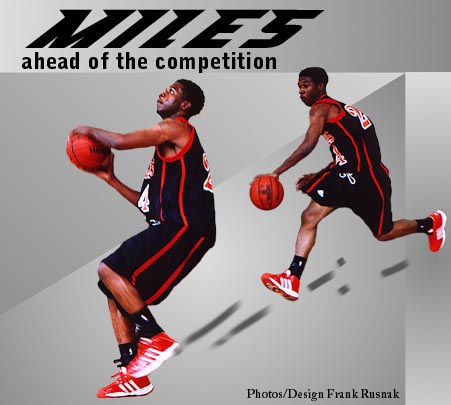 Valparaiso-bound Jimmie Miles almost decided to transfer to Rich Central,
but now will stay at Homewood Christian Academy for his senior year.
Miles staying put
By Frank Rusnak
Attending tiny Homewood Christian Academy since his eighth grade year, Jimmie Miles is used to small numbers. But the numbers decreased so much for the basketball team this year that the possibility for not having a team was a realistic one, as well was a transfer for Miles.
A 6'3"combo guard committed to Valparaiso, Miles was almost out the door at the end of the summer to register at the nearest public school to his house, Rich Central.
"I was going to go up to Rich Central at one point, but my mom talked to the coach at Homewood (Steve Shonamon) and he said we were still having team."
---
"I was going to go up to Rich Central at one point, but my mom talked to the coach at Homewood (Steve Shonamon) and he said we were still having a team."
Jimmie Miles
Homewood Christian Academy
---
With only three seniors graduating, the problem came when the transfer-gates were opened at the small kindergarten through 12th grade school.
Starters on last year's team, along with Miles and current Notre Dame freshman Ricky Cornett, were Patrick Ivy (6'6" combo forward), Adam Robertson (5'7" point guard) and Alex Fudge (6'1" swingman). The team took a blow when Ivy and Robertson decided to transfer to Rich Central and Fudge left for Rich East.
"I just wanted to experience a different atmospheres and help take my team Downstate," said Ivy. "[Adam and I] bring leadership and experience to Rich Central."
While Homewood Christian won the Illinois Christian Schools' Championship last year and came in third nationally in Pennsylvania, they were unable to compete for an Illinois State Title. The Eagles have an enrollment that would place them in the Class A division of the IHSA, but, while they are approved by the IHSA, they are not a member school.
For Miles, he will now be the lone starter returning on a team that had very little depth.
"I'm not worried about Jimmie," added Ivy. "Now he can work on his all-around game. Jimmie is always going to shine, just because that's Jimmie."
Averaging 25 points, six rebounds, six assists and four steals last season, Miles' all-around game isn't to bad to begin with. Equally capable of setting the gym ablaze with an on-target jumper or getting to the hoop with a quick first step, what Miles does to defenders is abominable.
Performing at a high level all summer with the Illinois Fire AAU team, Miles has wanted to stay loyal to his school.
"I wanted to stay here as long as we were having a team," said Miles. "It's a small school so when you need help you can get a lot of help, so that's one reason. The teachers are real nice and I guess because people think you don't get good looks coming out of a small school, but just because your at a small school doesn't mean you don't have talent."
Staying with the Christian School theme, Miles is looking forward to his future at Valparaiso. Since his pledge to the school, former head coach Homer Drew abdicated his position, but Miles is still firm with his verbal commitment now that Homer's son, and assistant for eight years, Scott has taken the job.
While Homewood Christian defeated its opponents last year by an average of 20 points a game, Miles realizes that this year won't come as easy.
"I just want to improve on my game this year, play hard and I want to win state this year," said Miles, which would bring the Eagles' their fourth Christian Schools title in as many years. "Any game is going to be a good game, no more blowouts."
Somehow, you get the feeling that with Miles running the team, blowouts will not vanish completely.


Copyright © 1999-2000
High School Elite, All rights reserved.