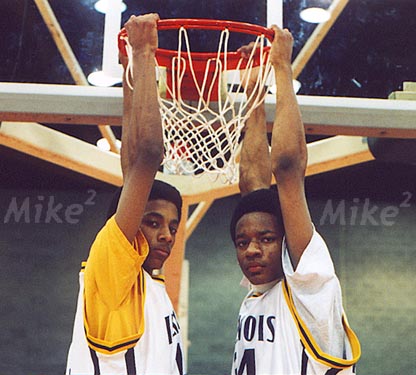 Mike Smith (left) and Mike Hall combine for a formidable duo
Shepard on a Roll
By Frank Rusnak
Tradition, it's what the SICA East Conference is based on.
With such storied teams as Thornton, Thornridge and Homewood-Floosmoor and talked about past players as Melvin Ely, Quinn Buckner and Sam Mack, the south suburban based conference has one of the most tradition-rich pasts in the entire state.
When the players on the SICA East's Shepard Astros team take the floor, they as well look to their team's tradition for confidence and inspiration, right? Looking at the Astros first accomplished goal of the season, that couldn't be further from the truth.
In a 67-56 "upset" win over Bloom two weeks ago, Shepard ended a 46-game conference losing streak dating back four and a half years.
Despite handing Bloom their first lose of the season and the ridiculous breaking of the streak, this game was mistakenly called an "upset" by a local newspaper.
With a junior dominated team, Shepard proceeded to knock off that very same Bloom team for a second time in the Big Dipper Holiday Tournament. In addition, the Astros went on to win the talent-laden tournament outright.
At the middle class Palos Hills School, Shepard has all the ingredients for success. You ask for size and third year Head Coach Tony Chiuccariello points to the wide-bodied, 6'1" football tailback and 3-year varsity player Jon Cleveland. You ask for speed and Chiuccariello swings his finger at the blistering quick point guard, Lorenzo Yelder, sprinting baseline to baseline quicker than Shawn Bradley through a buffet line. But the recipe is not complete without some special sauce and a little seasoning for some flair. For that, Chiuccariello puts his arms around his two prized players, Mike Hall and Mike Smith.
"They are a very important part of the team," said Chiuccariello. "Mike Hall does a super job on the boards and away from the ball defending, battling in the post and he can score. Mike Smith is a very good scorer. He can shot the 3's, penetrate and score off the dribble. Also, in particular, a good offensive rebounder."
---
"I looked at the tournament's program and I wasn't even one of the people they had to look out for, so it feels good that I proved that I could play good and consistent."
Mike Smith
Big Dipper MVP
---
Mike Squared, as they are referred to by their buddies, are the best of friends and have been ever since they met each other at the start of high school.
"We just met in high school, going into the freshman season at summer camp, and then got real cool during the summer and playing ball together," said the 6'2" junior, Smith.
Mike Squared both admit that it was tough when they were starting off at Shepard because all they heard about were the negatives of Shepard's past and their four straight years of 0-10 seasons in conference play.
"I wasn't excited when I first went here because all I heard about was us losing and everyone was always talking about how much they are losing, but when you get on the court you have everything to prove and nothing to lose," Smith said.
Despite their positive attitudes, times were rough for both Smith and Hall as they started off on the freshmen team. But the next year they would see a big change of scenery, skipping the sophomore team and heading straight to the varsity.
"I have to give them some credit," said Chiuccariello, "they made a nice impact. Their minutes started to get big at the end of the season." Fortunately, both of them had proper guidance to introduce them to their varsity surroundings.
Smith's older brother, Ray, at the time was the team's senior captain and starting point guard. "My brother really helped me out on the team last year and showed me the ropes on my first year of varsity," said the younger Smith. Hall would seek direction from his next door neighbor, who happened to be a star post player for the Sectional qualifying Brother Rice team. "That's where I got all my game from, because he was bigger and stronger and he made me step up my game," said Hall about the current Barat College star Sidney Holmes.
With last year's conference behemoths of 6'8" T.J. Cummings (Homewood-Floosmoor), 7'0" Chris Alexander (Thornton), 65" Phil Alexander (Bloom) and 6'10" Eddy Curry (Thornwood) who also returns this season, Mike Squared had to be ready for what would be a grueling test.
"It was tough at the beginning because it would make us look bad because we were going against the top people," said the now 6'7" junior, Hall, who had to battle against players bigger and stronger than him. "But it's also an advantage because from playing against the top teams we are getting so much better, so that when it is our time to shine we could show everyone that we got game too."
In the Big Dipper, the Astros showed all that and more, sneaking up on everyone and capturing the title. With his stellar play, Smith was named the tournament MVP. "I looked in the tournament's program and I wasn't even one of the people that they had to look out for, so it feels good that I proved that I could play good and consistent."
Hall looks at the Big Dipper Title as just another step in achieving their ultimate goal. "I think the biggest thing we got from the Big Dipper is confidence, because now we think we can play with anyone," Hall said. "I think we could win the state championship next year."
With Coach Chiuccariello wanting his team to concentrate on the year at hand, 6'5" wing player Brian Nieverra provides the leadership for Shepard as he is the only senior receiving significant minutes. Also, with 6'9" wide-shouldered Reggie George scheduled to come back any day from a stress fracture in his right foot the Astros' future is only looking brighter.
The way things are going for Mike Squared and their Astros, teams better awaken from their days when they were able to walk over Shepard, or else there could be a lot more "upsets" in their horizon.
Copyright © 1999-2000
High School Elite, All rights reserved.