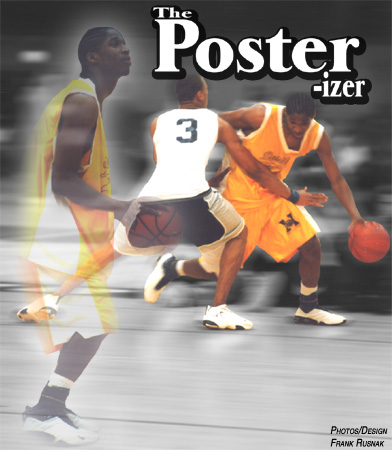 Q & A with Darron Evans
Darron Evans is a 6'6" 183 pound senior forward with extreme athleticism which includes a 34 inch vertical and wing span fit better for a jet airplane. Darron has been through some hard times, including his transfer after his sophomore year at Chicago De La Salle High School to Providence St. Mel and the complications that existed with that. However, Darron looks to be back in control of things. Headed to Indiana State on a full athletic scholarship, Darron would first like to make a stop in Peoria to help lead his Knights to the Illinois High School Class A title.
Elite:What was your reason for leaving Chicago De La Salle High School? Darron:It was basically financial reasons. My family couldn't afford to pay that tuition and my sisters at the same time.
---
"I just want to tell people not to sleep on St. Mel. We are going through some tough times, but we'll be ready."
Darron Evans
---
Elite:What happened when you guys had to forfeit all of your games last year in the playoffs at St. Mel? Darron:I owned De La Salle a lot of money and when they sent the papers to the principal for everything to be cool, he wouldn't sign them. My ex coach (Tom White) felt like I was recruited illegally, so I guess this was his way at getting back at Coach [Billy] Garrett (now at Sienna). I hope it's all past now. I've been there a few times this year supporting my friends.

Elite:Has your St. Mel team forgotten what happened last March? Darron:It's not forgotten that our season was taken away from us and we are using it as a motivational factor this year.

Elite:Are you happy with the way the season has gone thus far for St. Mel? Darron:I don't want to say disappointing but we really haven't had a chance to all play together (with Levar Seals out with a broken leg). When Levar comes back we should be ready for playoff time.

Elite:What are your chances of winning the state title for Class A? Darron:Very good. If we play up to our potential than we should have a real good shot. I just want to tell people not to sleep on St. Mel. We are going through some tough times, but we'll be ready.

Elite:Why did you choose to commit to Indiana State? Darron:I felt real comfortable around the players and I like the arena. I heard when they win a game the whole town basically shuts down and I like that kind of excitement about basketball.

Elite:Is there any chance of you redshirting your freshman year? Darron:Yes, I'm still debating on that right now. I'm going to see how the summer goes. If I get bigger and better than I probably won't redshirt, but it is still a realistic option.

Elite:What are the strengths to your game? Darron:I would just have to say because I'm playing the 4 and 5 position (power forward and center), quickness, speed, rebounding and playing defense.

Elite:And how about the weaknesses? Darron:Weakness right now for me is mental. Going out there and playing hard and playing good every game.

Elite:What are your grades and have you qualified? Darron:2.6 GPA and 17 on the ACT.

Elite:What is something about your game that not a lot of people are aware of? Darron:Probably me offensively. People know I could run and block shots and stuff, but they don't know my total package offensively.

Elite:How tall are your parents? Darron:Father is 6'1", Mom 5'10", Sister is 12 years old and already 6'0".

Elite:What is something about you off the court that not a lot of people know about? Darron:I'm really just like everybody else, just like to go out and have fun with teammates and friends. Having fun and being young.
Copyright © 1999-2000
High School Elite, All rights reserved.