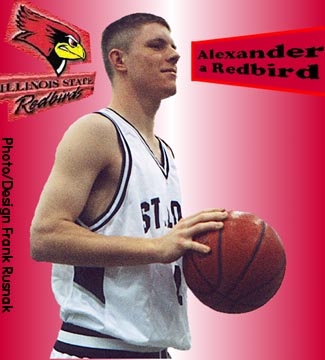 Alexander will bring his sharpshooting to Normal
News & Notes
Gregg Alexander, Lincoln's 6'4" sharpshooter has accepted a full athletic scholarship from Illinois State. Gregg's dad, Neil, is the head coach for Lincoln High School. Last season Alexander was his conference's leading scorer and Player of the Year in the Central State 8. Currently, Alexander is averaging 22 points, 5.6 rebounds and 3.8 assists this season for the Railsplitters. Teaming with University of Illinois' Brian Cook two year's ago at Lincoln, they helped guide the team downstate to the state finals. A quick shooting guard, Gregg has a shotgun release and has improved his lateral quickness this past summer playing AAU basketball with the St. Louis Eagles.


When Gregg Alexander jumped on the scholarship offered to him from Illinois State, that left Lockport's Kevin Troc in an awkward position. Kevin was being recruited by the Redbirds and was infatuated with their program, but playing the same position as Gregg, Troc was left out of the picture. However, after an unusual agreement was worked out, Kevin was fit back into the Illinois State picture. A 6'4" guard, Troc will attend ISU next year on a non-scholarship basis, then as a sophomore and thereafter he is expected to garner a scholarship with the team. A starter since his freshman year at Lockport, Troc has virtually played every single minute of every single game for Lockport, which shows his importance to the program. With lack of talent at the point guard position, it is not unusual for Kevin to be asked to run the point for the Porters. Kevin is also a star on the baseball diamonds at Lockport.


Where do you start with Galesburg's Jordan Watson? He was 7th Place at state in track (4x200), National Honor Society, Spanish National Honor Society, Student Council Vice-President, attended National Student Leadership Conference in Washington, D.C. and is the owner of a 22 on his ACT while maintaining a 3.9 GPA. All of that is just off the court for the 6'3" 185 pound senior guard. On the court, he is averaging 19 points, 7 rebounds, 4 assists and 2.5 steals for a solid Galesburg team. For his efforts he will be headed to the University of Evansville next year. "As a 3 year varsity starter, he brings good experience and the ability to pull out games at crunch time," said Galesburg Coach Geoff Falk. "He has shown the ability to affect the outcome of games on both the offensive and defensive ends of the court. Teams have to be worried about him offensively but can't concentrate too much on him because we have other players who can score and Jordan will find the open man if he gets double-teamed. He is able to score on most guys in a one-on-one situation, so it can cause our opponents some match-up problems. Each game, he is looking more and more like the solid Division I player that Evansville is anticipating."


A 6'8" power forward, Brandon Allen has committed to Maryland-Eastern Shore. Not a tremendously flashy player, Allen is fundamentally sound and a coachable player. Playing for Whitney Young High School, Allen is the fourth division one signee for a talent filled Dolphin-squad.


All it took to push Providence Catholic's Mike Thompson over the edge and commit early to Duke University was for Blue Devil Hall-of-Fame bound coach Mike Kyzysewski to pay a visit to the suburban high school. "I cannot wait to play in front of the Cameron Crazies," said Thompson. "Coach K said that I will have an opportunity to play right way. It will be a challenge, but I like my chances." A 6'10" center, Thompson is the first Illinois junior to make a college commitment; he will sign a national letter of intent in November. Thompson's Providence coach, Eric Long, broke Duke's infatuation of his player down to three parts. "The Duke staff was particularly impressed with three aspects of Michael's game: (1) athleticism and ability to run the floor; (2) multiple post moves; and (3) work ethic," said Long. "Michael plays like he has something to prove. He gets it done every night with 3-4 players surrounding him. Because of his talent and desire to improve, Michael's upside is unlimited." Thompson's current stats total includes 26 ppg, 11 rpg, 6 apg and 4 bpg averages. Already achieving the necessary score on his SAT, Thompson is expected to once again compete with Larry Butler's Illinois Warriors AAU team during the off season.


Copyright © 1999-2000
High School Elite, All rights reserved.