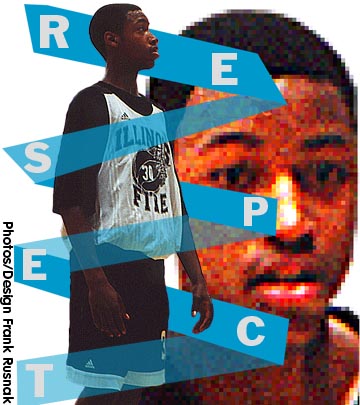 Bowen calls out for respect
To build a house, solid and strong bricks are needed. But an often-overlooked aspect of the house is the cement, which serves as the glue to hold everything together. Just as the cement is an overlooked, yet essential, part in developing the house, so to is Justin Bowen a key cog in the wheel known as the Chicago Marshall basketball program.
Playing in the recent Chicago Public League Holiday Tournament, Bowen helped guide his team to the semifinals of the loaded tournament, falling to the eventual champion, Crane.
---
"God is taking me through a test in my life and seeing if I could handle it."
Justin Bowen
---
Scoring 18 points against top rated teams, Crane and Julian; Bowen continued his hot shooting netting 24 against Whitney Young. Garnering all-tournament honors, Bowen had a coming out party of sorts. In the Whitney Young game, Bowen's Michigan-bound teammate, Kelly Whitney, was nowhere to be found scoring a mere 5 points. However, Bowen picked up the slack scoring in every way imaginable. Nailing outside jumpers, taking the ball to the rack and just dunking over people, Bowen made a statement with his play.
"I knew it was a big tournament and a lot of people were going to be out for it," said the 6'6" senior. "I knew that if I wanted respect then this was my time. I thought that this was my time to show all the Chicago coaches, fans and players that Justin Bowen is a great basketball player." It is hard to believe that it is only now that Bowen is getting the respect that he deserves with his extensive resume.
Last year with players such as the Whitney and high-flying senior guard Ronald Davis, Justin still managed to lead the team in points and rebounds with 18 and 9 respectively. Despite, he still wasn't given his due.
"Last year I was the teams leading scorer and rebounder, yet I was still being overlooked," said Bowen. "Kelly played varsity since his freshman year and coaches were mostly interested in him and that's really who everyone was going after and they didn't think that there was anything else at Marshall."
Marshall Head Coach Al Williams knows Justin's magnitude. "He's of very vital importance to this team on offense and defense," said Williams. "When everyone looks at our team they see Kelly Whitney, but Justin's a big part."
"The more I see other people getting more respect than me and I'm doing more than them is just a test," said Bowen. But getting a lack of respect is nothing new to Justin.
This past summer, he played for the Illinois Fire AAU team's 17-under team. However, after he hurt himself with a hip injury, his spot on the 17-under team was already taken before he could even come back. "At first I was going to play with the 17's but I got injured, and [Coach Mac Irvin] didn't know how well I was and he already had someone in my place. But I was still 16 at the time so he asked if I would play with them instead."
Relegated to the 16-under team playing with kids a grade younger than him, Bowen was at one point classified with the 2002 graduating class by several recruiting services (including this one).
With recruiters and scouts overlooking his skills throughout a stellar junior year at Marshall, and his summer AAU campaign, this was the year for him to make a name for himself...right?
At the beginning of the year, Bowen was putting up above average numbers in helping his team to a top ranking in the state. But the antics weren't over with yet. A mainstream Chicago newspaper continued to refer to Bowen as, Justin "Bowens" on a regular basis. Going into the CPL Tournament, Justin still hadn't received his due. In the tournament's program, Justin wasn't even mentioned while 3 of his teammates were all alluded to with prominence.
"God is taking me through a test in my life and seeing if I can handle it," said Bowen. "I know that my day is going to come. I just keep persevering. My mother always told me to just keep persevering and I'm giving much praise to God and my mother." It looks like Bowen's test could be just about over with. After a sparkling performance at the CPL Tournament, he has all of the scouts and recruiters buzzing.
"There were coaches who were saying at the tournament, 'Who is he, we should pick him up,' but it's too late now," said Bowen who already committed to Maryland-Eastern Shore in the early signing period. "I'm happy with my decision. I really wasn't getting recruited big and [Coach Thomas Trotter] really didn't know me. He was just going off of what my principal told him and he took a chance that nobody else did. There was nobody else giving me that chance so I figured if he was going to take a chance on me then I would take the same chance with him. He really hadn't seen me play until after I committed. So we are going to help rebuild this program together."
With Bowen's desire and drive for excellence, combined with his physical skills at 6'6" with his athleticism, he will certainly be a key addition next year at Maryland-Eastern Shore. "I feel I will contribute right away," Bowen said. "I really feel that no one can stop me but myself. I control my own destiny."
Copyright © 1999-2000
High School Elite, All rights reserved.