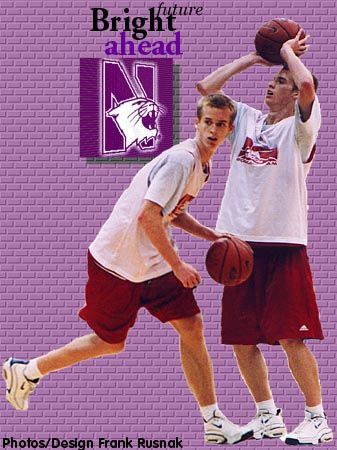 With an always improving game,
Jim Maley will be playing in the Big Ten next year.
Maley to Northwestern
By Frank Rusnak
Improvement is the key to basketball, preaches Lyons Townships' shooting guard Jim Maley. And who is to doubt Northwestern's most recent recruit to commit, as he is a walking example of the word.
At 6'6" Maley tips the scales at a minuscule 175-pounds, but as a 6'0" spindly freshman at the LaGrange school his weight barely moved the dial on the scale.
---
"I just think that early on at the beginning of my career I kept improving and then I finally started to catch up and even surpass a lot of guys because I've kept developing more and more."
Jim Maley
Lyons Township High School
---
Playing on the freshmen team as a rookie in high school, Maley needed that first year to adjust. But as a sophomore Maley was ready for the big boys.
With the Lions getting a new varsity coach Maley's sophomore year in Conte Stamas, it was just what the high-scoring guard and Lyons needed at the time.
"I was happy when [Stamas] came because I didn't think the old coach was going to pull me up to varsity," said Maley. "Coach Stamas has helped a lot at Lyons. He has really turned it around at our school."
With Stamas having a solid coaching resume, including serving as an assistant at Xavier (OH) University, he was just the medicine that Lyons called upon for a bottomward team. Also, Maley sprouting up six inches and receiving a transfer from Gage Park in current 6'4" senior guard Cortez Forte, didn't hurt the cause, either.
With Forte playing on the sophomore team his first year at Lyons and Maley still working out some kinks as a varsity starter, the future was near for the Lions.
Although they failed to open up many eyes throughout last year's regular season despite a 28-5 record, it was the playoffs when people started to recognize that Lyons was a team to reckon with.
The unfortunate victims of this realization were the Pirates of Proviso East, who faced Lyons in the Sectional Finals. While Lyons had a good team effort and all-around game, Stamas credits Maley for delivering the win for his team.
"That was a game that I can honestly say Jimmy got that win for us," Stamas said.
Torching the talented Pirates for 36 points in a nip-and-tuck battle, Maley made a statement that his game was to be taken seriously.
With Lyons headed down to Peoria for the state tournament's elite eight, they were still looked upon as an underdog. Getting by their first opponent of Moline by a score of 44-40, the Lions found themselves in the final four in the Class AA State tournament.
Losing to the eventual state champion Schaumburg by one point, the Lyons had an unbelievable run considering their top two scorers were both returning for another go at it.
"Last year we snuck up on a lot of people," said Maley. "This year it's going to be tougher because everyone is going to be after us. But last year our goal was just to get to Peoria and this year we want to go down and actually do something while we're down there. We're not going to be satisfied on just getting down there."
Those are big words, but said from a player that has proved himself to be one of the state's best scorers, they must be respected. Averaging 16 points and five rebounds last year while shooting 51-percent from the field, Maley looks to better his performance from a year ago, just as he has his entire career.
"I just think that early on at the beginning of my career I kept improving and then I finally started to catch up and even surpass a lot of guys because I've kept developing more and more," Maley said.
Hitting the summer circuit during this off-season, Maley proved he could hold his own on a national level, as well. Playing in the AAU Nationals in Orlando, Florida and also being invited to the Nike All-American Camp in Indianapolis, Indiana, Maley had a summer to remember.
Many high major colleges also made sure to remember the type of summer that Maley had. After the conclusion of summer, he had scholarship offers from Penn State, Xavier (OH) and of course Northwestern.
"It came down to Northwestern and Penn State," Maley said. "Since they were both rebuilding and I wanted the best academic and basketball combination, I chose Northwestern."
"I think it's a perfect fit for both sides," said Stamas, regarding Maley's commitment. "Jim knows how to play the game. He's very intelligent on the court, very fundamentally sound, knows how to move without the ball and those are just some of the good traits about his game. He will flourish in that system and I think it's a real good fit basketball wise. We are also very excited that he is going to get a great education, and that our staff, basketball team and community can follow him at Northwestern."
At the nearby Evanston-based university, Maley will need added strength and weight and he realizes that, playing in the Big Ten. But despite "eating like a horse" as his uncle Pat Maley explains, it is hard for him to put on the pounds.
Rest assured that if Maley puts on the traditional 'freshmen 15' [pounds] that he will continue to flourish, and improve. Just as he always has.


Copyright © 1999-2000
High School Elite, All rights reserved.