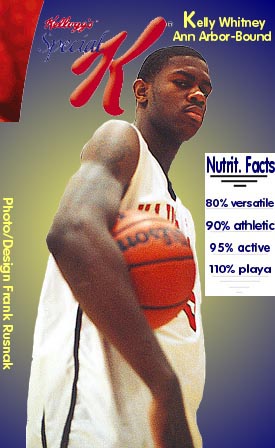 Special K to Michigan
By Frank Rusnak
He first started playing basketball in the eighth grade, and four years later he has decided that he will accept a full athletic scholarship to the University of Michigan for his abilities on the hardwood.
6'7" Kelly Whitney from Chicago Marshall has come a long way from being a tall, awkward kid, amune to the glories of basketball and all that it has to offer.
---
"We are taking state, no doubt about that."
Kelly Whitney
Marshall H.S.
---
"At first I wasn't very interested in playing basketball," said the combo forward Whitney.
Already at a whopping 6'3" when he was in junior high school, Kelly felt the pressures of stepping onto the hardwood.
"I was first doing it because I was tall and other people were saying that I should be playing just because I'm tall, but then I started getting smooth with it."
Indeed he did. Playing at Marshall, a top Chicago Public League school, he found himself on the varsity squad as a freshman. And on top of that, he was in the starting lineup.
Not achieving a tremendous amount of success his first year, Whitney admits that he wasn't instantaneously a whiz at hoops.
As a sophomore Kelly continued to grow and learn. As a junior it was more of the same.
The summer of his sophomore to junior year he hooked on with Darryl Royster's AAU team, the RBS All-Stars, which continued to push his development along ever so quickly.
"Kelly has indeed come a long way," said Royster. "He used to be only a shotblocker and rebounder with terrible timing, but now he's a jumpshot shooter and 3-point shooting guy at 6'8"."
Kelly first made an appearance on the national scene in the summer of '99 with the RBS All-Stars at the 17-U AAU Nationals in Orlando, Florida as he was still only a junior and playing a year up.
At that point, Whitney was predominately a shot blocker and rebounder. Currently, he is in the developmental stages of improving his game to focus more on the perimeter. With an improving outside shot and handle, he is on pace to be a solid wing forward in college.
Narrowing his choices down to Purdue, Iowa and Bradley, Kelly surprised many by picking the University of Michigan in Ann Arbor. It was also shocking that he committed so early, as he had stated previously that he would rather wait until after the season.
"I just felt that it was time, just got a good opportunity and I was going to take it," said Whitney referring to why he jumped on the opportunity to play at Michigan.
Playing the same up-tempo style that Marshall plays, Kelly will feel right at home on and off the court in Ann Arbor.
"They are real good people," said Whitney referring to the Michigan coaching staff. "Also, they are a big time school and I'm in the position that I can come in and play right away. My family really likes coach [Terrance] Green and coach [Brian] Ellerbe."
At Michigan he is expected to play either forward position with his improving versatility. At the recent High School Elite PEP Fall Classic, Whitney guarded good friend and Illinois-bound 6'2" point guard Luther Head on defense and held him to a mere 14 points compared to Whitney's 23 points. Showing his great lateral quickness for a man his size, he stayed with Head every step of the game.
"If he creates more ways to score on the low blocks he could have a great career in the Big Ten," said talent scout, Larry Butler. "His athleticism could carry him to a lot of places. He reminds me a lot of a 6'7" Robert Bennett (Julian H.S. and University of Illinois), back in early 90's. An athletic forward that can do a lot."
Ready to put his talents on display for Illinois High School hoops fans this season, he is primed for a great year.
The Marshall Commandos return 2 solid starters alongside Whitney, in 6'5" senior forward Justin Bowen and 6'2" high-flying senior guard Ronald Davis.
"We have to many good players for anyone to stop us," Whitney said. "I don't see anyone standing in our way. We are taking state, no doubt about that."
Copyright © 1999-2000
High School Elite, All rights reserved.