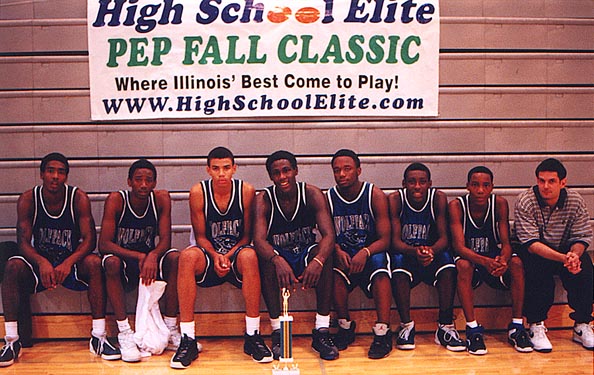 Chicago Manley ready for the powerful Red West
News & Notes
By Frank Rusnak
Capturing the championship of the Mac Irvin Back-to-School Shootout at Loyola on September 10, and on October 1 taking home the consolation championship of the High School Elite PEP Fall Classic, winning has not been foreign to Chicago Manley High School this summer. Moving up from the Blue West to the famed Red West they better be ready for the increase in play. "I think we are going to be very competitive," said Manley Coach Bo Delaney. "It's a big challenge but I think we should step up to it." Leading their charge has been the dynamic due of 6'2" Illinois-bound Luther Head and 6'5" senior John Jones. With Head garnering most of the publicity, it's been tough for Jones to get his share of ink. "A lot of teams have underestimated us and thought that all we had was Luther," said Delaney. Currently receiving serious interest from Marquette and Bradley according to Delaney, Jones is finally breaking out of Head's shadow. Having yet to take the ACT (he was sick when the rest of his team took it on April 1) he will take it at the end of this month and need a solid score to qualify academically for next year. "He is working real hard on his core classes now, as he is just realizing to play D1 he's got to pick it up," said Delaney; adding that he is currently also enrolled in night courses. If Manley gets continued solid play from their junior backcourt of Dave Harper and Al Stewart they will definitely be a team to watch out or in the wild wild Red West.


6'8" Whitney Young power forward Joshua Williams has announced that he will attend the University of Illinois-Chicago next season. Previously considering Marquette, Valparaiso and Xavier he shocked many when he decided to stay home and jump on Jimmy Collins' quickly rising bandwagon. Williams averaged 10 points and 10 rebounds last year often playing sixth man on a loaded Whitney Young team. However, this summer he has risen his stock tremendously playing with Stan White's Illinois Select team where he has obtained a national reputation with his raw athletic abilities and sheer hustle.


Quick and agile guard, Ronald Howard, has committed to the University of Marquette after a official visit to their campus for their Midnight Madness this past week. Other schools that Ronald previously mentioned were Tulane, Valparaiso, St. Louis and Xavier. An intense in-your-face defender Ronald is an excellent run-jump athlete. Slashing abilities are excellent and his ball handling is solid. With an improved outside jumper Ronald's stock as a player will increase substantially. Howard performed well at the prestigious Adidas ABCD Camp during the summer. Averaging 15 points last year, the 6'5" Howard will try to help lead his Whitney Young Dolphins to a city championship this season.


6'7" Najeeb Echols who first decided to transfer to Leo [from Whitney Young], then backed out and is now at Chicago Morgan Park is still waiting on a ruling from the IHSA regarding his eligibility. At Morgan Park, Najeeb says he likes and gets along with his new potential teammates where the Mustangs will be considered the favorite to win the Class AA state title if Echols is ruled eligible. Echols' recruiting situation is down to Illinois, Missouri and Houston where he has taken official visits to all three. Houston is considered the early favorite as they have hired Echols' former assistant coach at Whitney Young when he was a freshman, Cyrus McGinnis. McGinnis has continued close contact with Echols even after he left to take a head position with Chicago Lincoln Park High School. Echols said he will make a decision on his college destination on November 8th at the ESPN Zone in Downtown Chicago where a press conference is scheduled. Najeeb's good friend, Eddy Curry, will also make his decision at that time.
Copyright © 1999-2000
High School Elite, All rights reserved.