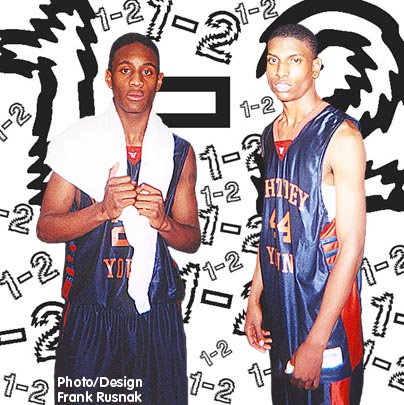 Marcus White and Josh Williams combine to form one of the most physically imposing front-lines in Illinois
Illinois' Best 1-2 Combos
By Frank Rusnak
These combos work together like peanut butter and jelly, pancakes and syrup or, better yet, Shaq and Kobe. Teams are enhanced by overall depth but a solid one-two combo can take a team far into March. Whether it's a great inside-outside combo, two big-time scorers, a blindingly quick backcourt or two behemoths in the middle, these pairs work effectively and know how to get the job done. Here is an assortment of some of the state's best and most complimentary players that know how to give opposing teams trouble.
1) Steve Turner & Marcus Jackson- Peoria Richwoods
Peoria's finest know how to win. Steve's all-around game and Marcus' rebounding and defensive ability are tough to overcome. Both players are unselfish and play within the team, doing the little things that need to be done to have a successful outcome for their team.
2) Jamaal Thompson & Derik Hollyfield- West Aurora
Two players that know how to win, they both are fine athletes. Fundamentally sound and intense, it is hard to stop these two when they get going. Equally tough on defense as they are on offense.
---
"There is never a dull moment as long as these two are on the court together."
Levar Seals & Darron Evans
---
3) Marcus White & Joshua Williams- Whitney Young
A tremendous duo, they both work the glass very well. Two hard working athletic and aggressive big men that limit opposing teams' second chance shots. *pictured above
4) Neil Plank & Matt McCollom- Mt. Zion
Two pretty form shooters, this pair is a most intimidating backcourt at the high school level with their size and strength. While McCollom is excellent at harassing opposing point guards on defense, Plank is an offensive juggernaut.
5) Eddy Curry & Melvin Buckley- Thornwood
Melvin Buckley finally gets to show off his improving wing skills with Curry clogging the middle. Curry will be happy to have another scoring threat that the defenses need to focus on.
6) Chris Hill & Ronald Howard- Whitney Young
This combo works terrifically teaming up on defense to make opposing guards have a rough night. Two great penetrators, Hill and Howard create plenty of shots for Young's dynamic front-court.
7) Levar Seals & Darron Evans- Providence St. Mel
Two superb athletes, both operate well on the wings and are electrifying finishers. There is never a dull moment as long as these two are on the court together.
8) Marcellus Sommerville & Dan Ruffin- Peoria Central
Defenses are left helpless with this combo. Ruffin possesses great penetrating abilities and can get into the heart of the defense with ease. Help-side defense is must, however, Ruffin is such a crafty passer he is able to set up Sommerville for one of his strong finishes; usually an electrifying dunk.
9) Kevin Menard & Adam White- Lincoln Way
Menard uses a bevy of moves to score in the low-post against bigger opponents. Often times overlooked is point guard, Adam White, who is the unsung hero on this team and the one most responsible for distributing the ball out to Menard and the other talented Knights. Staying within the frame of the offense and a very heady player, White is a second coach out on the floor.
10) Kelly Whitney & Ronald Davis- Marshall
A defensive force, Ronald is extremely quick laterally and picks off all lazy passes. If anyone is lucky enough to get by him on defense they have quite a task in shooting over the supreme shot-blocker Whitney. On the other side of the court both are electrifying scorers with their high-flying antics.
11) Sean Dockery & Anton Palmer- Julian
The cool and calm Dockery knows how to keep this big man happy with great looks. Whether Palmer is on the wing or posting up this makes a killer-combo.
12) Antonio Poole & Denard Montigue- Farragut
A pair of great athletes that play above the rim, Farragut guards should have no problem finding one of these two cutting for an alley-opp or posting up. Also, both have the versatility to opperate on the wings.
13) Phil Watson & Darnell Rawls- Von Steuben
Two great ball handlers and passers, this would make for a superb backcourt but due to Von Steuben's lack of size Phil will be forced to muscle inside.
14) Roger Powell & Kellen Easley- Joliet Township
Both able to perform at a high level in the post for high school, but look for their games to expand to the perimeter for college. Equally well on the perimeter, Powell has a pretty, high-rising jumper and Easley has the handle of a point guard.
15) Richard McBride & Andre Iguodala- Springfield Lanphier
The backcourt of the future, the 6'6" Iguodala runs the point while the super-soph McBride does plenty of scoring from the off guard position.
16) Quinnel Brown & Jonathan Byrd- Morgan Park
Both are two tough interior defenders that attack the glass with aggression.
17) Jake Sams & Logan Glossor- Mt. Zion
Combine Jake's all-around game with Logan's on-target shooting and you have a tough combo.
18) Will Bynum & Florintino Valencia- Crane
With Bynum working his men to death on the perimeter with blinding quickness, Tino is ready to operate on the wing. Both are great defensive players; Bynum with his unstoppable quickness and Valencia with his versatility at 6'6".
19) Aaron Robinson & Cedric Ousley- Rockford Guilford
Both with great handles and a desire to put the ball in the hoop, Robinson and Ousley are interchangeable from the point to the off guard positions.
20) DaJuan Gouard & Juan Robinson- Danville
Quickness and ability allow these two for an up-tempo game with a lot of action.
21) Ricky Cornett & Jimmy Miles- Homewood Christian Academy
Hidden in virtual obscurities at their Christian Academy School, these are truly two of the states' up-and-coming young prospects.
22) Randy Wright & Blake Schlib- Rantoul
Hidden in Rantoul, these two are trying to break through the barriers of obscurity to make names for themselves.
23) Jamal Brown & Jamal Washington- Westinghouse
An inside-outside combo, Brown is a scoring guard, while Washington is a beast down low.
24) Dee Brown & Jared Carswell- Proviso East
Both have an extraordinary ability to get to the hoop. Jared's height and versatility allow him to be a valuable asset to his team no matter the position.
25) Bryan Boerjan & Jorge Acostas- Rock Falls
Leading their team to a Class A State Championship as sophomores, Rock Falls again looks for a title behind the play of this inside-outside combo.
Copyright © 1999-2000
High School Elite, All rights reserved.