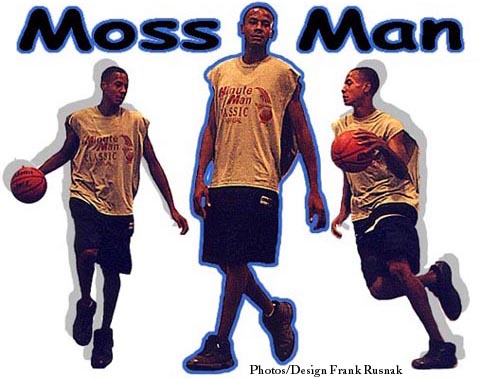 Looking like your normal, everyday high school kid, David Moss turns into
Moss-Man when he gets his eyes set on the front of a basketball rim.
Moss to Indiana State
By Frank Rusnak
Unlike He-Man and Spider-Man, Moss-Man does not have the capabilities of another life form. Uncanny in his own way, Thronwood's David Moss--AKA Moss-Man--obtains the ability to make it rain with the flick of his wrist.
We're not talking raining cats and dogs like a wet summer night in Seattle. But more of the type where basketball nets are torched on fire and opponents are left dismantled and dismayed by his skill.
---
"When people give me that little space, that little inch, I'm hitting and there is no doubt in my mind."
David Moss
Thornwood H.S. Swingman
---
A 6'5" senior, Moss exemplifies his super power best when he is 'on fire.'
"I know I'm 'on' when I want the ball," said Moss, who is otherwise a very unselfish player. "That means I'm on fire. Just get me the ball and I'm going to score. When people give me that little space, that little inch, I'm hitting and there is no doubt in my mind."
A 180-pound swingman for the South suburban school, Moss was a member of the Thunderbirds championship game appearing team last year that included current Chicago Bull Eddy Curry. But don't let the fact that he rarely started and came off the bench fool you to his importance.
"It really didn't matter to me that I wasn't starting because I was going to get a chance to be put in that position [to garner more of the spotlight] sooner or later," said Moss, a versatile perimeter player who was asked at times to play in the post. "We were winning and I was just happy for that."
With one of the state's most talented teams, Moss was looked at to fill a roll. His roll did not consist of any of the limelight, nor was he asked to be a big-time point producer. In fact, playing on varsity as a sophomore, Moss started more games that year than his junior year, due to Pierre Thomas being moved up from the sophomore team and Marian Catholic transfer Melvin Buckley joining the team.
While Moss was not sour about not starting last year, he realized his time would come. He had his first opportunity this summer to display all the features to his all-around game.
"You were able to see me more this summer," said Moss. "There was no Eddy, all the seniors left, so it was my opportunity to play a lot more minutes. That window of opportunity opened for me and allowed other people to see how I could really play."
With the stage set, Moss did not fail to deliver, hitting defenses with a game so well rounded you'd have thought a protractor was used.
"Now I get a chance to shoot and not always have to work the ball around," he said. "I think I've always been able to shoot, but now I'm not turning down these open shots and I'm just being more aggressive. This season a lot of teams are going to be looking for me and Melvin to score."
Neighbors, Moss and Buckley indeed will shoulder a large portion of the scoring role for Thornwood this season.
"With him on the starting five with me now, it's a definite plus," said Buckley, who has orally committed to Purdue. "You can't put 2-3 guys on him because that just leaves another all-state player open and that's just foolish. He brings that championship quality because he wants to win. It's hard to find someone who wants to come to practice and work hard everyday and he works hard at everything."
All the hard work has paid off for Moss, as he decided today to accept a scholarship offer from Indiana State University over another ISU, Illinois State. "Indiana State has been there since Day 1," said Moss.
Recruited as a two guard, Moss will be asked to come in and use his tremendous athleticism, outside shot and defense to the Sycamore's advantage.
While Buckley is happy for his friend and teammate on his decision, he digs deeper for a meaning to his happiness.
"That means we are runnin' Indiana now. First Thornwood, then Indiana," said Buckley with a chuckle, who will be with the intrastate Boilermakers.
What's next for Moss and Buckley: the NCAA, NBA, etc.?
Only time will tell for this superhero and his sidekick.


Copyright © 1999-2000
High School Elite, All rights reserved.