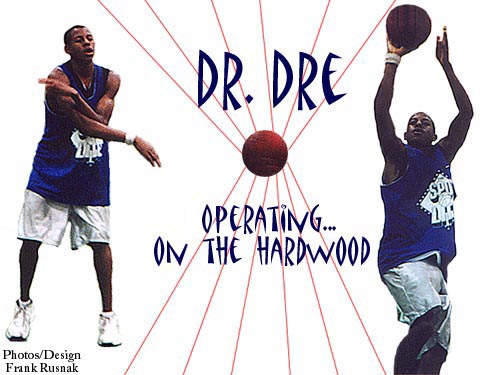 Embarrassing opponents on the floor, Iguodala is devastating in the open court
with unmatched athleticism.
Iguodala to Arkansas
By Frank Rusnak
Universities possessing offenses that are slow, methodical and have a half-court setup need not apply for the services of future superstar, Springfield Lanphier's Andre Iguodala.
That is why today Iguodala, a 6'7" sky-walking swingman, chose to attend the University of Arkansas.
Under head coach Nolan Richardson, the Razorbacks are an up-tempo team that are exiting and cater to Iguodala's strengths.
---
"It's all about confidence. When Butler put me out on the floor, I realized I could play with anyone."
Andre Iguodala
Springfield Lanphier H.S.
--On his added confidence from playing with Larry Butler's Illinois Warriors.
---
"I was most comfortable with them," said Iguodala, who narrowed it down between Kansas and Arkansas. "They were the only school talking about me running the 1-3 (point guard-small forward) and other schools were just saying that they wanted me to just play the 3."
Loving to use his versatility, he jumped on the opportunity. Having visited the Arkansas campus this past weekend, he loved what he saw.
"I liked their stadium and it seated almost 20,000 people," he said. "And I went to just a practice and 8,000 showed up for that."
With the fans at the practice calling out his name in unison, it definitely helped make him feel at home, as he visited with his mother and father.
Iguodala is also thinking about doing track at Arkansas, where he would come in with a career best 6'10" high-jump.
Receiving second place at the state finals as a junior for the long jump, Iguodala ended with a 6'7" jump. A year later, he improved that mark by one inch, but came in third place.
A superior athlete on the basketball floor with his God-given athletic abilities, Iguodala was not always seen as a great basketball player, but more of an athlete…playing basketball.
After his freshman year, where he stood 5'10" and started off on the freshman team, Iguodala continued to grow and gain athleticism. With added inches, combined with a supreme jumping ability, it was a deadly combination for Iguodala.
Never one for the fundamentally sound lay-up, Iguodala continually tried to produce the highlight-reel plays. With a jump shot that was sup-par, added with his athleticism that was overshadowing the rest of his game, he was labeled as a player without skills, but only raw talent.
"They used to say that," he said, "but I've been working on my shot all summer and it has gotten a lot better. And I've been trying to play defense a lot harder and I've been running the point a lot for the past couple of weeks."
Also helping him bring his game to the next level was added confidence. Helping with that confidence was his participation with the Illinois Warriors AAU team this summer.
Helping guide the Warriors to the title of the AAU Nationals in Orlando, Florida at the beginning of August, Iguodala was named the MVP of the tournament for his stellar play.
Coached by Larry Butler, Iguodala knew that his team was destined for success in the Nationals as they exited in the second round of the preceding Nike Super Showcase, also in Orlando
"It's all about confidence," he said. "When Butler put me out on the floor, I realized I could play with anyone. "The Warriors have done a lot for me. If it wasn't for them, I wouldn't have committed today. I would've been at a low mid-major school. [With the Warriors] it's about just going out there and showing what you've got. If you don't, you'll get embarrassed."
Embarrassing others is more of Iguodala's forte, as the tallest player for Lanphier at 6'6" and a wiry 200-pounds.
He is expected to take part in point guard duties for the team despite his height, while being named one of three captains for the Lions (Seniors Niccos Scott and Tony Smith are the others).
With the added leadership responsibilities on his shoulders this year and returning four players that received considerable experience last year, he doesn't look to let his team down.
"Our whole goal is to get downstate this year," said Iguodala. "We lost focus last year and got ahead of ourselves. It won't happen that way this year though."


Copyright © 1999-2000
High School Elite, All rights reserved.