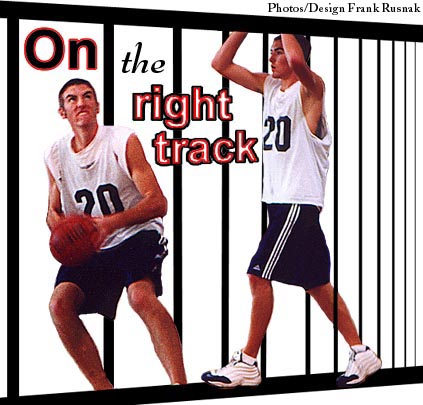 Todd Peterson (above) will have to face United Township's James Hughes
prior to becoming teammates with him at NIU.
Future teammates to battle
By Frank Rusnak
On November 23, a glimpse of the future will be shown for Northern Illinois University basketball.
This event will not take place at NIU's Chick Evans Field House, nor will it take place anywhere in DeKalb. Instead, this game will be in -- of all places -- East Moline.
Joining Curie High School's 6'7" Rome Sanders in committing to NIU are 6'10" center James Hughes from United Township and 6'7" wing player Todd Peterson from Pekin.
Transferring from a military station in Germany to his hometown to attend nearby high school United Township, Hughes has been moved around with his father, who is in the Army.
---
"My mom told me that if I was serious enough about basketball that I could come back to the states and live with my grandmother to get some looks for basketball."
James Hughes
United Township H.S.
--On his move from Germany back to East Moline
---
After being born outside of the Quad Cities in Illinois, Hughes lived throughout his childhood in such places as Mississippi, Las Vegas and Germany, while his stepfather was stationed in different military stations.
While in Germany, his team won the national championship for the U.S. Army Division, while competing against other military bases. Hughes was a star in the league, collecting numerous honors such as all-conference and all-Europe first team. However, no universities in America knew about him. That is what prompted his next move, to come back home.
"My mom told me that if I was serious enough about basketball that I could come back to the states and live with my grandmother to get some looks for basketball," said Hughes.
However, that didn't work out as the IHSA felt that he was recruited to come back home and wouldn't allow him to be eligible to play unless his mother moved back with him. Realizing that her son was serious about pursuing his future in basketball, she willingly packed up her things and moved as well.
While NIU was the first school to show heavy interest in Hughes since his move to Illinois, he felt that DeKalb was the place for him.
"When I came back from Germany, I knew I wanted to choose a school before Christmas," said Hughes. "Northern Illinois was real persistent and I just felt comfortable there and I felt it in my gut like, 'Yea, this is where you need to be.'"
The story on Peterson is a little simpler.
It was good enough for his older brother in 1993, so Peterson feels the place to be, as well, is NIU.
A sharp-shooting, athletic and rugged player, Peterson has verbally committed to play under Rob Judson at NIU following his senior year at the Class AA school right outside of Peoria.
"Everything just seemed to fit," said Peterson. "I loved the coaches, loved the campus and the atmosphere. And it seems like everyone wants to get into basketball with the new stadium. There's a lot of energy."
Looking to help contribute to that energy, Peterson is the man for the job. Averaging 17 points and seven rebounds last year, Peterson played on a 19-10 team that returns its top seven players and are a contender for the state championship.
Todd's brother, Scott, who is nine years his senior, played at NIU under former NIU coach Brian Hammel in 1993-94, but then he transferred to Illinois Weslyan where, in his senior year, they won third place in the country.
While Todd and Scott are both 6'7", Scott was more of a post player, while Todd likes to call the perimeter his home.
"I think that Todd has a lot to add to Coach Judson's program," said Pekin coach, Joe Stoner. "He's a unique basketball player in the fact that he has the size and he really has some extended range [on his jumper]."
Peterson looks to utilize his size and shooting prowess on the Friday before Thanksgiving with the showdown in East Moline. But what exactly is going on there?
Well, Hughes' new school is located in East Moline, and they are hosting a Thanksgiving Tournament to start off the season, which Pekin has been invited to partake in.
With the two future teammates and their high school teams going up against one another, it should be an interesting battle.
While Peterson would be a center for most high schools at 6'7", he is fortunate to have a 6'9" sophomore, Matt Hagen, who holds down the middle for the Dragons.
With Pekin playing a matchup zone, it will be rare that Peterson will be guarding Hughes, but if it happens it won't be pretty.
"I think we'll take them," Peterson said. "We play a match up zone, but if he takes off then I might have to step in and guard him. And I'm not going to take it easy on him. All's fair on the floor."
Hughes doesn't look to back down either: "I heard [Pekin] is pretty tough and it's going to be pretty cool playing with a future teammate. But I'm not taking it easy on him, once your on the court, it's all business. Teammates, friendships and all of that are put in the back pocket."


Copyright © 1999-2000
High School Elite, All rights reserved.