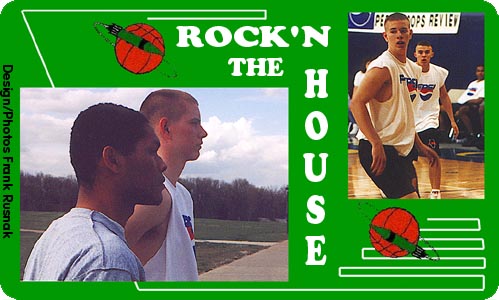 Rock Falls---can they do it again?
By Frank Rusnak
Winning the Class A Championship two years ago, Rock Falls returns two starters from that championship squad and looks to once again bring back the championship to the Rockets.
Winning a close match against Waterloo Gibault, 45-43, in March of '99 for the championship, both Bryan Boerjan and Jorge Acosta were sophomore starters for Class A victors.
"They [Bryan and Jorge] were not expected to do as much offensively as sophomores, but now they have had to become the two that the offensive must go through," said Rock Falls coach Thom Sigel.
---
"They [Boerjan & Acosta] were not expected to do to much offensively as sophomores, but now they have had to become the two that the offense must go through."
Thom Sigel
Rock Falls Coach
---
Last year, according to Sigel, there was an abundance of pressure put on the team to repeat.
However, despite a record of 25-5 (11-0 in the NCIC) the Rockets were ousted in the Elite Eight of the state finals a year ago.
With Boerjan and Acosta continuing to elevate their games, expectations are once again high for this season.
The 5'11" Acosta brings an athletic game with him as he enters the court. A speedy ball-hawk with good penetration abilities, he is the heart and soul of this Rock Falls team. Keeping the team under composure and providing a solid presence at the point, Jorge has also improved his outside shot.
"Jorge is shooting the ball better than he used to, averaging around 18 points per game in the post-season for us last year," said Sigel.
Also playing baseball, Acosta has received calls from some big time schools for baseball, according to Sigel.
While Acosta runs the show at the point guard position, it is Boerjan who holds down the middle for the Rockets. A strong-bodied 6'8", Boerjan is a good rebounder and possesses fundamentally sound post moves. With a bevy of up-and-under fakes, drop steps and hook shots Boerjan is a threat in the low post. However, his game has continued to elevate where he can also operate on the perimeter.
"Bryan has really improved his all-around game," Sigel said. "He was planted on the block his first two seasons and came away from the basket some last year. Now he has become much more comfortable and confident shooting the 3 and taking the ball to the hole."
With both Acosta and Boerjan expected to also star on the football team this year, it was a joint announcement for them to opt on not going out for the team. What would've been a formidable combination, with Boerjan as the quarterback, throwing to the quick Acosta at wide receiver was not meant to be.
"My reason for not going out for football, simply stated, was so I could take advantage of this time to improve on my basketball skills," said Boerjan. "Such things as shooting, conditioning and the recruiting process all demanded more time. I wanted to commit myself to earning a [basketball] scholarship and not sell myself short."
Playing at a camp in Arizona in June and in the Wooden Bat League in the fall, Acosta wanted to focus more on his dreams on the baseball diamond.
Alongside Boerjan and Acosta are a cast full of promising young players and 6'2" senior Mike Menchaca who also opted to not go out for football and.
Top young players who look to contribute to Rock Falls' success this year include sharp-shooting 5'9" sophomore Robbie Minor, 6'4" junior Will Howard and 5'10" freshmen Isaiah Johnson.
"Even though Bryan and Jorge are the main guns, I think there is a great chance that Minor will be our second leading scorer behind Bryan," said Sigel. "He can really shoot it, and he will get good looks with teams keying on the other two."
With the dynamic duo of Boerjan and Acosta to go along with Minor's shooting prowess and Johnson's quickness, Sigel feels confident about next year.
"We have better shooters than last year so we can make teams pay for sagging on Bryan or playing zone," commented Sigel. "We will be able to press with good quickness and post players who are very mobile, and that should also help us create offensive opportunities that we did not get last year. Jorge and Bryan are the leaders of this team and we all know that. I think they will definitely show the leadership that seniors have the tendency to develop when they know this is their last chance."
Copyright © 1999-2000
High School Elite, All rights reserved.