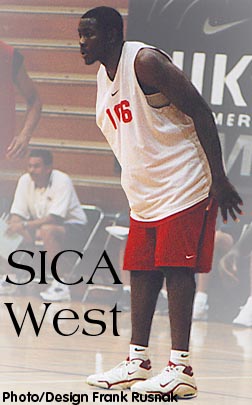 Illini-bound Powell heads a strong Joliet team
SICA West Preview
By Frank Rusnak
Often times overshadowed by its more publicized counterpart known as the SICA East, this season is different. The SICA West looks to blaze it's own trail this year.
---
With 7-8 kids that could start on any given night, Lincoln-Way is loaded...
---
"[The SICA West] is an outstanding conference in the Southwest suburbs and we'll be a very tough conference this year," said Lincoln-Way Coach Steve Little.
Feeling that it will be a race between his Knights and Joliet for the title, Little goes on to talk about what makes the SICA West such a tough conference.
"I think that the strength of our conference is not only the kids but the coaches that work within the conference who are people that do a pretty good job of preparing the kids night in and night out," continued Little. "Just a very competitive conference."
Having a solid season last year reaching the sectionals, Coach Little feels that Lincoln-Way will one-up last year's mark.
"We should be as good, if not better then last year's 23-6 mark. The strength of our schedule will be pretty good. I think that if we play well we should be right in the hunt for the title."
With 7-8 kids that could start on any given night, Lincoln-Way is loaded and heads a tough SICA West into action as the season begins.
1) Lincoln-Way- The Knights are headed into battle led by four-year varsity player and Marquette-bound Kevin Menard. Averaging 20.4 points and 9 rebounds last season, the 6'6" Menard is joined by last year's starters, senior point guard Adam White and senior swingman Adam Ferrari. Look for 6'9" junior James Augustine to play a big role, as well.
2) Joliet- Illinois-bound Roger Powell does it all for the Steelmen. A 6'6" powerhouse, he can, and will, use his strength to clean the glass, and then proceed to use his quickness compiled with his long-range shooting ability to beat you on the perimeter. Assisting Powell will be 6'6" junior Kellen Easley, 6'3" junior Jeremy Cartwright, 6'6" senior Terrance Chapman and junior point guard Brandon Shoemaker.
3) Lockport- Fourth-year starter Kevin Troc will garner leadership responsibilities as rising junior Alando Tucker will be out to prove why he is the most complete shooting guard in the conference. Applying his suffocating defense and vast array of moves, Tucker is first team All-SICA West material.
4) Stagg- Coach Tony Lavorato has a physically big team that could pose many matchup problems for opponents. Leading the charge of the big men is the chiseled 6'5" John Womack, who is a beast in the painted-area with springs disguised as legs. Surrounding Womack will be lanky shot blockers, 6'7" Troy Riley and 6'8" David Genslinger. Senior Josh VanderTuk leads the Chargers at the point guard spot.
5) Sandburg- The loss of Chris and Anthony Streeter to transfers will hurt, but the Eagles should be able to regroup. Led by high-scoring 6'7" senior Cory Cummens and sharp-shooting guard Sean McBride, putting buckets in the basket will not be a problem for the Eagles. 6'9" Sophomore center Chris Rega provides size in the middle and senior forward Jeff Herman gives Sandburg a defensive spark.
6) Andrew- Help is needed but 6'5" senior Bill Bernable and senior guard Kale Hoyt will suffice for now. In the workings are 6'3" junior Alex Schroeder and 6'8" sophomore Kevin Lowe.
Copyright © 1999-2000
High School Elite, All rights reserved.