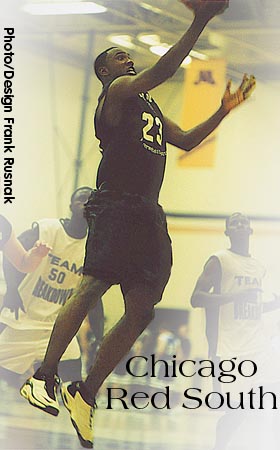 The X-factor for Morgan Park; will Echols be eligible?
Chicago Red South Preview
By Frank Rusnak
Heading the top-heavy Red South into battle this year are top teams Morgan Park, Julian, Carver and Simeon.
---
"I know Najeeb is a very good player and we are returning a lot of good players from last year's team. He could be a tremendous help to us."
Herb Ray
Morgan Park Coach
---
"Normally it comes down to the last week of conference play to see who wins it," said Morgan Park Coach Herb Ray. "You have to be ready to play every day, there are no gimmes. Look for it be another thrilling year."
With Ray's Morgan Park team, along with Julian the early favorites to win the Red South, he is confident about his team's chances. "I think we'll be right there in the hunt for first place. We have to come out and play every game."
With the possible addition of 6'7" Najeeb Echols to the Morgan Park team (still waiting on a ruling if he will be ruled eligible coming from a transfer from Chicago Young), the rich could get richer.
"I know Najeeb is a very good player and we are returning a lot of good players from last year's team," Ray said. "He could be tremendous help to us. I still feel confident that if he doesn't play then we'll be very competitive."
1) Morgan Park- With talented seniors, including 6'5" Quinnel Brown, 6'9" Jonathan Byrd and 6'2" O'Neal Carter, coach Herb Ray is happy as he likes to get the most out of his seniors. In addition, the Mustangs could also possibly get clearance for Missouri-bound Najeeb Echols, which would match them pound-for-pound talent-wise with any other team in the state. Look for fellow seniors Clearance Kelly and Lynell Ingram to also crack the starting lineup if Echols is not ruled eligible after his transfer. 6'8" junior Marcus Arnold is definitely one to keep an eye on.
2) Julian- With seven potential division one players in the program, talent is not an issue for the Jaguars. Leading the charge will be star junior Sean Dockery at the point guard slot. Dockery will be joined on the perimeter by 6'3" freshman J.J. Watson and 6'4" Larry Booth. In the post, seniors Anton Palmer and Martesse Williams will be hard at work, but both could also take the ball outside with success. Solid reserves, for the Jaguars are 5'5" junior point guard Mike Wilson and 6'10" senior center Jason McKinnon.
3) Carver- 6'3" guard Demetrius Cooley will lead the Challengers with his versatility, allowing him to play all over the court. Coach Johnail Evans will have a solid ball-club that also includes senior Teran Lee.
4) Simeon- The Wolverines lose a big load from a year ago but are always well coached and seem to overachieve. Look for 6'3" senior Darnell Coleman and 6'5" junior Clyde Hooks to lead Simeon's attack with a solid young player on the rise in 6'4" sophomore DaShawn Walker.
5) Washington- A scrappy, guard-oriented team, Coach Willie Byrd will have his team hustling, but lack of size will hurt. 5'9" senior point guard Thomas Wilson helps guide the Minutemen.
6) CVS- Losing a lot of talent from a year ago, Coach Don Russell will still have his Cavaliers fighting every battle.
7) Bowen- A rough season for Coach Rufus Calhoun's Boilermakers, but they will always play hard.
Copyright © 1999-2000
High School Elite, All rights reserved.