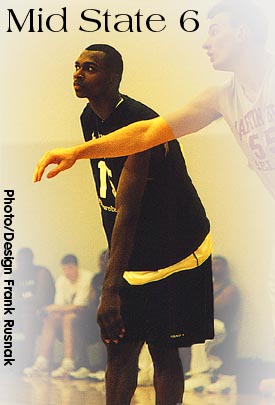 Sommerville leads a young Central squad
Mid State 6 Preview
By Frank Rusnak
As opposed to Chicago, where all the talent is divided into numerous divisions, the Mid State 6 covers a large portion of the talent pool stemming from Peoria.
---
"It's a very tough conference and has been for a long time."
Bob Darling
Richwoods Coach
---
"It's a very tough conference and has been for a long time," said Peoria Richwoods coach Bob Darling. "Manual won four [Class AA state titles] in a row and that speaks for our conference very well." Referring to '94-'97 when Peoria Manual won an unmatched four state titles in a row with the nucleus of present University of Illinois players, Sergio McClain, Marcus Griffin and Frankie Williams.
"It is very tough in terms of competitiveness. From 1-6 there are no gimmes."
Darling continues: "Manual is guard heavy this year with not as much height as in the past, but coach [Wayne] McClain (Manual Head Coach) is going to do what he has to do to win. Central is going to be very hard to beat. Great defense and can guard the crap out of you. It's hard to stop Sommerville. Notre Dame has Gilfillan at the point and Brian Randle is just going to get a lot better. Pekin is young but they are good."
1) Peoria Richwoods- Winning every tournament they played in this summer, Richwoods has proved to be unstoppable. Led by seniors 6'4" Steve Turner and 6'8" Marcus Jackson, Coach Darling feels that 6'7" junior Rob Turner (no relation to Steve) is actually the most talented player on the team. Also, look for 5'10" junior guard John Little to play a big role in the success of the Knights. Other players that look to get significant playing time include 5'11" guard Martell Webster and 6'4" post player John Young.
2) Peoria Central- Coach Charles Buescher has a young team this year led by Iowa-bound Marcellus Sommerville. Proving that he can do serious damage with his outside shot this summer, Sommerville might see some increased time on the perimeter, but with the Lion's lack of size he will be needed in the paint. Central's guards are young but all have shown considerable talent. Led by sophomores 5'8" Dan Ruffin, 5'9" Tyson Langhorn and 6'1" Brett Jones, the Lions will be a quick team that enjoys pressing a lot.
3) Pekin- Inexperience will be their downfall--if they have one. The Dragons have height in 6'8" freshmen Matt Hagen, speed in 6'1" junior Joe Brownfield, athleticism in 6'1" sophomore Derek Rademaker and scoring in 6'6" junior Todd Peterson. Look for Coach Joe Stoner to also give significant playing time to senior captain Ben Mooney and 6'2" freshman Jeremy Crouch, as well.
4) Peoria Manual- Led by 5'10" senior point guard Adam Miller, the Rams will be a guard-oriented team. Called by Darling, "the best point guard in the conference," Miller will lead an up-and-down pressing ball club.
5) Peoria Notre Dame- The Irish also have a young and talented team led by super-soph 6'6" Brian Randle. Coach Mike Bonczyk will look to 5'11" junior Mitch Gilfillan to run the show and also have 6'3" senior Joe Napoli playing a big role.
6) Peoria Woodruff- Coach Ed Brooks' Warriors are expected to struggle this year, but the shinning point of his club will be 6'1" combo guard Wes Weatherspoon. Weatherspoon is a high-scoring guard who can buckle down on defense when asked.
Copyright © 1999-2000
High School Elite, All rights reserved.