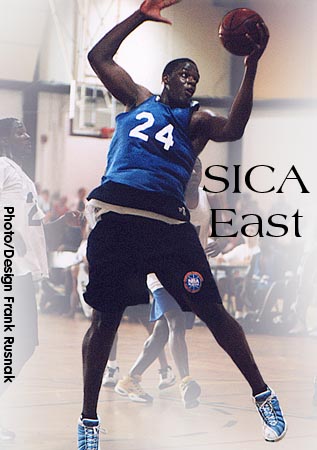 Curry leads Thornwood into battle
SICA East Preview
By Frank Rusnak
It will be tough for the SICA East to live up to the standards of a year ago, but there is still some formidable talent that could be found, led by Thornwood's Eddy Curry.
---
"We are going to be the favorites with Eddy Curry returning and most of the team back from last year."
Kevin Hayhurst
Thornwood Coach
---
Last year Curry was one of several very talented big men that called the SICA West home. Others included Homewood-Flossmoor's 6'9" T.J. Cummings (UCLA), Thornton's 7'0" Chris Alexander (Indian Hills JuCo) and Bloom's 6'6" Julian Mills (Central Florida JuCo).
Unfortunately, Curry is the only one that hasn't been lost to graduation. "The SICA East is going to be a very competitive league once again like it is every year," said Thornwood Coach Kevin Hayhurst.
With possibly the #1 player in the nation, Curry, and returning their solid nucleus from last year, the Thunderbirds are early favorites to come out with a conference title. "We are going to be the favorites with Eddy Curry returning and most of the team back from last year," said Hayhurst.
1) Thornwood- The transfer of former Marian Catholic player, 6'6" Melvin Buckley, brings the Thunderbirds to the elite status, rather then just being a very good team. Combined with 6'10" All-American Eddy Curry, Thornwood will have a physically big team with solid guards. 6'2" junior Cornelius Jones, 6'4" senior Steve Sawyers, 6'2" junior Pierre Thomas, 6'2" junior David Moss and 6'1" senior Shenard McDonald, lead the guard play.
2) Thornridge- Holding down the middle for the Falcons is 6'6" 220-pound Keith Archie. A load to handle in the paint, Archie has potential to be explosive off of the blocks. Look for 6'1" junior Jeremy Bledsoe, 6'0" junior Greg Benson and 5'11" senior Raymond Richardson in the backcourt for Coach Mike Flaherty's team.
3) Thornton- A young and talented team the Wildcats are led by high-scoring guard John Shedrich. With a mega-quick release and high elevation on his jumper Shedrich is an offensive juggernaut. In the middle look for 6'6" sophomore Brandon Tobias who also plays football, and 6'5" junior Marcus Yeates on the wing. Coach Rocky Hill's team will be a quick, pressing team that will look to cause a lot of turnovers with their athleticism.
4) Shepard- A team that will really surprise some people this year if they can stay healthy. Usually the bottom-barrel of the conference, the Astros are now an up-and-coming squad led by 6'7" junior Mike Hall. Hall is a versatile performer who can play just about any position on the court and just might be asked to. Fellow junior, 6'2" Mike Smith is progressing nicely and if he can develop a consistent 3-point shot and lower the turnovers, defenses will have problems. 6'4" senior Brian Nievera will be asked to do a lot of the dirty work in the middle.
5) Bloom- The Blazing Trojans are led by the 6'4" junior-tandem of Joe Chapman and Antonio Cool. Also watch for 5'11" guard Brandon Anthony at point guard. A scrappy team, Gary Meyer's crew will fight for every contest.
6) Homewood-Flossmoor- A well coached team, H.F. lost a lot of talent last year. If 6'5" senior Steve Winding plays big inside the Vikings will be alright. Also, watch for 6'2" junior Adam Dauksas at the point guard spot.
Copyright © 1999-2000
High School Elite, All rights reserved.