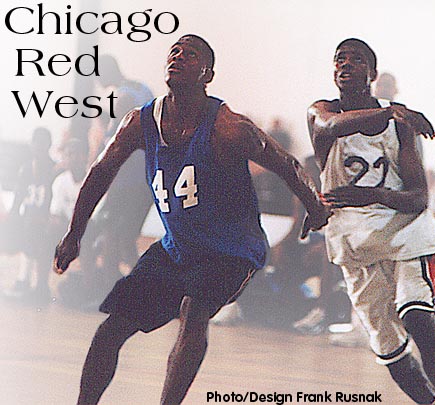 Star junior, Marcus White, has increased responsibility with Echols' departure
Chicago Red West Preview
By Frank Rusnak
The Chicago Red West is annually rated as one of the top conferences, not only in the state, but in the nation. Producing top talent and teams dating back, it is tough to find a conference with as much tradition as the Red West.
---
"There is never a dull moment in the Red West."
Lamont Bryant
Whitney Young Coach
---
"You can't compare us [the Red West] to other conferences," said Whitney Young coach Lamont Bryant. "A .500 team in the Red West is probably a first place team in any other conference.
"If it's not the top [conference] it has to be in the top two or three, and it shows this year."
Indeed it does show. Whitney Young possesses five players that have already signed on with Division One programs, and that is despite the loss of Missouri-bound Najeeb Echols who transferred to Morgan Park. Also, there are such Big Ten recruits as Manley's Luther Head (Illinois) and Marshall's Kelly Whitney (Michigan).
During a tournament this summer, the players from Whitney Young and Red West-rival Curie started a brawl that allegedly included a chair being hit over the top of a Whitney Young player. Combined with that kind of craziness there are also constant transfers and other happenings.
"There is never a dull moment in the Red West," said Bryant.
1) Whitney Young- With five division one senior recruits and a bevy of talented young players also with Division One potential, the Dolphins are loaded. The loss of Najeeb Echols will hurt, but Young played well and looked to have better ball movement and chemistry during the summer when he wasn't playing. Look for forwards, Ronald Howard (Marquette), Josh Williams (UIC) and Marcus White (Junior) to get the start along with guards Chris Hill (Wisconsin-Milwaukee) and 6'2" Andre Knox (Sophomore) for Lamont Bryant's club. Coming off the bench will be 6'7" senior Brandon Allen (University of Maryland Eastern Shore) and 6'5" sophomore DeWitt Scott.
2) Marshall- Holding down the middle will be the versatile 6'8" Kelly Whitney, committed to Michigan. Heading the full court press will be 6'2" senior Ronald Davis. Quick in the passing lanes and an explosive first step, Davis can finish with the best. Swingman, 6'5" senior, Justin Bowen will contribute in the paint as well as on the perimeter with his solid handle. The Commandos with a host of quick, athletic guards will cause havoc on opposing offenses.
3) Westinghouse- With an athletic front court, including 6'5" senior Jamal Washington, 6'4" junior Darius Glover and 6'5" junior Richard Russel, the Warriors will again be tough coming off of a state championship appearance. Leading the guard attack will be water-bug point junior guard Jamaal Brown. coach Chris Head will have total control of the team and will have his team well-conditioned and hustling 100% of the time.
4) Crane- Young and talented, the Cougars will need the leadership of Arizona-bound guard Will Bynum. Coach Anthony Longstreet has a bevy of talented sophomores that will need to mature quickly for Crane to produce this year. Of the sophomores, 5'10" Carl Marshall, 5'11" Jamale Tidwell, 6'3" Tremel Gilot, 6'5" Florentino Valencia and 6'7" Lorenzo Thompson will lead the way for the young Cougars.
5) Manley- The loss of 5th year senior, 6'5" John Jones will hurt immensely, but the Wildcats still have Illinois-bound combo guard Luther Head. Coach Bo Delaney will have 6'6" senior Eugene Green and improving 5'9" junior David Harper to help contribute.
6) Farragut- The Admirals have a talented crew, led by 6'6" warrior Elliott Poole. A versatile performer, Poole can take it outside but achieves most success bullying opponents in the paint. Another versatile big man on coach Wolf Nelson's team is 6'7" Dennard Montague. A great athlete, Montague can take his man off the dribble and elevate up and over his opponent for an easy flush.
7) Curie- On any given night Curie can upset any of the more talented teams in the Red West (Ex. Last year they defeated Westinghouse immediately after being crowned the #1 team in the nation by USA Today). The Condors will be working their tails off on every possession and coach Mike Oliver has a solid prospect in 6'7" junior Rome Sanders.
Copyright © 1999-2000
High School Elite, All rights reserved.