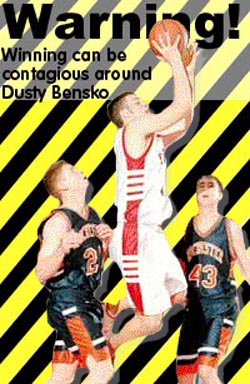 Plains Ready to Repeat
---
"We know that everyone is going to be out to get us."
Jordan Roth
Pleasant Plains
---
Defending Class A state champions, Pleasant Plains, is out to prove that last year wasn't a fluke.
Led by All-State performer, Dusty Bensko, the Cardinals chances of repeating are looking positive.
"I think if everyone keeps a level head, it's definitely a possibility," said Coach Cliff Cameron.
Plains returns four of five starters and their top reserves off the bench from last year's 34-2 state championship team.
Despite the amount of talent returning, the chances of repeating are held in the hands of the 6'5" Bensko.
Averaging 22.8 points, 8.3 rebounds, 2.5 assists and 2.5 steals last year Bensko was awarded as a first team all state performer by the Illinois Basketball Coaches Association.
A versatile athlete Bensko could play equally as well in the painted area as on the perimeter. With his height and athleticism it is tough to stop the rangy Bensko one-on-one.
What makes Dusty so dangerous though, is his accurate shooting. Averaging 93% from the free-throw line last year and 62% from the field, he was the go-to-guy when the Cardinals needed a bucket last year.
Obviously a tremendous scorer with his vast offensive arsenal, he has broken Pleasant Plains' scoring record by more then 300 points with his entire senior season still to be played.
"So far this year, he's been more of a leader," said Cameron. "Verbally he's been taking charge of [preseason] conditioning being the team captain. Everyone [on the team] knows who the leader is."
Taking his leadership abilities with him next year, Dusty will be attending the University of Illinois on a full athletic scholarship. However, Bensko has never been recruited by the Illinois basketball coaching staff.
Instead, he will be using his skills on the baseball diamonds, where he captured yet another state championship last year with his high school team.
Garnering two state championships last year, one in basketball and one in baseball, Bensko hasn't ruled out the option of trying to play on the hardwood at the Champaign-Urbana campus.
"I think about it and I'm never taking the option away, but if I felt I was capable [of making the basketball team as a walk-on] I would do it," Bensko said.
With Bensko's desire and will-to-win, it wouldn't be wise to bet against his chances of making the basketball squad at Illinois if that is the path he chooses.
Dating back to his early days, Dusty was winning championships even in his rudimentary stages as an athlete.
As an eighth grader, Bensko and his fellow seniors at Plains all went to the same junior high school. Under the leadership of Bensko, they captured the IESA championship. Guiding them to the championship was current high school coach, Cliff Cameron, who was then the junior high coach.
"I was the middle school coach when these guys [Pleasant Plains seniors] were in eighth grade," said Cameron. "Dusty's a competitor, and even going back to middle school when we won the state championship there."
Referring to his success that he has achieved, Bensko simply says that he hates to lose.
But no matter how good one player is, he needs to have a strong supporting cast.
"I've been with a bunch of teammates who have all gathered together and brought the championship back to this town," Bensko said.
Top reserve last year, junior guard Jordan Roth, will move into the starting lineup after the graduation of Aaron Scurko.
Playing well this summer with the West Central Gunners summer team, Roth has shown that he has the ability to put the ball on the floor and create his own shot. Also, at 6'6" he has a solid outside shot and is an above-par athlete.
"Jordan continues to grow," said Cameron. "He needs to put on some weight but he's a good scorer with some college potential."
Joining Dusty and Jordan in the starting lineup will be third year starter Tyler Kastner. "He keeps us together," stated Cameron.
Unfortunately the Cardinals will have to start the season without a key contributor from last year's team, Bo Gum. Gum suffered a torn labrium in his shoulder from playing baseball this summer. Expected to be back the early part of January, Plains will feel his absence as they face a tough schedule early on.
"With Bo Gum being out for a while and the competition is a lot tougher with just an overall better schedule it will be tough," said Roth. "We know that everybody is gonna be out to get us."
Despite the circumstances, the tough regular season could only better prepare Pleasant Plains for the post season. No foreign territory to Bensko, he will know what to do once March approaches.
If history is any indication of things to come, rest assured Bensko will continue to keep the trophies rolling into Pleasant Plains.
Copyright © 1999-2000
High School Elite, All rights reserved.