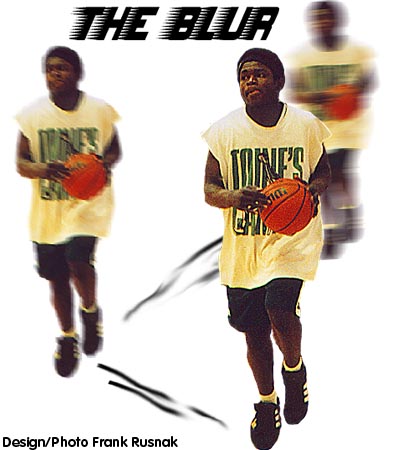 Too quick?
He glides effortlessly from sideline to sideline. Seemingly untouchable, he weaves in and out of defenses. Small in stature compared to his counterparts, the 5'10" guard is uncontainable by all. He swoops into the lane, finding himself mounted against a crowd full of behemoths twice his size. He elevates. Continuing to rise, he bounces off of the bigger defenders in the air like a pinball. Unfazed by the contact, the strong bodied blur finishes the basket with an And 1.
---
"I don't think anyone can hold me one-on-one."
Will Bynum
Arizona-bound
---
Chicago Crane's Will Bynum is an enigma. He has supernatural quickness and leaps easily above and beyond the rim, which is unusual for a man his size.
His destination for next year is set on Tucson, Arizona. Off to play with the Arizona Wildcats, Bynum is excited about his future.
"Coach [Lute] Olsen and the way he runs his program, I'd love to learn from a future hall of fame coach," said Bynum. "There is nothing he could do but make me better."
Bynum goes on to talk about the tradition of Arizona as well. With past Arizona guards turned NBA like Damon Stoudamire, Khalid Reeves, Jason Terry and Mike Bibby, the tradition at the point had a big part in his decision. Trying to follow the lofty status left by these past players, Bynum has set good standards this summer to show that he is more then capable.
Throughout high school and his earlier years, Will never played AAU basketball. There are a lot of talented point guards in Illinois in this graduating class of 2001, and they took the spots of all the top teams. Unfortunately, Bynum was never asked to participate.
This summer, through a connection that his high school coach Anthony Longstreet had, Bynum hooked up with Jameel Ghauri, who coaches Wisconsin's top AAU team, Bray Center.
"My summer went great," said Bynum. "Ghauri helped me work on my individual game and he taught me a lot."
Also, playing in the prestigious Nike All-American invitational camp, Bynum raised his stock arguably more then anyone else in the country by proving himself against some of the nations' best.
Making a splash on the national scene he was considering other schools such as Illinois, Mississippi State, Georgia Tech and Cincinnati, who Bynum says, started to come on strong recently. Choosing Arizona before the season, Will is happy to get his decision out of the way.
A three-year varsity starter, Bynum averaged 19 points and 11 assists last year for Crane and he has high hopes for the season ahead.
"I wanted to get everything out of the way so that I could focus on winning state," Bynum said.
With an underclassmen dominated team, the Cougars will need Bynum to provide solid leadership if they are to even get to the Chicago Public League final four, let alone winning state.
"If the sophomores could just follow my lead, then they have the ability to be great," commented Bynum.
With a 2.5 accumulative GPA, Bynum is still awaiting the results of his ACT test score.
A likely qualifier, Bynum will be cheering for the Wildcats this season who are predicted by many as a preseason top 1 or 2 team in the country.
"They have all the tools this year to take home the championship," Bynum said.
Stepping into a winning program next year, Bynum is confident about his abilities.
With a self-assured laugh, The Blur states, "I don't think anyone can hold me one-on-one."
Copyright © 1999-2000
High School Elite, All rights reserved.