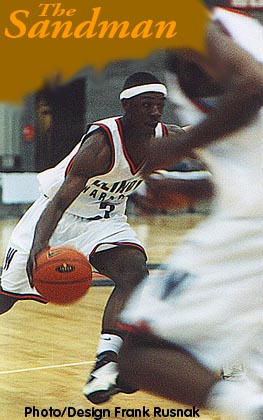 Grimes to Indiana State
He dribbles up the court methodically. Slow in his pace he is lulling his defenders to sleep. But there is one player who unknowingly thinks he can challenge this short, stout and seemingly harmless point guard. He approaches closer and closer, unprepared for what is about to happen. But by then it's all over. Before the defender, who has been made a fool of, can realize what has just happened, the little point guard is running back on defense as he has just dropped an easy two into the basket.
---
"If I was another coach I would say let me get off and shut down the rest of the team. You basically can't stop me."
Lamar Grimes
Gage Park H.S.
---
Maybe if the hapless defender had read Lamar Grimes' tattoo he would have known better. 'My game ain't no joke' is what the joker spinning a basketball engraved on Grimes' chest reads.
Indiana State, Nebraska, Colorado State, Northern Illinois and Loyola-Chicago were all smart enough not to sleep on Grimes game. Averaging 30 points, 3 assists, 3 rebounds and 3 steals last year for Chicago Gage Park, Grimes opted for the Sycamores.
"It isn't that close and not to far from home," said Grimes. "I liked the atmosphere there and they run a similar offense to my high school."
The 5'10" Grimes had a chance to impress all of those schools with his solid play this summer with the Illinois Warriors AAU team. However, he didn't participate with them as much as he would have like in the early stages of the summer.
"My summer didn't go as good as I planned it to because I had to go to summer school to qualify," said the now academically qualified Grimes.
No doubt on schedule to spend a lot of time in the Business department at Indiana State next year, majoring in Managing Information Systems, Grimes would also like to spend a large portion in the Sycamore's gym improving his game.
"Right now I don't have the whole package, I have a lot to develop," said Grimes, citing his decision making and physical strength as two areas calling for attention. However, Grimes is not as modest about his game as he first appears.
"If I was another coach, I would just say let me get off and shut down the rest of the team," said Grimes. "You basically can't stop me."
With a mega-quick first step and good lateral quickness, Grimes is a terror on offense as well as defense. Also, in compensating for his quickness, you cannot lay far off of Grimes. Shooting a sound 47 percent from 3-point range, Grimes can kill you in a variety of ways. Unfortunately, last year one of those ways definitely wasn't by distributing the ball to his teammates.
Averaging a scant 3 assists per game while seeing sufficient time at the point guard slot, Grimes was a little reluctant to give the ball up a year ago. "My assists have came up and points went down from last year," Grimes said. "I'm trying to get everyone involved now." Averaging 24 points and 10 assists thus far during the season, Grimes has finished his last five games with double-doubles.
Set to take on all obstacles ahead of him, potential defenders better take notice before they become another victim of The Sandman.
Copyright © 1999-2000
High School Elite, All rights reserved.