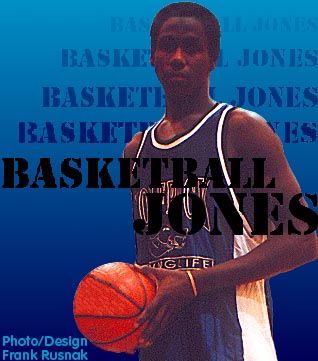 Will John Jones do what it takes?
Being moved up from the Blue West, Manley was expected to show that they could hang with the big dogs this year in the powerful Red West.
---
"I think he'll do well, he's no dumb kid."
Luther Head
Manley H.S.
on Jones
---
They would have Illinois-bound Luther Head being his usual self, filling the stats sheet to the brim in all categories imaginable. Rising junior prospect David Harper, would be a major scoring threat with his extreme quickness and outside shot. Also, they would have the strong-hearted John Jones doing the dirty work; battling in the painted area against the Public League's behemoths.
Unfortunately, it didn't look like that would be the case this season. With the exception of Harper, the Wildcats plans had seemingly fell through the roof. Head suffered a minor setback that placed him on the temporary injured list and Jones is no longer attending the school.
A 6'2" combo guard, Head went down with a severe sprain to his knee after grabbing a rebound in practice two weeks ago. After a MRI came out negative, he will be back in action sooner than expected for this Friday's game at Olive Harvey (12/22). However, the case of John Jones is a one that is much more complicated.
Currently attending The Academy of Scholastic Achievements, a transition school on the West Side of Chicago on the 4500 block of West Madison, Jones' first priority is not basketball, but rather graduating from high school.
Having already attended four years of high school at three different schools, Jones wished for this to be his fifth year, with what would only be four years of athletic participation.
Attending Proviso East as a freshman, Jones apparently never participated with the Pirates' basketball team. After it was found that he lived in Chicago and was using a cousin's residence he was kicked out of the suburban high school after the completion of his freshmen year.
From there, Jones attended Chicago Austin for two years. In his first year he was played sparingly on the sophomore team and the next year he sat the bench on the varsity. Seeing that his basketball career was going slower than an Oliver Miller-led fastbreak he transferred to nearby Manley High School where he felt more comfortable being around many of his friends that he grew up with.
Last year, his first at Manley, the 6'5" Jones helped lead the Wildcats to a 26-4 record and first place in the Blue West division. Averaging 26 points and 12 rebounds, Jones displayed a hard-nosed city toughness about his game, to go along with the agility and versatility of a guard. With Manley's up-tempo, pressing style, Jones would often times be at the head of the press using his lateral quickness and rangy body to cause havoc for the opposition. But it wasn't until a tournament this past Fall that Jones really caught the eye of the college scouts.
At the first annual High School Elite PEP Fall Classic, Jones led the tournament in scoring with a 23.6 point per game average against top-flight competition. Displaying his usual post up and slashing game, Jones also exhibited a more consistent mid-range jump shot. "I shoot around a lot and I always will go to open gym and just shoot when nobody is up there," said Jones.
Just when everything seemed to be going right for Jones, two weeks after the tournament, it all came to a halting stop.
"I found out from a player that told me that Lolino [Jones' former Austin Coach] sent in a report that wouldn't let me play anymore," said Jones. "I thought it was bogus the way Manley handled the matter; they wouldn't let me graduate there."
Unable to even stay at Manley to graduate as a student sans basketball, Jones was off to a transition school to finish his high school education.
Currently at the aforementioned ASA, Jones is taking courses in History and English to fulfill his graduation requirements.
As there is still a trail of interested schools that were looking at Jones at the time of this occurrence, he said he received positive advice from Illinois University.
"They suggested that I go to Lincoln (IL) Junior College (where current Illinois player Marcus Griffin attended) to get my grades straight, graduate out of junior college, then go to Illinois," said Jones, who visited the Champain-Urbana Campus during the Illini's first home football game along with his good friend Head and Joliet's Roger Powell.
Expected to take his G.E.D. test after this semester at Manley and then head straight to Lincoln, Jones' Mother would have none of that. "My momma said she wanted to see me graduate from high school and I don't need no GED when I have a chance to graduate."
Scheduled to have dinner with Lincoln Coach McCullum at the end of this month, Jones and his mother will sit down and discuss John's future. If all goes well, he would graduate out of ASA in May, go to Lincoln in August and be playing with the Illini in three years.
"I think he'll do alright," confidently said Head about Jones' future. "He does his work and he's smart. I think he'll do well, he's no dumb kid."
Copyright © 1999-2000
High School Elite, All rights reserved.