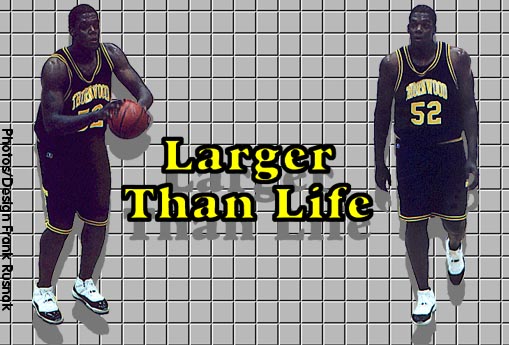 Pressure, Pressure, Pressure
He walks, a little kid dashes in front of him. Politely, his father asks him to oblige for his autograph, claiming the kid would appreciate it. Over on the side, a group of kids point, whisper and amaze at his stature and build. Not taking into account his presence and the fact that he is able to overhear all of their awe inspired comments only a few feet away. Smile! Another crowd makes their way over, asking him to pose for a picture with the group. Walking, his stride is slowed substantially as the people continue to gather around him like a movie star. This is the journey of a basketball player, but not a typical journey.
---
"Traveling with Eddy is like traveling with a rock star."
Stan White
on Curry
---
Who is this star, this dignitary, this...young man? Why yes, he is a senior in high school and his name is Eddy Curry: as if you didn't already know. He is the most talked about player coming out of Illinois in quite some time. There was KG, but he originated from South Carolina and was imported here for only his senior year, so he isn't considered true-blue Land of Lincoln material. Then there was Terry Cummings, Isiah Thomas, Doc Rivers, etc. But this young man, in the media crazed world that we live in today, arguably has the public's eye on him more so then any of his predecessors.
His life has been written about by most any basketball publication on the market. He keeps a monthly diary in a top national magazine and a weekly diary in one of Chicago's mainstream newspapers. It has been predicted by scouts that he would be the highest picked player in The League if he were to go straight from high school. The only thing is, he just committed to a college.
Unlike many of his predecessors; the aforementioned Garnett, Darius Miles, Jermaine O'Neal, etc., Curry does have the grades to go to college. Already having committed to Depaul University, where his uncle recently garnered an assistant coaching position, Curry still has the option of not honoring his letter of commitment to the Blue Demons and bolting to the NBA, just as Miles did last year with St. John's.
You see, Curry is no dummy. Growing up in a south suburb of Chicago, in a middle class family, Curry was raised in a solid foundation with a family that nurtures, loves and cares for their 'Lil Eddy.' With above average marks in the classroom and an already qualified ACT score, Curry does it on and off the court.
"I know this sounds funny, but he's educational," said Curry's good friend, Jason Straight. "He teaches when he talks. You can learn something from him when you talk to him."
But to get to talk to and actually get to know Curry is the hard part.
"A lot of people that don't know him, think that he doesn't talk a lot and is a big shy person but he is actually very talkative," said Straight. "Anytime you are 17 years old, still in high school and go to a mall and get ambushed and your not a rap star or nothing, then I think it's a little crazy. I imagine what he goes through when people call my house to talk about him and I'm just his friend."
Rounding out the third part of the triangle friendship with Jason and Eddy is Morgan Park's Najeeb Echols. All have been there for each other since the seventh grade when they first met, and have been positive influences on each other since.
As many positives that come Curry's way, there are always negatives as well. Fortunately he has a good support system which helps him shield away many of the nuances that would potentially come barreling his way. One of those people that are out for the well being of Curry, is his AAU Coach, Stan White.
"Traveling with Eddy is like traveling with a rock star," said White. "When we went to Disney World [for AAU Nationals] he couldn't go on a ride. Usually everyone is to small, but Eddy was to big with his legs hanging over the sides.
"In the end I know he'll make the decision that is best for him and his family regarding his future."
There lies the question of, should Eddy turn pro after this year?
Two weeks ago at the KMOX Shootout, Curry went up against another top rated player in the nation, 7'1" Tyson Chandler from California. At this shootout in St. Louis, where the two titans met, Curry came away on the losing end as his team fell to Dominguez while Chandler finished with 16 points on 7-10 shooting from the field.
Following this shootout, Curry's Thornwood team faced a conference foe, the good, not great, Shepard Astros in a SICA East battle. The result: Curry finished with zero field goals and 11 points, all on free throws.
After both of these sub-par efforts, Curry lost his nickname of Baby Shaq and started to get attached to what would seem a more deserving one of Baby Stanley Roberts. However, in all fairness, Curry was ill with the flu in the game against Chandler and in the matchup against Shepard he was constantly harassed by virtually the whole Shepard team throughout the game.
As a prospect for the NBA Draft, Curry's future is still looking bright. Players are not always picked on their abilities, but rather their potential that they bring with them. Still raw in many ways and with an enormous frame, Curry has potential oozing out of his ears.
"He's a premium player," said national recruiting scout Clint Jackson of High Major Hoops. "His size, strength and mobility at 6'11 and 285 pounds is tremendous. If he plays hard consistently he'll be an NBA All-Star someday. He's almost a lock to be drafted in the top 3 or 4 picks, if he were to declare. Centers are less plentiful than guards and forwards, and Curry ranks as a top center in high school and college."
With scouts picking him to be a top lottery pick (based on potential) will Curry instead opt to pass up the lure of the money and further his education and game at Depaul? Only time will tell, but currently Curry has bigger things to worry about.
Curry is a very skillful young man. Among his many talents he has been described as a very good free-hand drawer. "He will sit at the table and draw away with my daughter," voiced White. "But pretty much, a lot of people beat him at NBA Live," said White referring to Curry's lost skill of playing video games. "I guess he's just waiting for that Eddy Curry Player to come up on the screen."
Copyright © 1999-2000
High School Elite, All rights reserved.