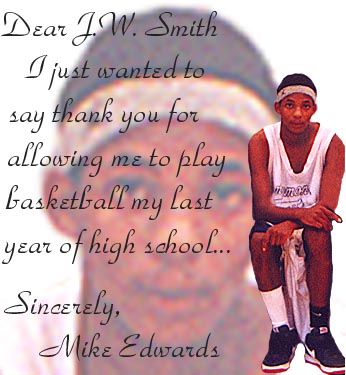 180-Degree Turn
When Michael Edwards started high school, he rarely attended classes, had poor living conditions at home and basketball was the furthest thing from his mind. However, like the saying goes, 'It's not how you start something, but rather how you finish.'
---
"When I went to Kennedy, it was really bad. My momma didn't have no job and I really wasn't going to school that much. I wasn't even playing basketball."
Mike Edwards
Austin H.S.
---
Originally at Chicago Kennedy High School, on the SouthWest side of Chicago, Edwards had it tough. With his mom out of a job and Edwards not having his mind focused on anything or having any real goals, life was not good.
"When I went to Kennedy, it was really bad," said Edwards. "My momma didn't have no job and I really wasn't going to school that much. I wasn't even playing basketball." Being off track and headed for the worst, things would soon get better; starting with a change of address.
Moving near Austin High School, still in the Chicago Public League, Michael found his fate to soon take a 180-degree turn. "When I transferred to Austin, Frank wanted me to play for Austin," said Edwards about Austin Coach Frank Lollino's desire for him to play on the hoops squad.
"He saw me play in a tournament and I happen to have a good game against one of his top players, Chris Jones. I came up to Austin, me and my mom and checked it out. It so happen to work out good with us moving near Austin and Frank seeing me play."
Attending Austin and playing on the basketball team was the best thing for Edwards to do. It not only boded well for his basketball career but his life as well. Being on the hoops team inspired Michael to do not only go to classes but do well in them as well.
"I really look forward to playing after school in practice, and it makes me want to go through the whole day."
With a bigger brother that as well is back doing good in school, at Lincoln Tech, a little sister that is still in school and staying strong, his mother is also doing better too, as a nurse. Still, there were more troubles ahead for Michael.
Doing well his first year at Austin, averaging 11 points, 5 assists, and 4 rebounds, he helped lead the Tigers to a third place regular season finish [with one game to go] in the strong Red West Conference. But apparently there were some complications with his transfer from Kennedy.
"In our last game of the season they said I was an ineligible player because I didn't have the grades and we didn't fill out all the paper work. They said at the beginning of the year everything was alright."
That was before an opposing team's coach protested his eligibility and upon further ruling, Edwards was declared ineligible for the last game of the year and playoffs, and Austin forfeited all of their games. All of the W's out of the win column were erased and consequently Austin was moved down to the Blue West (the worst team in the Red West gets moved down). Also, the Tigers were pitted on the lower end of the bracket for the Public League playoffs and therefore saw an early exit to their season.
The miserable end to the season has been forgotten and Edwards has gone on with his basketball career.
This Fall, Edwards led his Chicago Demons AAU team to the title of the High School Elite PEP Fall Classic. While garnering first team all-tournament honors, the 6'3" Edwards averaged 10.75 points per game against some of the state's best players.
"He's really a good kid and I know he wants to do good," said Edwards' Chicago Demons Coach, Tony Walker. "If he works hard he can do wonderful things for himself on the court. He has many strengths. He can put the ball on the floor and shoot it, and he can jump."
Walker, who has recently taken on an assistant job with Kennedy King Junior College, would be happy to coach Edwards one more year.
"He is one of our main targets," said Walker siting the probability that Michael will need at least one year of Junior College before he goes to a university. While his grades have been improved from his days at Chicago Kennedy, they still need some touching up. Still yet to take the ACT, Edwards cites Central Florida and Indian Hills as two Junior Colleges that he is intrigued by. As far as universities, Edwards says that he really would love to go to UIC.
Prior to the high school season this year, there was still some controversy as to whether Edwards would be permitted to play with his lack of grades and transfer issues. However, all of that talk has been put to rest as Edwards has started the season off with a bang. Putting up a phenomenal 43 points, 10 rebounds and 8 assists in an early season game during the Lane Tech Thanksgiving tournament Edwards has been opening up many eyes with his actions on the court...off the court as well.
Copyright © 1999-2000
High School Elite, All rights reserved.