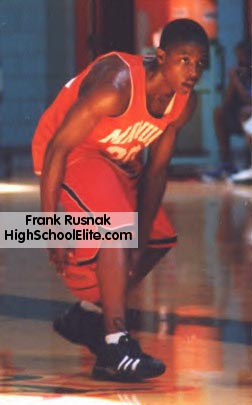 Dillard to greener pastures?
Dillard Transfers to Joliet
Joliet basketball coach Bob Koskosky, who is also a counselor at the school, was sitting in his office last week when in walked Downers Grove South star Branden Dillard.
Dillard, a 5'10" junior point guard, was accompanied by his mother as he was looking to enroll at Joliet. Failing to recognize Dillard, a potential all-state player next year, Koskosky was counseled on the identity of Dillard by fellow guidance counselor Marry Thompson, who's son, Providence Catholic's Duke-bound Mike Thompson, plays on the same summer program as Branden.
"Marry told me who he was," said Koskosky, who won't have Dillard's services until next year due to IHSA transfer rules. "I really didn't know who he was because I don't really follow players outside of this area, he just ended up on our laps."
Dillard, who had been averaging 22 points and 5 assists this year, felt that it was time to get out of Downers.
---
"We have an abundance of guards here...it will be an interesting dilemma."
Bob Koskosky
Joliet Coach
---
"There were some problems going on at school so I thought it would be better for me at Joliet," said Dillard. "My mom didn't want me to be at the school because my counselor wasn't giving me the right classes that I needed for college."
The owner of a 2.8 GPA, Dillard was also suspended for several games during the Mustangs' holiday tournament at York for an argument he had with another student at school.
Knowing many of the Joliet players from when he visits with his grandmother, a lifelong resident of south suburb, Dillard found Joliet High School a natural place to finish out his high school days.
With Joliet returning a good portion of their team next year, with the exception of University of Illinois-bound Roger Powell, the Steelmen look to once again be one of the state's top teams with the addition of the blazingly quick Dillard.
"I don't think I have as much hype as Powell but I think I could get the job done," said Dillard.
Joliet also returns 6'1" Brandon Shoemaker who started the season off for Joliet at the point guard position and 6'6" Kellen Easley who has taken over the point guard spot for the Steelmen of late, which puts coach Koskosky into a tough situation with an abundance of point guards.
"We have an abundance of guards here," Koskosky said. "We've got Easley and Shoemaker back and it will be an interesting dilemma."
It is a safe bet to say that, when the basketball season gets underway next year and Koskosky witnesses first hand Dillard's abilities on the basketball court, he will realize all that he was missing when he didn't know who Branden Dillard was.
Copyright © 1999-2000
High School Elite, All rights reserved.