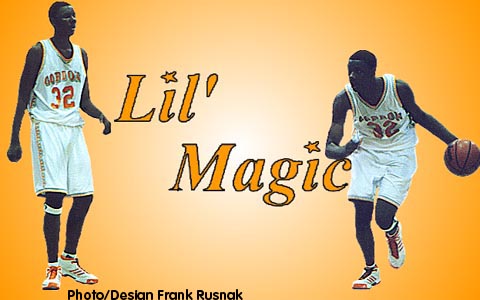 With his height, flair and fun-loving personality on the court,
McElroy conjures up thoughts of Magic Johnson.
McElroy Comes Out of the Woodwork
Dribbling up the court with his long and lanky physique, he measures up the opposition. With his sleight of hand, he easily maneuvers past the first defender to get into the heart of the defense. From there he whips a bullet pass to a cutting teammate leading to an easy two. Going back on defense, he is a constant chatterbox, ceasing to close his mouth while getting his teammates in their appropriate positions, encouraging them and talking smack to the opposition. Leading the head of the defense at half-court, he exudes a cockiness about him that shows more confidence than anything else, stemming from his true love for the game.
---
"I'm in control and that's the way I like it."
Julian McElroy
-on switching from power forward to point guard
---
He's a 6'6" point guard at the high school level and sticks out like a sore thumb on the basketball court. But why is it then that no one has known of his existence until now?
Last year Gordon Tech advanced down state to compete for the state title in Peoria under the guidance of current Northwestern point guard Jitim Young and sharp-shooting Mike Lang. With those two players garnering all of the ink, no one had heard of the Rams then power forward, Julian McElroy.
"Last year I started and got the most minutes of everyone on the team," said McElroy. Yet still, no one knew whom this skinny power forward was.
But it was at the beginning of last summer when McElroy would experience a change that would altar his future on the basketball court.
"Freshman year I was the best player on the freshman team," said McElroy. "My freshman coach had me play every position. At the end of last season, with Jitim graduating, [Head Varsity Coach Scott Bogumil] was wondering who would play the point guard position this year. So my freshman coach (now turned Varsity Assistant) told him that I could run it pretty good. So in the Summer League [Bogumil] tried me at the point and ever since then it's worked out great."
With the energetic McElroy running the team, things haven't been the same for the Rams. McElroy is the director of a high-octane offense full of fast breaks and 3-pointers, all set up by the charismatic guard.
"I'm in control and that's the way I like it," McElroy said. "I make the decisions. I can drive, can kick it off to one of my teammates or just create shots. I think the reason I pass it so much is that last year when I was playing down low I felt how it was. I would just wait for the guys to see if they were going to pass it or not. So I feel their pain now."
Explaining his love of passing, McElroy says that he would personally rather see his teammates do good than himself.
But it's not just that he passes, it's that he passes with such flair and style. Going for a career high of 19 assists against Palatine in the York Holiday Tournament, he finished with an incredible 58 assists in four games for the tournament.
His repertoire consists of full court bullet passes, behind the backs, and slicing bounce passes that knife open the heart of the defense; all perfectly placed so that his teammates only worry is to finish the basket. Averaging 17 points, 12 assists and 7 rebounds a game this year; McElroy has multiplied his points and assists' numbers from a year ago by three.
Julian's play has surfaced thoughts of the great Ervin "Magic" Johnson, but it's not only the numbers that are similar. "My assistant coach said I was going to be #32 because, 'Hey, you're dropping dimes.' But my favorite players are the unsung players like Eddie Jones or Pippen who does a little of everything and fills up all the stats. Of course I like Magic though, 6'9" dropping dimes!"
Not only a force on the basketball court, McElroy is doing well in the classroom as well. Achieving high marks of a 25 ACT score and an honor roll student in the classroom, he has his priorities in order.
An honor roll student, Julian's hard work has paid off as he only has two classes this semester, allowing him to come to school late and go home early.
Having a very respectable 3.2 GPA, McElroy points to his freshman year as the reason that it isn't even higher. "Freshman year was pretty bad for me," said McElroy. "At certain classes I would just go to and sleep. It was a combination of the coaches and my teammates that changed me. My coaches constantly told me what I could be."
McElroy says that the Rams' Coaching Staff wasn't always just teaching X's and O's, but rather working on Julian as a person. Also, he attributes Jitim Young as another factor in him straightening out his ways.
"Jitim Young is a real good people person and he just grabbed me by the hand and he guided me to the right way," McElroy said. "He would always be the last person in the locker room making sure everyone was cool. He was just a great guy."
Trying to follow in Jitim's footsteps and garner a division one scholarship, McElroy lists such programs as Long Island University, Northern Illinois, Wisconsin Green Bay and Southern Illinois as schools that are all showing interest. However, nobody seems to be jumping in headfirst for McElroy as they all have doubts about his game. "I think a lot of the coaches aren't really serious and they just come around once in a while," Julian said.
The biggest question mark is his jump shot, which is not absent, but rather not often used as McElroy can go by an entire game without taking a shot outside of 10 feet. Getting into the heart of the defense with his penetration, a lot of Julian's points come off of lay-ups or short pull-up jumpers. "My jumper is decent, but I've got Joe Soroko on my right and Mike Lang on my left," said McElroy. "I'm positive they can shoot the ball better than me, so it's either that I shoot it or they shoot it, and I would rather have my teammates shoot that jumper. But if they leave me there open, then I'll shoot it without hesitating."
Also, coming out of nowhere this year, recruiters aren't sure of McElroy's ability to lead a winning team, as Gordon Tech is an average team at 12-12.
"This year [record wise] has been disappointing for me because I'm a senior, but we are kind of young," McElroy said. "I'm the only senior starter on the team now. The best thing that I can say is that I know we can play with these other teams. Ten of our losses have been by five points or under."
But despite the question marks, one thing is undeniable. Julian has had a very impressive senior year and deserves more looks because of his stellar play.
"I didn't even expect this last year," the Magic Johnson-clone said. "Last year I was shaky, not knowing what my senior year would be like. At the beginning of the year it was just fun for me to have the ball in my hands all the time every game, but then I realized that this could be something special with a 6'6" point guard coming out of the blue. Now people are telling me I'm ranked and I love it. This is really surprising for me, but I know I could always do better. I want to keep going."
Copyright © 1999-2000
High School Elite, All rights reserved.