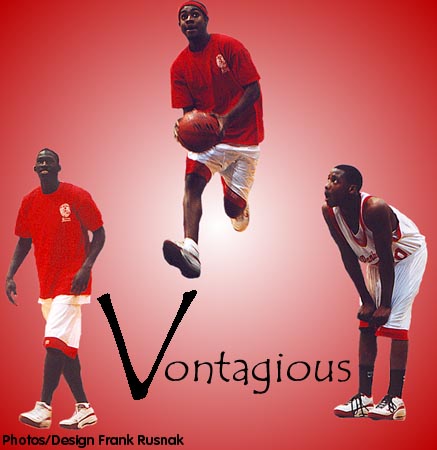 Clockwise; Rogers(right), Watson and Rawls have high hopes for the Panthers
Von Steuben fever heats up
Stumbling out of the blocks losing their first three games, Von Steuben High School went on an 18-game winning streak that was halted just over a week ago by Lake Forest.
"In the fourth quarter we hit the proverbial wall," said Von Steuben Head Coach Vince Carter. "We were obviously fatigued from playing seven games in nine days, and Lake Forest got hot at the right time. They won it and we lost it, end of story."
Despite the loss, the Panthers are the only Chicago Public League Red Division team to finish the regular season without a blemish in their conference record and clinched the Red North Conference Championship when they defeated Chicago Mather two weeks ago (2/5).
"I was very excited," Carter said. "The players really wanted the conference title and so did I. After the game I was exhausted like I had been playing in the game."
Carter, in his second year as varsity head coach, finds many similarities to his team and last year's state runner-up, Westinghouse, with his tallest player on the roster only 6'3". "I think it's a big disadvantage having such a short team," Carter said. "But Westinghouse did it and I pattern ourselves like them. I've always said that we could be just like Westinghouse with our press."
Leading the way in their full-court trapping press are junior guards Darnell Rawls and Luke Rogers. Rawls is in his second year as a varsity starter, while Rogers is experiencing his first varsity action, as he wasn't on the team last year.
"Luke has made tremendous strides both on and off the court," said Carter, who cites reasons of poor grades and discipline problems as to why Rogers wasn't allowed on the team last year. "Luke has been outstanding. It's hard to believe that he is playing so well after taking a year off."
A 6'1" point guard averaging 20 points, 9 assists, 5 rebounds and 4 steals, Luke has been a large part of Von Steuben's success this year, but almost wasn't meant to be.
"I started off bad with the grades last year and I was struggling," said Rogers. "I was failing my classes and it was rough. I would sit there and watch the team and they would lose and I knew deep down that if I was out there I could've made a difference. Then when the summer came I got back on the team. I talked to Coach and the principal and the people that I had to straighten things out with."
---
"We can go as far as we want. I'm ready to take this to the CPL Finals."
Luke Rogers
---
This past summer, along with working on his game to bringing it to the elite level that it is at now, Luke took summer classes to make up all of the classes that he failed. Now the owner of an improved grade point average and work ethic, Rogers is intent on not going back to his old ways. "I'm just going to keep studying and working hard and trying to better myself."
"His whole approach to the game is different," said Carter. "He will try to get his team involved first and if they don't respond he just takes over."
Rawls, who just got over the flu, possesses an almost identical game to his backcourt mate.
"Darnell was so courageous, playing sick against Mather after he threw up at the end of the day," Carter said.
Averaging a double-double with 17 points and 10 assists, Rawls is a little bigger and stronger than Rogers, but both are equally effective whether putting points on the board or dishing out assists by the masses.
As a compliment to their games, both are currently being seriously considered for this summer's Nike All-American Camp which houses the nation's best players.
With Rawls and Rogers bringing the ball up the court, it is 6'3" Phil Watson who plays out of position down low in the paint for the Panthers. A division one talent, Watson has not been receiving much attention from recruiters. He is expected to qualify academically, just needing to improve his ACT by 3 points to an average score of 20.
Playing in the post, Watson has boosted his rebounding average to 12 rebounds a game to go along with 16 points per outing. Naturally a guard with his innate ability to pass the ball and find the open man, combined with his athleticism to get to the basket, Watson has to sacrifice for the betterment of the team.
"He has impressed me so much this season with what he has given up for the team," Carter said. "He passes up shots to get the rest of the team involved. He and Admir [Basic] are really showing their senior leadership."
Watson was surprised at the way the team rebounded off of the slow start that saw his team submit to three losses to begin the season.
"We knew that we had a good team, but we didn't expect to go on such a big run," Watson said.
Also, contributing to their streak has been the aforementioned Basic, Henry Stephens, Jameel Smith and sophomore Brandon Davis.
Rogers points to team chemistry as the reason why Von Steuben has been on a tear of late.
"All we needed was a little more experience," said Rogers. "We started getting closer and closer as a team as the season went on. We developed something positive that needed to be done to be a good team. Ever since, we've been doing really great. We can go as far as we want. I'm ready to take this to the CPL Finals."
Receiving a first round bye in the CPL Playoffs, anything is possible with this Von Steuben team that plays with such flair and excitement.
"Against Mather and Sullivan [two weeks ago] Luke must have thrown at least six or seven alley-op passes to Phil with perfection," Carter said. "It was amazing!" Getting caught up in the hoopla is easy even for Carter, but he is not the only one who has been impressed with his team's play this year.
"Well, now everybody's a coach," Carter said. "The Athletic Director is making plays, the teachers that never said more than hi are commenting and the kids are just crazy. They have something to cheer and talk about now."
Copyright © 1999-2000
High School Elite, All rights reserved.