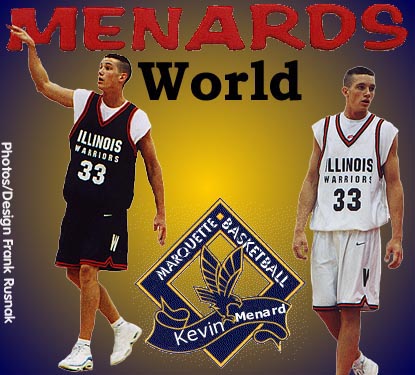 The Marquette-bound Menard performed with the
Illinois Warriors AAU team this past off-season.
Menard leads the Knights into action
Going into the Bradley Sectional as the number one seed, Lincoln-Way is primed and ready for action led by Marquette-bound Kevin Menard.
A 6'6" senior, Menard has led the Knights to a 21-4 record this regular season and a share of the SICA West Conference title with Joliet, both at 9-1. Averaging 18 points and 7 rebounds Menard is a versatile performer able to do damage all over the court. Possessing an outside shot that would be perfect if only the release was quickened, Menard can beat you from the outside. On the inside, he uses a variety of post moves to break down taller opponents. At 210-pounds he has a solid body that can absorb, as well as dish out contact in the paint.
"My ability to go inside and outside is the best part of my game," said Menard, who has a 30-inch vertical leap. "If I've got a smaller guy, I can take him inside. If I've got a bigger guy I will just take him outside on the perimeter."
---
"Losing to Bloom last year in the sectionals, anything less than an appearance at the state tournament would be a dissapointment for us."
Kevin Menard
Lincoln-Way H.S.
---
Always one of the taller player, dating back to his days at Mokena Junior High School, Menard always realized that he should have a well-rounded game that expands beyond the center position. Able to play the post in high school is second nature to Kevin, but at Marquette, where he signed in the early signing period, he will have to play more on the perimeter against quicker and more athletic players.
"My whole life I was always the tallest person, but I knew that in the upper levels I had to become a better outside shooter," Menard said.
With an incomparable work ethic, Kevin has developed a lethal outside shot extending to the 3-point line. Staying late after practices or going to Lincoln-Way's Fieldhouse to run tirelessly through drills, are not uncommon tasks for the future Golden Eagle to refine his skills.
With his improved perimeter shooting and excruciating workout regimen that he put himself through during the hot summer days, Kevin had a very successful off-season that allowed himself to be in an opportunity to accept Marquette's scholarship offer.
"My main focus over the summer was to bulk up because I've seen how big the guys are on the college level and I'm just going to keep working hard in the weight room," said the predicted combo forward for college. "I'm going to need to handle the ball a lot better and improve my shooting off the dribble to be where I want to be at for Marquette. I'm going to work as hard as I can and exceptionally hard this summer."
For now, Menard's focus is on the IHSA playoffs, as they kickoff action on Tuesday against the winner of Rich East versus Bradley Bourbonnais.
Having a tough stretch in the middle of the year when Lincoln-Way lost to Hillcrest, Joliet and St. Louis Vashon, heads are again held high in New Lenox. "We were struggling in the middle of the year and I think now we are clicking right now," Menard said. "I think we got away from some of the things that were bringing us success in the beginning of the year. After [our 3 middle of the season losses] we buckled down and got back at it in practice and got our focus back. Now we are back on track."
Returning first team all-conference players Menard and 5'11" Adam White with fellow seniors 6'5" forward Adam Ferrari, 6'3" Thor Batchelor and 5'10 Jon White, along with rising juniors 6'9" James Augustine and 6'5" Bobby Olson, Lincoln-Way is looking to improve on their Sectional Championship appearance last year.
"Losing to Bloom last year in the sectionals, anything less than an appearance at the state tournament would a disappointment for us," Menard said. "Last year with Bloom making it downstate we saw them down there [on TV] and we thought, 'that could've been us.' This year we won't take anything less."


Copyright © 1999-2000
High School Elite, All rights reserved.