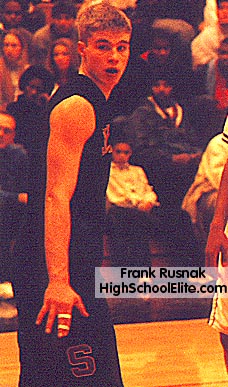 Led by Mark Pancratz, Schaumburg
took home the '01 Class AA Championship
Schaumburg Wins it All
Before the Class AA championship game Schaumburg coach Bob Williams and his Saxons must have felt alone on an abandoned island. After all, no one had predicted them to get this far and now that they stood face to face with Thornwood, the number one ranked team in the state, the Class AA title was practically waiting for the Thunderbirds on a silver platter before the game even commenced. Overcoming all critics and winning 66-54, this win just goes to show that anything can and will happen in the Original March Madness, Illinois' state tournament.
Schaumburg gave a total and complete team effort led by a never-ending bench. Going 10 players deep, the go-to-guy for the Saxons was their 6'4" uncommitted senior guard Mark Pancratz. Finishing with 21 points and 10 assists in the final, Pancratz showed why he is the leader after overcoming a foul plagued semifinals match-up against Lyons Township, which allowed him 7 points and 10 assists in limited time.
With 6'8" starter Ryan Walter, along with help from backups 6'9" Tom Burke and 6'7" Craig Reichel, the Saxons tried to weather the storm that was created from 6'11" all-American Eddy Curry. But the large and powerful Curry was too much for the Saxon front-line as he finished with 32 points and 12 rebounds on 12-of-14 shooting from the field. With Curry doing all he could to keep his Thunderbirds in the game, he received little help from his teammates in the championship game.
Along with Pancratz's strong stat line, he provided suffocating defense on Thornwood's 6'7" star junior Melvin Buckley, who suffered from a bruised right hip, and went 3-of-11 from the field and was held to 9 points on the night. After Pancratz, Schaumburg was led by the heroic play of 6'4" senior Scott Zoellick with 19 points on 5-of-6 from the 3-point stripe and 6'0" explosive junior guard Tony Young with 14 points.


Copyright © 1999-2000
High School Elite, All rights reserved.