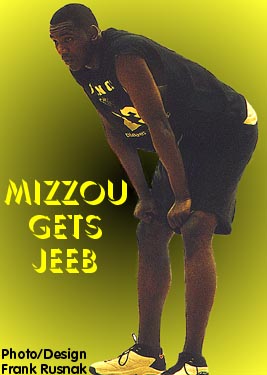 Times are looking up for the Missouri-bound Echols
Coach Echols
During his run with his Illinois Gold AAU team this summer Najeeb Echols had so many goals set for his high school team in this, his senior year.
Wrecking shop with Eddy Curry, Jason Straight and company, Najeeb solidified his spot as one of the nation's elite while accomplishing a great deal. But none of this was new to Najeeb. He had the taste of success still lingering from his initial experiences as a freshman on varsity at Whitney Young High School. All the way up until this summer everything was going perfect throughout Najeeb's career until it all came to an abrupt stop.
Most of the top junior high players coming into high school need adequate time to adjust to the rigors of top-notch high school action. Some take the Junior varsity or sophomore team route, or some are relegated to the freshman team. But for the young Echols, who was physically ripened before all of his peers, he was thrown directly into the fire to play with the number one varsity squad in the entire state.
As a part time starter for the Dolphins as a high school rookie, Echols was living the high life while contributing to their capturing of the coveted Class AA State Title. Playing alongside current Division One players, Cordell Henry (Marquette) and Dennis Gates (California), Echols was surrounded by good company. However, it was current L.A. Clipper Quentin Richardson, who was a senior at the time, who really brought Echols under his wing.
Under the tutelage of such great players, Najeeb had no choice but to take what was taught to him by dignitaries of the basketball world and elevate his own game. As a second year veteran with the majority of the key ingredients to the state championship team graduated, Najeeb owned the team his sophomore season.
Then, as a junior, other players within the program began to elevate their games to surround Echols with a strong nucleus. With high expectations entering the 1999 season, Whitney Young underachieved. But it was OK because the Dolphins were bringing back their entire squad. A squad that would go down in the record books, possessing all of the key ingredients for success: size in 6'8" Joshua Williams (UIC), 6'8" Branden Allen (Maryland Eastern-Shore) and 6'7" junior Marcus White; speed in 5'10" Chris Hill (Wisconsin-Milwaukee); tenacity and a defensive spark-plug in Ronald Howard (Marquette) and of course their captain that would lead this talented group to the promised land in Mr. Echols. With all of these great things bestowed upon Najeeb Echols' life, it was all possibly to good to be true.
That is when he woke up from his dream and arrived inside a slowly developing nightmare.
Playing in the prestigious summer tournament at Morris High School, Echols had his team in cruise control, looking to escape the stiff competition of the tournament and head back home with some hardware for their services. But all of a sudden: Bam! Echols felt a pop in his knee and went down hard. All was not lost though. With the season nearing, Echols was told to rest up to be at full strength when the real games started. But with rumors surrounding his shaky relationship with Whitney Young coach Lamont Bryant, Echols bolted to Catholic League power, Chicago Leo.
With the situation not feeling right at Leo, Echols pulled out at the last minute and enrolled at the South side public school, Morgan Park. With his eligibility on the basketball court up in the air due to Chicago Public League rules, Echols wasn't sure if he would be able to play his senior year.
But then something worse happened. It turns out that the time period that he would be out for that injury he suffered at Morris had just been pushed back...way back.
It looked like he would now have to have surgery to repair a slight tear in his knee.
Half-heatedly fighting the eligibility issue, Echols was eventually officially ruled ineligible. Isn't there something he can do? Redshirt? Prep? Nope, his senior year of hoops was finished before he was even able to lace his size 13's up for a single game.
Having undergone surgery on his knee, Najeeb is back up and walking again and optimistic about his future.
Recently, however, Najeeb has accomplished one of those goals that he had set for himself during the summer time: Winning a city title and going down to Peoria, home of the state finals. But he's not in the position that he would've imagined himself in. Instead of scoring the big buckets and getting preached to on what he should be doing out on the court, Najeeb is the one doing the preaching. As somewhat of an assistant coach on the Morgan Park bench throughout the Public League playoffs, Najeeb guided and helped the Mustang players on the court. Is Najeeb really in any kind of a position to be telling his peers what to do though?
Najeeb has been through more in his career then many aspiring teenage basketball players could dream about…and that's with the absence of his senior year.
But the culmination of Najeeb's basketball career cannot be seen anywhere near in the horizon. Having accepted a scholarship to play for Missouri and ahead of schedule on his rehabilitation time, Najeeb still has many great times ahead of him and can start his dreaming once again.


Copyright © 1999-2000
High School Elite, All rights reserved.