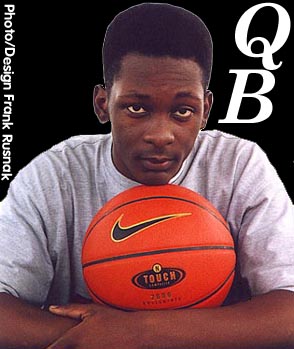 Morgan Park's Quinnel Brown is referred by many of his
peers simply as 'QB,' as the tattoo on his arm reads.
The spotlight turns to Quinnel
Who's the man?
Well, according to Morgan Park coach Herb Ray and throngs of Morgan Park supporters, Quinnel Brown fits that description.
"He's The Man," said Ray. "Need I say anymore? He's the heart of the team. He's the one that keeps us together. He's tough on the boards and can shoot the jumper. He just attacks that basket; he's determined to do it. Without Q, we would be lost. He gives us that strength, quickness and he's a go-to-guy. A lot of times I want to take him out of the game, but I can't get him out because he's going to rebound, he's going to attack inside and block shots. Q is a warrior!"
During Morgan Park's run through the Chicago Public League Playoffs and into the Elite Eight in Peoria, Brown showed all nonbelievers why he is the top unsigned senior in Illinois.
Leading Morgan Park in points and rebounds for the season, Quinnel is called one of the best rebounders that Coach Ray has coached in 17 years.
---
"He's the man. Need I say more? He's the heart of the team. He's the one that keeps us together."
Morgan Park Coach
Herb Ray
-on senior Quinnel Brown
---
With a good court-sense and a quick and explosive first jump, Quinnel averaged 12 rebounds per game for the Mustangs. In a Charles Barkley-esk fashion, when Quinnel goes up for a rebound there is libel to be some embarrassed opponents laid out on the ground from a rebounding collision. But before the lowly defenders can come to realize what has just happened while they are dazed and confused on the floor, Quinnel has already lifted off in the air once again for an easy put back.
But rebounding is not his only forte. Averaging 22 points per game, Brown can obviously put the ball in the hole. At one time Brown was considered a 'tweener' for college: not quick enough to guard small forwards, and not tall enough to guard power forwards. But he has since shed that particular criticism of his game.
Displaying good lateral quickness on defense and taking many of his defensive rebounds coast to coast, he has showed a solid handle on the ball as well. On the court, Quinnel is full of a fierce desire to win and a pure form of intensity not belied in many. That intensity, however, could easily go unnoticed by casual spectators.
Preferring to lead by example rather then vocally, Quinnel brings a laid back mindset to the game. While his inside might be sipping lemonade while reclining on a hammock in the shade, his outside is Braveheart's William Wallace going berserk on the British.
"I'm a beast," said Brown. "I take no prisoners on the court. I can drive past people, if they step back I can shoot it, I could crossover, pass the ball real good and just find open players on the floor." While his game is doing all the talking, it is not uncommon for him to go through a game without even opening his mouth, rarely screaming or talking trash like many young players of this generation do. "At certain moments I will show emotions, but most of the time I'm just laid back. That's just the way I am and the way I've been all my life."
Leading his team to Peoria, site of the Elite Eight, Brown was the driving force that helped the Mustangs glide past a very strong Chicago Public League field.
Playing against Crane two times prior to their meeting against the Cougars at the United Center, the Chicago Bulls' home court and home of the CPL Finals, Quinnel had revenge on his mind. "I felt there was something that I had to prove from the first two times when Crane beat us. I couldn't let Crane beat us the third time, especially not on the United Center court with all of those fans."
Scoring 26 points and 7 rebounds, Brown led his team to a 67-60 victory in front of the aforementioned fans, in attendance at 19,000-strong.
In the limelight for his team's playoff run, which ended with a 3rd place finish in Class AA, Brown recently has really caught the attention of the press.
Using this to his advantage, he voiced his anger that he hadn't received more publicity in the beginning of the year, citing in particular an all-star game pitting Chicago-area's best players versus New York-area's top players that Brown was excluded from the roster.
"I'm excited now that I'm on the team but before they didn't even pick me," said Brown. "At first when it came in the newspaper I was shocked that I wasn't on it."
Not yet an academic qualifier, set to take the ACT again on April 7, Brown doesn't foresee himself making a decision on his destination for next year any time soon. "It'll probably be a while," Brown said. "I'm not in any kind of a rush."
Not having a leader at this point, Quinnel insists that Illinois State, Bowling Green, Miami (OH), Bradley and Northern Illinois, all schools that have offered, are all even as of now.
Taking what else, but a relaxed approach to his recruitment, Brown just wants one thing to be known: that, yes, he is the man.


Copyright © 1999-2000
High School Elite, All rights reserved.