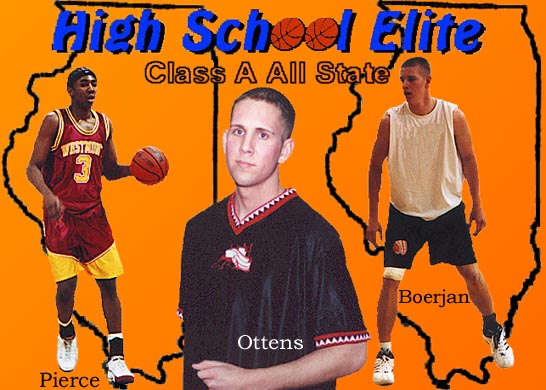 Iowa-bound Pierre Pierce, Evansville-bound Eric Ottens
and Bryan Boerjan embody some of Class A's best in 2001.
High School Elite 2001 Class A All-State
His stats alone don't say enough about High School Elite's Class A Player of the year and Iowa-bound Pierre Pierce's game.
Scoring 33 of his team's 36 points in the second half of the state-tournament third place game, Pierce finished the Class A tournament amassing a total of 159 points that allowed him to surpass the long standing record of Lawrenceville's Jay Shidler set in 1976 with 157 points. Also, having 2,800 career points and ranking ninth on the state's all-time scoring list with this year's average of 35.8 points per game while shooting 50-percent from the floor, that is saying an awful lot about the 6'4" point guard.
Posting a 55-5 record over the past two years, Pierce has led his team to an abundant amount of success. With deceptive quickness and a knowledge of the game that is not belied in many, Pierre is a rare breed.
"He's a person that can score," said Pierre's Illinois Warriors AAU Coach, Larry Butler. "He can score in his sleep."
Noting that he gets the majority of his publicity for his scoring accolades, Butler feels that his all around game is also in need for praise.
"He's a good long-armed defender who can really guard the ball and he has a knack for blocking shots and he rebounds well," Butler said. "Pierre has really grown to learn how to win. He does all the little things for his team that he has to do to win." Citing his Sectional Final game against Chicago Leo, Butler notes Pierre's vast abilities. "His shot was off but he was able to manifest opportunities to create for his team."
Headed to Iowa City next year to suit up for Steve Alford's program, many Hawkeye fans are expecting Pierre to come straight into the starting point guard slot that will be left open after the graduation of standout Dean Oliver. With the do-everything Pierce, expecting anything less would be inappropriate.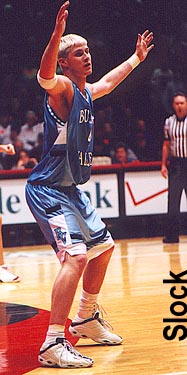 1st Team-
Jake Sottos 6'4" Senior Monmouth-

In three years of varsity at Monmouth, Jake has accumulated more then 2,000 points, 600 rebounds and 500 assists for a stellar career with the Zippers. Down in mid-January with a sprained ankle, it was evident how much Jake meant to his ball club as they struggled. Coming back to average 26 points, 9 rebounds, 8 assists and 3 steals per game, Sottos was awarded with the Jim OFlaherty Memorial Sportsmanship Award, named in honor of the late Abingdon coach.

Coach's Comments-Chuck Grant- Jake has been the cornerstone of our program for the past three seasons. I have seen no other Class A player in this area who has ever meant as much to his teams' success than Jake does.

Bryan Boerjan 6'8" Senior Rock Falls-

Averaging 17 points, 8.5 rebounds, while shooting 56-percent from the floor and 48-percent from the 3-point line, Bryan helped Rock Falls finish 21-5. A big body in the middle, Bryan is a good rebounder with solid fundamentals. With sound post moves, Bryan can hurt you underneath but has also added a solid mid-range game to extend defenses.

Coach's Comments-Thom Sigel- Bryan has been much more versatile for us this year playing inside and outside. His scoring average has dropped the last month of the season, but all of our other starters' averages have gone up during that same time. This is a good example of how teams have designed their defensive game plans to stop him. He had a season high of 26 twice, and had 18 points and 10 rebounds against Thornwood (and Eddy Curry). Bryan is still open (uncommitted). Furman and Northeastern were both in to see him practice at the end of the year, and there are others who are still tracking him. I think a number of schools have him down on their list so they have to keep recruiting him, so something will work out. He doesn't have any real leaders at this point.

Pierre Pierce 6'4" Senior Westmont-

The state's leading scorer, Pierre has virtually rewrote the record books at suburban Westmont High. The schools all-time leader in points, rebounds and assists, Pierce led 28-2 Westmont downstate this year. For the season, Pierre finished with lofty averages to the tune of 35.8 points, 9 rebounds, 5.5 assists and 3 steals while shooting 50-percent from the floor. Finishing his career scoring more then 2,800 points in Westmont Burgundy and Gold, he ranks among the top ten scorers of all time in Illinois.

Coach's Comments-Craig Etheridge- Great overall player that works hard. He's also a great kid that is very competitive and will do what the team needs to be done to win.

Eric Ottens 6'7" Senior Fulton-

Putting up very well-rounded numbers to the tune of 20 points, 9 rebounds, 3 blocks and 2.5 assists, Eric has had a very successful ending to his illustrious 3-year varsity career at Fulton. Already committed to play at Evansville next year, Eric displayed his shooting prowess by averaging 87-percent from the free-throw stripe, 53-percent from the field and connecting on 35 3-points for the season, finishing with a 47-percent average from downtown. A very team oriented player, Ottens finished out his career with more then 1,500 points and surpassing the 900 mark for rebounds.

Coach's Comments-Barry Bauer- At 6'7" he is so versatile. He can post up well, he can block shots, he can hit the three, and he handles the ball extremely well. He has been the cornerstone of our success over the past three years. Eric probably could have had bigger numbers this year, but he is very unselfish and always puts his team first.

Dusty Bensko 6'5" Senior Pleasant Plains-

Headed to Illinois next year on a baseball scholarship, Dusty is a rangy forward that is able to cause many matchup problems for the opposing defense. At 6'5" he can go inside to his post up game, but is equally as effective taking his man off the dribble from the outside or draining the long-range bomb. Guiding Pleasant Plains to the state title last year as the leading scorer in the state tournament, Dusty averaged 22.2 points, 7.7 rebounds and 2.8 assists this year for a team that was ranked in the number one spot all year only to lose to upset-minded Macomb in the playoffs.

Coach's Comments-Cliff Cameron- Dusty has obviously been a big part of the success of Pleasant Plains basketball throughout his career. Besides being the all-time career scoring leader (2,400), he has also been a great leader, a fierce competitor and a very unselfish player.
2nd Team-
Reuben Slock 6'6" Senior Bureau Valley-

Leading his team to consecutive third place finishes at the state tournament, Reuben is Bureau Valley's all-time leader in points, rebounds and steals. Spearheading the Storm's press, the 6'6" Slock is agile on the defensive end and dangerous on the other side of the ball with a deadly jump shot. Displaying an all-around game averaging 17 points, 7 rebounds, 3.4 steals, Reuben is undecided for college.

Coach's Comments-Brad Brickett- Reuben is one of my co-captains and is a four year starter at the varsity level. He serves as a fine role model for all youth in our community. He plays both ends of the floor with a great passion. He is my hardest worker, who puts team success ahead of personal statistics.

Brandon Krug 6'7" Senior Dwight-

Helping guide Dwight to their first consecutive 20-win season in over 20 years, the 6'7" Krug averaged 22 points, 10.2 rebounds and 5.3 blocks in his senior run. Committed to play at New Hampshire next year, Brandon can add the Class A Dunk Champion to his lengthy list of accomplishments.

Coach's Comments-Matt Smith- He is a force offensively and defensive. He alters shots on defense and is an offensive force. He's such a pure shooter no matter what level he plays at. He's 6'7" but plays bigger than that, he can play with anyone in the post with great footwork and can step out and shoot the three. His ability to take it to the basket is also a plus.

Tyler McCurry 5'10" Senior Abingdon-

A 5'10" senior, Tyler has one speed once he steps on the basketball court and that is pedal to the floor, full speed. Already committed to Mercer (GA), McCurry finished the season averaging 17 points per game and 8 assists.

Coach's Comments-Jim Youngman- Tyler is the heart and sole of this team, a great leader and the tough and guts. Tyler makes everyone around him a lot better. I'm really going to miss that kid. Tyler has just been a super leader for us, both on and off the court. Tyler McCurry is the one guy that we could ill afford to not have. He makes a lot of the players who they are and also a great defender. Truly one of the toughest kids that I've ever coached mentally.

Jorge Acostas 5'10" Senior Rock Falls-

Leadership, intensity and unselfishness are all words that are associated with the basketball player Jorge Acostas. Averaging 9.6 points, 7.8 assists, 4.3 rebounds and 4.3 steals per game for his senior year, Jorge provides a little bit of everything for the Rockets. All-tournament at New-Mor-Roc-Ster and the State Farm Holiday Classic, Acostas helped guide Rock Falls to a state championship as a sophomore starter. A top-notch star on the diamond, Jorge is currently waiting to see what happens as far as recruiting goes in baseball, but is open to playing both if the opportunity was there at a smaller D1 school.

Coach's Comments-Thom Sigel- Jorge has done almost everything for us this year. He has been a defensive stopper, runs the team and score. He has had games where he has only shot once or twice, and then also had 32 points versus [Rock Island] Alleman and 29 points versus Ottawa.

Chris Burras 6'5" Junior Leo-

One of the most unsung players in Class A, Chris is slowly developing into a super star at Chicago Leo. At a solidly built 6'5" he has the mass to battle inside, but also posses a blistering quick first step that presents obvious matchup problems for defenses. Averaging 23.4 points, 12.3 rebounds and 4 assists for a sectional qualifier, he is receiving interest from such schools as Michigan State, Iowa and Wisconsin.

Coach's Comments-(Leo AD) Edward Adams- Chris has meant a lot to our success. Last year he wasn't as strong, he dedicated himself to getting strong in the weight room and he's a team players. He's an inside outside player that can shoot from the outside and also post from underneath.
3rd Team-
Dan Heimos 6'10" Senior Waterloo Gibault-

Committed to play at Nebraska next year, Heimos is a shot blocker supreme averaging 4.5 rejections on the year. Very long and active on the inside, Dan has the ability to change the course of a game with his presence inside. Finishing the season with averages of 14 points and 10 rebounds Dan has loads of potential.

Coach's Comments-Dennis Reuter- He's an extremely big factor defensively and his offensive game has been getting better this year. He doesn't have the leg and lower body strength but there are games where he completely dominates defensively. He has had games of 15 and 9 blocks. At times he will almost single handedly beat the other team.

Stanley Gaines 6'7" Junior Providence St. Mel-

Averaging 17 points and 8 rebounds for a Sectional Finals-qualifier, Stan has proved to be a more integral part to St. Mel's success then they had imagined with DePaul-bound Levar Seal's absence with a broken leg. A 6'7" junior, Gaines prefers to roam the perimeter and has the ability to slash to the basket off the dribble. Receiving serious looks from DePaul, Marquette, Illinois, Loyola (Chicago) and Siena, Stan has a bright future ahead of him.

Coach's Comments-Tim Ervin- He's basically been our MVP this year. He's a great player and his game has developed tremendously over the course of this season. I think he's one of the best juniors in the state. He has a nice touch, can handle the ball and his level of maturity for his age is impressive. In our schedule we play 19 Class AA schools and he's played well against everyone.

Dana Ford 6'4" Junior Tams Egyptian-

A hidden gem packed away in southern Illinois, Dana is a versatile player standing at 6'4" 180 lbs. Averaging 23.5 points, 7 rebounds and 3.5 assists this year, Dana has amassed 40-plus points three times this season and shot 51-percent from the floor on the year. Currently being recruited nationally while receiving serious interest from Southern Illinois, Indiana State, Purdue and Illinois.

Coach's Comments-Chuck Doty- I think it's a consensus that he's the best player in southern IL. He's a slasher type player and really good off the dribble. He has the skills to be an excellent defender. I think sometimes because of the size of our conference the games are to easy for him. He works awfully hard. He led us to a conference championship for the second straight year. He plays everywhere on the court for us.

Evan Arnold 6'3" Senior Illini Central-

A four-year varsity starter, Evan averaged 20 points, 8 rebounds and 3 assists in his senior campaign while leading the Cougars to a 24-2 record. With good shot selection and an ability to create his own shot inside, Arnold shot an impressive 57-percent from the floor and is undecided for college.

Coach's Comments-Jay Genseal- Evan is a very solid player for us. He's an athletic kid who can make a big play for you. He can put it on the floor and hit the 15 footer or take it inside. He's just real solid and doesn't take bad shots. His personality is one where he doesn't get shook at all. He's a clutch type player. Also, a great student and tops in his class.

Brad Arthur 6'5" Senior Abingdon-

With his dad a former all-state player at Bushnell Prairie City, Brad has kept up the family tradition this year with a stellar season. Averaging 20 points per game, the 6'5" senior moved to Abingdon for his junior year and has continued to elevate his game ever since. The 6'5" shooting guard is headed to Mercer (GA) with his teammate McCurry.

Coach's Comments-Jim Youngman- He's a really good shooter and has some nice skills. He gives us a lot of versatility with his size. A really good 3-point shooter, Brad has done a lot of good things for us.


Copyright © 1999-2000
High School Elite, All rights reserved.