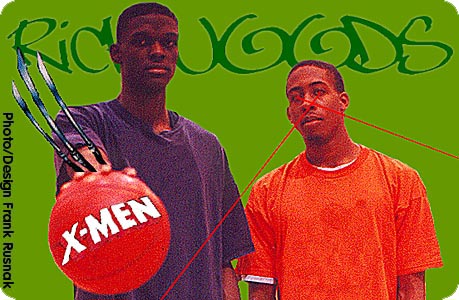 Jackson (left) and Turner have an uncanny ability to win games that
has helped Peoria Richwoods to a fourth place finish last season.
Turner & Jackson look for last hurray
From this summer's undefeated run in summer league play to their trip to the Class AA State Tournament last year, Peoria Richwoods' Steve Turner and Marcus Jackson have been through a lot, including many successful moments, but they don't want it to stop now.
---
"Marcus is, if not the best defensive player, then one of the best defensive players in the state."
Richwoods Coach
Bob Darling
-on senior Marcus Jackson
---
Recently struggling through injuries galore, Richwoods is now back into the swing of things.
At one point the Knights had their first through third string point guards out with injuries, as well as their starting two-guard, John Little, who would fill in occasionally at the point guard position. "A lot of key players went down at the wrong time, but everybody is back and healthy and now we're doing good," said the 6'8" Jackson, who took over duties at the point guard position on the offensive end with his teammates' absence earlier in the season.
Facing Peoria Central on Tuesday, with the winner advancing to the Sectional Finals, Richwoods wants to take care of the business at hand, but at the same time has their calendars circled for a possible rematch with Springfield Lanphier in the Super Sectionals.
Citing an incident at the end of their first game when Turner and Lanphier's Richard McBride got into a shoving match, the loss has really hung over their heads and they want revenge. "We owe Lanphier something," Jackson said. "I really hope that we play them [in the Super Sectionals]."
Aside from that, Richwoods is looking to better their season from a year ago where they finished fourth in Class AA. Returning a strong part of their nucleus, combined with talented young players, including freshman point guard Shaun Livingston, Richwoods is looking good for a return trip to the State Tournament.
"We know we have a very talented team," said Turner, a 6'4" guard. "We are mentally prepared and now we have to just do the little things. We are going to run into teams that are bigger and quicker and better but we have to do it. A championship is realistic in our mindset."
In order to turn that "realistic" into reality, they will need consistent play from Turner and Jackson who are the key cogs in the wheel for the Knights.
"Two great kids and outstanding young men," said Richwoods Coach Bob Darling about his two uncommitted stars. "Steve is really coming into his own. Steve is the type of kid where he doesn't take a bad shot and doesn't force an issue. I think Marcus is, if not the best defensive player, then one of the best defensive players in the state. Marcus guards the point guard through center positions. They both provide outstanding leadership."
Also, the duo possesses a good chemistry between each other on the court. This chemistry goes back to way before their days in Richwoods Green and White.
As first graders Steve and his cousin would occasionally go over to Marcus' house after Sunday Church to be watched over by Valerie Jackson, Marcus' older sister.
In these baby-sitting adventures, Valerie says despite any presently existing chemistry between Steve and Marcus, that was no where to be found back when they were little rug-rats running around the Jackson household.
"They would always get in arguments and fights," Valerie said. "Steve was the crybaby type. He always had to have his way," which gives the Peoria-area referees further explanation for Steve's occasional reactions during games when he is not in agreement with a blown whistle.
Although they ran into their fair share of battles, Marcus treasured the time that Steve would come over, but not for the reason of his company.
"Eric (Marcus' older brother) would always pick on me," said Marcus. "But when Steve came over he would pick on him instead. This one time [Eric] tied a bumblebee to a string and chased Steve around with it. How he got that bumble bee on that string, I don't know, but I still tease Steve about that."
In the years before high school, although Steve and Marcus went to different schools, they both participated in the popular Trinity Church Leagues, which housed many of Peoria's top junior high school players.
When it came time to decide what high school to attend, Steve's obvious choice would have been Peoria Woodruff, where his dad was a sophomore coach for the Warriors. But having all he could take of unsuccessful, losing seasons in junior high, he decided to go and play for the Knights. "[In junior high] a lot of guys were on the team just to be on the team," said Steve. "They didn't really know how to play. I just wanted to go where all my friends were going and I knew there was other players like Marcus going and I wanted to start winning."
At 5'10" and 6'5" receptively, Steve and Marcus both dressed for the varsity squad as freshmen, but it was the more advanced Turner who received more playing time their rookie years.
A coach's son, Turner plays the game with wisdom beyond his years. Being looked at by Southwest Missouri State, Bradley, Eastern Illinois and Florida Atlantic, Turner never tries to go out of his capabilities and is a consistent performer.
Jackson, although a very good high school player, possess a game that is better suited for the college level. At 6'8" with long arms and big hands, he is an intimidating presence on defense in the painted area, but with solid footwork he is also able to roam on the perimeter defensively. Still not qualified, with a 17 on his first ACT attempt and planning on taking it a second time after the season, Jackson is being pursued by Texas Tech, St. Louis, Indiana State and George Mason.
Combining their stellar games, they have lived up to the hype that was with them before they even entered high school.
"Since our 8th grade year, [2000 graduates] Geoff Richards, Ben Silver, and them knew that once we got to Richwoods we were going to have a really good team and go to state and do something."
With a fourth place finish last year at the Class AA State tournament, losing to national-power Westinghouse in the semifinals, they more than lived up to the hype.
Continuing with their uncanny ability to win games, Steve and Marcus helped Richwoods to possibly the states most successful summer.
"We won every tournament that we were in this summer," said Darling. "We won the Steamboat Classic which features a lot of top teams in the nation. We are a little bit better and versatile this year, compared to our fourth place team last year."
A better team than the one that qualified for the state tournament one year ago? With height in the form of Marcus and 6'7" Robert Faulkner, size with 6'5" wide-body John Young, speed provided by 5'11" Martell Webster and 6'2" Livingston, long range bombing with 6'2" John Little and Turner and leadership by Jackson and Turner, Richwoods would seem to have all the keys to another successful season.
"Our goal this year is a state championship," said Jackson. "Everybody is saying that we are better than last year, but now we've just got to go out there and prove it."


Copyright © 1999-2000
High School Elite, All rights reserved.