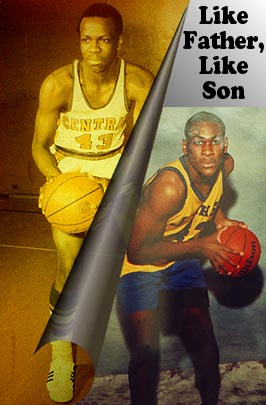 Roger Powell Sr. (left) has passed on
his hoop genes to his son, Roger Jr.
Roger Jr. keeps the family tradition alive
Reaching up in the air, 6'6" Roger Powell Jr. catches a pass in the post from guard Brandon Shoemaker. His enormous hands encompass the ball making it look like an orange. With the ball held high, Powell turns and drops in an easy two from five feet away while picking up a foul, sending him to the free-throw line.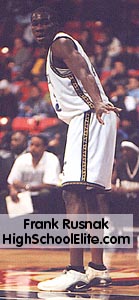 Seemingly a good play, someone in the stands isn't satisfied. "Don't fade on that shot Roger Powell! Take it strong!" says what seems like a Joliet booster. But with the attention that Powell Jr. pays to this spectator you soon realize that this preacher is much more.
On Friday (3/9) Powell's Steelmen will take on Lincoln-Way in the rubber match with the Bradley Sectional title on the line. With revenge on their minds facing their fiercest SICA West competitor, a win would mean one step closer to Powell's goal of a reappearance at the State Finals where he went as a freshman.
The only member on the current Joliet team that qualified to go downstate in '98, Powell would like to let the rest of his team encounter what he felt.
"It was the best experience that I've ever had," Roger Jr. said. "I want to let my teammates this year know how it feels, and I'm trying to show them what it takes to get there."
To get back down state, Powell Jr. has had to put up with a severe case of tendinitis in his knees.
What seemed to have disappeared earlier in the year, Powell Jr. says the problem is once again reoccurring. At times relegated to sitting out during Joliet practices, the only remedy for this problem is rest.
"It's just because my body is growing so much so fast and all it needs is time to rest," said Powell Jr., who feels that there is a chance for him to grow taller. "The tendons are stretching and I haven't had time to build the muscles around them and it doesn't have time to heal."
After the season he will relinquish playing "heavy duty" basketball for a month and solely rest and ice his knees before heading to the University of Illinois, where he committed in the early signing period.
From his days as a freshman on varsity and receiving minutes sparingly, Powell Jr. has progressed a long way.
"He's continued to grow as a player, said Joliet Coach Bob Koskosky, who notes Powell Jr's off the court accomplishments of Homecoming King, National Honors Student, active in his church groups and musicals in school, while going to local grammar schools and talking to the youth in anti-drug programs. "Freshmen and sophomore years he was getting ruffed up and realized he needed to get stronger. Than he really emerged his junior year while he ran cross-country, lifted weights and played AAU. He's been hampered somewhat by the knees and a marked man [by opposing defenses] but he's done really well for us. He's averaging 22 points and 10 rebounds so obviously that's a big part of our team."
---
"It was the best experience that I've ever had. I want to let my teammates this year know how it feels."
Roger Powell Jr.
-on going downstate as a freshman
---
With all of the success that Powell Jr. has had throughout his career, he thanks a very supportive family, God and he points to his father, Roger Sr., with special reverence.
"[My father] has meant a lot to my success," Roger Jr. said. "He's been through a lot of stuff that I'm going through and he passes on a lot to me."
Making a name for himself when he played at Joliet Central in the early 70's, Roger Sr. was honored with such accolades as All-State as well as All-American for two years as a three-year varsity player. As a sophomore he helped lead his team downstate to a third place finish losing to undefeated LaGrange as a sophomore (1970). The next year, Powell Sr. was his team's leader in assists and steals while taking over the point guard duties. As a senior he slid over to the shooting guard spot where he averaged 33 points and 12 rebounds.
"Back in the day when I played you couldn't dunk the ball," Roger Sr. said. "I was a big guard at 6'4" and more of a shooter and offensive rebounder. Basically I prayed strong and was pretty big at about 205 pounds even though we didn't lift weights back then."
So the question arises: Who was the better player, Roger Jr. or Sr.?
Powell Sr. feels that they both have the same type of will-to-win, but that the different period of times they played in were completely unlike, with his coach, Dale Glenn, allowing his players more freedom for individuality.
"I feel that [Roger Jr.] is a better all around player, a little bigger and stronger [than me]," Powell Sr. said. "An exceptionally good and quick jumper and great rebounder, he's not as good of a shooter as I am, but he's more team oriented. When I played I had more of a green light and he is playing during a different era where his coach is a lot more restrictive."
Almost 50 years young, Roger Sr. still likes to play the game and still partakes in an occasional one-on-one game with his son. Roger Jr. remembers many one-on-matches while he was growing up and recalls that his old man would never let him win any games at all. There were no freebies in these matchups, where Roger Jr. cites his eighth grade year as the first time he finally got over the hump to come out victorious in their matchups.
After his illustrious career at Joliet High School, Powell Sr. was off to Illinois State University to perform under the tutelage of such notable coaches as Doug Collins, who went on to coach in the NBA, and Will Robinson, who was the first African American to coach in the NCAA. Robinson also coached many stars in high school such as future NBA player and controversial figure, Spencer Haywood
When asked why he didn't want to follow in the footsteps of his father and become a Redbird, Roger Jr. said he remembers watching the Illini from "back in the day" and always wanted to go there.
Powell Sr. felt that it was good for his son to make his own decision and agrees that Illinois is an excellent choice. Originally committed to Lon Kruger, before he bolted for the Atlanta Hawks job, Powell Sr. feels that Bill Self will continue the standard that Kruger has set and is confident that Illinois will be a Top 5 program for at least five more years.

"With Roger and his versatility I feel that he will really be able to contribute to that program," Powell Sr. said.
With the expectations that Roger Jr. has had to play through, Roger Sr. is extremely proud of all that his son has accomplished.
"I was an all-state my junior and senior years," said Powell Sr., who now works in the athletic department of the Joliet Correctional Facility. "Roger came in [to high school] with the pressures of his dad. Everybody in the city of Joliet tells him how good his father is and he has to put up with that. That's a lot of pressure for a 15-year-old. But no one gave him anything; he deserves to be first team All-State. He has earned his recognition. The only thing that I've done is try to be a good example. I feel that Roger is number one. He brings a lot to the table and has a lot of things that he's worked on outside of basketball. I feel that in the 21st Century you have to have a lot of things that you can do outside of basketball. I think one of the things that he brings to the table is he has a very sweet personality; you can talk to him, he likes kids, he's a good actor...He really has worked very very hard. Roger has been very blessed with a family unit that is strong and supports him, but at some point you need to look at the kid and give him- credit."
Credit is definitely deserved for Roger Jr. who says as the pinnacle to his high school career, he wants to add another plaque next to his already present personal profile on the Joliet Wall-of-Fame, that sits conveniently placed right next to that of his fathers. Powell Jr. says: "I want it to be a big picture of the team and to say 2001 State Champions."


Copyright © 1999-2000
High School Elite, All rights reserved.