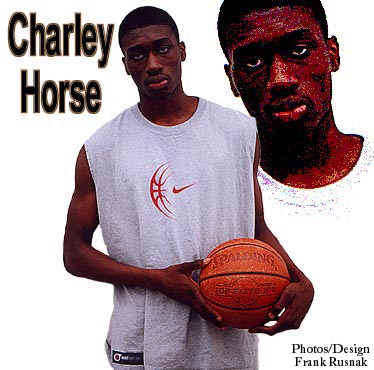 Starting off high school as a 6'0" point guard,
Crete-Monee's Charles Bass has grown to a 6'10" combo forward.
Bass ready for Ohio State
By Frank Rusnak
Do not take Crete-Monee's Charles Bass lightly. This is not a suggestion or a statement, but, rather, a warning.
It has happened before when unsuspecting opponents doubted what the Ohio State-bound forward could do on the court, but you can bet they won't be making that mistake again.
---
"Not even playing on the team then getting cut from the fifth grade team, I just improved a little and each year it just progressed."
Charles Bass
Crete-Monee High School
---
When he was younger he was not exceptionally tall for his age and wasn't overly outstanding at any particular aspect of basketball, just a guy who played for the fun of it. But as he grew older, his body sprouted ahead of his peers' and he retained many of his guard abilities.
Even now, at 6'10" Bass is still often overlooked. It could possibly be his diminutive build at 211-pounds soaking wet. Or possibly his deceptive stride that looks more like a gallop. Regardless, Charles Bass is out to prove that his game is, for once, to be taken seriously.
Growing up on the Westside of Chicago, near Westinghouse High School, Bass wasn't worried about dominating or showing up his opponents. After all, he needed to get into the games in order to do that.
"In my early days I wasn't very good at all and no one would pick me up (for pickup games) or nothing," said the quiet-spoken Bass.
Getting cut from the fifth grade team, Bass wasn't given any breaks in his younger days.
Never particularly tall for his age and always rather skinny, he continued to show loyalty to the game and as his physical stature began to catch up with his love and desire, success slowly came about.
"I always took the game of basketball serious; that's all I wanted to do," said Bass. "I just started to work on my game and things started to happen."
The first change for Bass came when his mother, whom he was living with in Chicago, decided that it would be best for her son to attend a high school in the suburbs. That is where his shift to University Park and Crete-Monee High School comes in.
Moving in with his father, Bass started high school as a 6'0" point guard – about what was to be expected considering no one in his family is over 6'2".
After a freshman year that was far from glamorous, Bass sprouted up five inches to 6'5" for the beginning of his sophomore year. But the growing wouldn't stop, and he felt it in his knees. With chronic knee troubles, Bass knew that more growth was on the horizon. Jumping to 6'8" as a junior and now to his current status of 6'10", he was able to show that he hadn't lost all of his guard skills from his younger days.
"If you look at me from sixth grade until now, you'd think this is some sort of a dream or something," said Bass. "Not even playing on the team then getting cut from the fifth grade team, I just improved a little and each year it just progressed a little more."
While individually Bass flourished with improvement, his team could not muster a winning season. But the trouble for the Warriors started at the top, with the coach, or lack-there-of. With coaches treating the Crete-Monee job as a cancer, there have been 10 coaches in all throughout the past eight years at the south suburban school.
"For me, I had three coaches in the last four years, and that's something you usually don't hear about in high school basketball," said Bass. "I don't know what to say about that, that's something I never experienced and it's something that I learned from trying to adjust to different coaches. At first it's optimism and wondering what this coach is trying to do with the team and each year it's different with the new plays and the new system. It's just crazy."
The biggest change for Bass on an individual basis was his participation in AAU basketball where he played with Larry Butler's Illinois Warriors.
"My junior year of high school I didn't think I was going to play college basketball, but going into my junior year things started to change," he added. "And that's when I got that call from Butler. From nothing to something, I had a few letters but it went from your Division II schools to the Big Ten schools it seemed like overnight in a way."
Achieving success with the Warriors, which included an AAU National Championship in Orlando, FL, Bass attempted to transfer that same success to his Warriors of Crete.
While Bass did his part averaging 18 points, 10 rebounds and close to six blocks a game, the team finished with a dire 8-17 mark, still lacking the stability of a reputable program.
Without the team success, Bass has failed to garner the type of post-season accolades that similar players of his ability got. But considering where he came from and where he's going, no rests can be found on the horizon for Charles Bass.
"I'm leaving for Ohio State right after graduation in the last week of June to take a couple of summer classes," said Bass. "I'm very excited. It's just that the dream is turning into a reality for me."


Copyright © 1999-2000
High School Elite, All rights reserved.