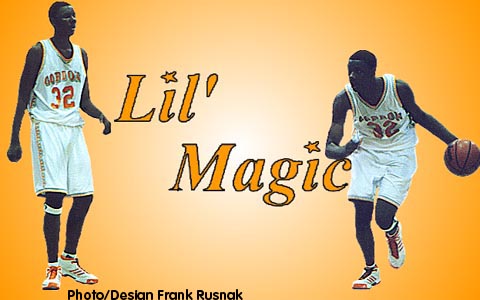 With his height, fun-loving personality and flair on the court,
McElroy conjures up thoughts of Magic Johnson.
McElroy to NIU
Northern Illinois University basketball coach Rob Judson never thought he was securing his first recruiting contacts at NIU when he was a third-grader.
But when Judson received a signed letter of intent from Gordon Tech High School's 6'6" guard Julian McElroy on Wednesday, that seemed to be the case.
In the late 1960's, Judson made his way over to North Chicago High School every evening after the school day to hang out at his father's basketball practices.
Phil Judson, a former University of Illinois hoops star, was a coach at the North Side school -- one of his players at the time happened to be David McElroy, Julian's father.
When the younger Judson left his assistant position at Illinois to garner the head coaching job at NIU, he knew he had to recruit Julian, but he was unsure of his connection to Julian's father. Recognizing the name McElroy, Judson inquired.
"He asked, 'Do you have any family in the North Chicago area?'" McElroy said. "I told him my dad played up there. He was like, 'What?! My dad coached up there.' Then from there we found out they were there at the same time. I gave him my dad's number and they were talking about things from way back in the day and from that point on, he had my dad, and once you've got my dad, you've got half of me. The other half was just me trying to see if I would feel comfortable [at NIU]."
Visiting the NIU campus last week, Julian felt right at home.
---
"...he was planning a trip to Atlanta, Georgia, to go to Morehouse College for an education, sans basketball...forever."
-Julian McElroy's plans before signing with NIU
---
"All around, Coach Judson was really excited about me and he wasn't playing any games. He was consistent, a lot of other coaches weren't as consistent."
In fact, the other coaches were so inconsistent that McElroy wasn't sure how much longer his basketball career would continue.
Finishing the season averaging 17 points, 10 assists, seven rebounds and three steals for the Rams, McElroy was a hidden gem. With not many colleges biting, McElroy was thinking of a career after basketball. With above-par grades including a 25 on his ACT, he was planning for a possible trip to Atlanta, Georgia, to go to Morehouse College for an education, sans basketball ... forever.
With Judson showing confidence in him, McElroy is more than happy to ditch his plans of Morehouse College and suit up for the Huskies.
With an unselfish attitude on the basketball court, McElroy is a versatile performer that can play any perimeter position and is always willing to get his teammates involved. With career highs this season featuring a 38-point output versus Leo and 19 assists against Palatine, McElroy stepped up his play tremendously this past year and if he could do the same in this off-season, Judson could be in-store for another pleasant surprise about McElroy.


Copyright © 1999-2000
High School Elite, All rights reserved.