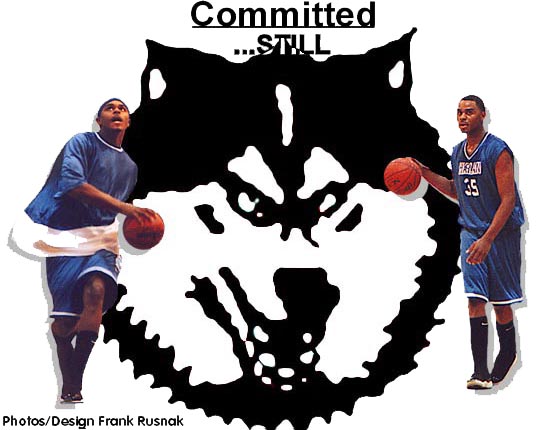 Harlan star, Chris Lawson, will not back out
of his commitment to NIU despite a coaching change.
Lawson Upholds Commitment
New Northern Illinois coach Rob Judson might not yet know who incoming recruit Chris Lawson is, but he is bound to grow to appreciate and like the 6'5" guard once he steps foot on campus.
Annually the Chicago Public League High School Championship game serves as a magnet for basketball dignitaries throughout Illinois. This year was no different as former Chicago Bull Craig Hodges as well as many high profile division one college coaches could all be found by taking a quick scan through the stands.
With the NIU-bound Lawson and recently named Huskie head coach Judson both taking in the action, they would have an unusual first encounter.
"I was sitting there watching the game," Lawson said. "Then I kept hearing my name from the guy in back of me. I looked over and it was Coach Judson talking to someone else. Then I said, 'How you doing, Coach Judson? I'm Chris Lawson.' He didn't hear what I said so he shook his head and then just kept talking to the guy next to him. Then a little later, I heard my name again, so I said, 'Excuse me, I'm Chris Lawson!'"
"It was really loud; I couldn't hear what he said the first time, but I heard him the second," Judson admitted. "I couldn't tell who he was just from the pictures I saw of him in the newspaper."
Having signed with the Huskies in the November signing period, Lawson had a successful culmination to his high school career with Chicago Harlan.
Leading Harlan to a 22-3 record in the Chicago Blue South Conference, he averaged 18 points, six assists, six rebounds and two steals while garnering All-City honors.
---
"If I go in there and work hard, like I'm going to do, I could be a top point guard."
Chris Lawson
-on his future at NIU
---
"I'm excited about his opportunity to make a big impact here at NIU," Judson said.
Lawson's future as a Huskie wasn't always so certain.
When he originally committed to NIU, it was more of a commitment to then-assistant coach Andre Peavy than the university, as Peavy coached Lawson in high school and developed a great relationship with him.
When Judson decided to clean house and not invite any of last year's assistants back, the seriousness of Lawson's commitment was in question.
"I'm upset that my guy (Peavy) is not there," Lawson said. "That was the only reason that I was really going to Northern, but things might still work out. [Judson] sounds like he likes me, so I look forward to having a pretty good relationship with him."
With Judson trying to add some more top recruits along with Lawson and already-signed Jamel Staten from Minneapolis, the future is looking positive for NIU.
"If I go in there and work hard, like I'm going to do, I could be a top point guard," Lawson said. "I think I could make things happen at NIU."


Copyright © 1999-2000
High School Elite, All rights reserved.