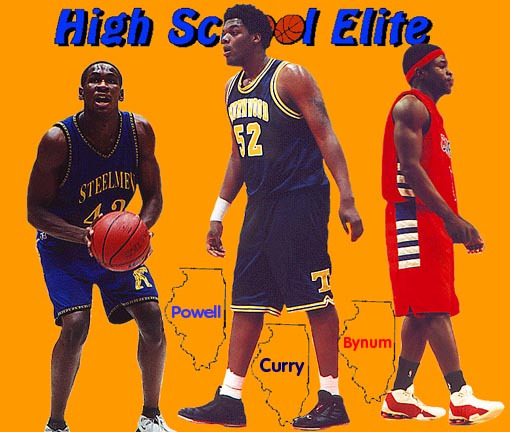 Illinois-bound Roger Powell, Eddy Curry and Arizona-bound Will Bynum
have all provided their fair share of highlights this past season.
High School Elite 2001 Class AA All-State
Quite possibly the ultimate player could be made by taking the best feature of all of the starters on High School Elite's 2001 Class AA All-State team.
Will Bynum has unmatched speed, able to make the best of defenders look as if they are walking through quicksand in their efforts to contain the 5'10" guard.
Sean Dockery has an uncanny ability to find the open man on the court and never fails in delivering it to them with precise precession.
Marcellus Sommerville provides the outside shooting for this group. Relegated to the post for most of his high school career, Sommerville showed he is lethal when given room from the outside. His high-releasing, sweet stroke can denounce the opposing defense's efforts with the flick of his wrist.
The sculpted Roger Powell will chip in with his board work. When Powell has his heart set on a rebound, there are few people who are going to prevent this 6'6" forward from corralling what he deems as his. Needing time off to fully recover from tendenitis in his knees, when Powell is healthy, his athleticism put together with his long arms and engrossing hands make him an intimidating force for rebounds.
Last and certainly not least, High School Elite's 2001 Player of the Year, Eddy Curry. Standing head and shoulders above the rest, figuratively as well as literally, Curry provides the size and strength. At 6'10" 310 lbs. he is as strong as an ox. Curry has potential to dominate any game at the high school level and it is that potential that is stirring up rapid rumors that Curry will renege on his commitment to Depaul and head straight to the NBA out of high school.

1st Team-
Will Bynum 5'10" Senior Chicago Crane-

Quick and explosive, Bynum averaged 22 points, 5 rebounds and 4 assists while guiding the Cougars to the Chicago Public League Championship Game. Committed to Arizona, Will earned MVP recognition while leading the Cougars to the Board of Education Holiday title while garnering MVP honors of the tournament.

Roger Powell 6'6" Senior Joliet Township-

With a well-built frame and a never relinquishing intensity Roger is successful in the paint, but a prolific outside shot brings versatility to his game that he will be taking to Illinois next year. Despite playing all season on sore knees from tendenitis, he managed to post averages of 22 points and 9 rebounds while being awarded as the MVP of the SICA West Conference.

Eddy Curry 6'10" Senior Thornwood-

A man amongst boys on the high school level, Curry has been heavily rumored to be seriously considering to bypass college, where he committed to Depaul, to enter the NBA Draft as he is a predicted lottery pick. Mr. Basketball in Illinois, Curry averaged 22 points, 10 rebounds and 3 blocks while leading his team to the Class AA Championship Game.

Marcellus Sommerville 6'6" Senior Peoria Central-

With a well-sculpted physique, Marcellus is able to hold his own down-low, but an improved outside shot extending to the 3-point line is what brought his game to the elite level. Garnering player of the year in the Peoria-area, Sommerville he will be playing at Iowa next season. Averaging 20 points, 9 rebounds, while shooting 81-percent from the free-throw line, Sommerville was a unanimous choice for all-conference in the Mid-State 6.

Sean Dockery 6'3" Junior Chicago Julian-

A precise passer and cat-quick defensive player, Sean is receiving praise as one of the top juniors in the nation. Averaging 21 points, 8 rebounds and 8 assists per game, he was all-tournament at the Centrailia Holiday tournament. Finishing out this season in a loss to Crane, Dockery compiled a mind-boggling stat-sheet for his final game with 53 points, 10 rebounds, 9 assists and 5 steal.

2nd Team-
Luther Head 6'4" Senior Chicago Manley-

Possessing an unmatched passing ability, Luther will be taking his overall game to Champaign next year to suite up for the Elite Eight qualifying Illini. The first Public League player to commit to Illinois since 1994, he was Chicago Public League All-City. Withstanding an early season roadblock in the form of a knee injury, Head averaged 22 points, 8 rebounds and 6 assists.

Kelly Whitney 6'8" Senior Chicago Marshall-

A stud on the low blocks, Kelly also will bring a solid midrange game to Ann-Arbor next year where he will be suiting up for Michigan. With a place on the Chicago Public League All-City team, Whitney is a solid athlete and tough performer that averaged 18 points and 9 rebounds.

Neil Plank 6'4" Senior Mt. Zion-

The Wisconsin signee averaged 18 points for a Super-Sectional qualifying team. A textbook jump shot where he rises high in the air allows him reliable consistency from the perimeter, but versatility is also brought to the table as Neil is a spectacular athlete.

Dee Brown 5'10" Junior Proviso East-

With blistering quickness, Dee averaged 19 points, 8 assists, 5 rebounds and 5 steals. With the ball in his hands, he is the closest thing to a one man press-break as he was All-tournament at the Proviso West Holiday Tournament. Also having a sound jump shot that extends to the 3-point line, Brown is one of the most highly sought after juniors in Illinois.

Richard McBride 6'3" Sophomore Springfield Lanphier-

An explosive athlete, Richard averaged 17 points while leading his team to a 25-4 record. Possessing a sound midrange game with a reliable pull-up jumper, McBride did damage to defenses in a variety of ways this season while helping his team to a spot in the Sectional Finals.

3rd Team-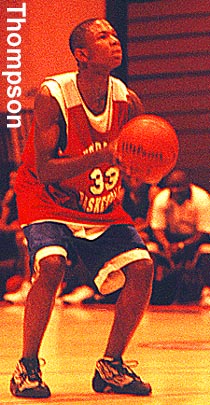 Jamaal Thompson 6'4" Senior West Aurora-

The player of the year in the DuPage Valley, Jamaal was able to elevate his game during clutch situations when his team called on him and never folded in pressure situations. Averaging 21 points, 6 rebounds and 3 assists for the defending Class AA champions, he helped guide his team downstate for a second consecutive year. Unsigned, Jamaal is getting looks at such schools as Northern Illinois, Bradley and Wisconsin-Milwaukee among others.

Jason Straight 5'11" Senior Chicago Dunbar-

Blistering speed and an uncanny passing ability are what make Jason an ideal point guard. Committed to Wyoming, he led his team to the Final Four of the Public League Playoffs this year. Averaging 29.8 points and 7 assists, he led Dunbar to a 11-1 conference record in the Red Central and was Board of Education Holiday All-Tournament, Rock Island (Thanksgiving) All-Tournament, Red Central All-Conference and Chicago Public League All-City.

Quinnel Brown 6'6" Senior Chicago Morgan Park-

Simply called "the man" by his high school coach for all that he brings to the court with a well-rounded game and a warriors' mentality, Quinnel led his team to the City Title this year. Averaging 22 points and 12 rebounds Quinnel is still undecided while having received offers from Illinois State, Bowling Green, Miami (OH), Bradley and Northern Illinois.

Justin Bowen 6'6" Senior Chicago Marshall-

A rangy and versatile player, Justin is able to damage on the court in a variety of ways. Possessing explosive athleticism and a high skill level, it looks as if he dominates opponents almost effortlessly. Making the Board of Education Holiday All-Tournament, Bowen will be taking his game to Maryland-Eastern Shore next season.

Ramone Kelly 6'4" Senior Belleville West-

A long and lanky player, Ramone can play any perimeter position and is ideal at slashing to the basket to create opportunities for his team. Also solid on defense, Kelly was the All-Southwestern Conference Player of the Year while averaging 19 points, 5 rebounds and 4 assists. Uncommitted, Kelly is looking at such schools at Furhman, Western Carolina, UNC Greensboro, Moorhead State, Drake, Buffalo, LeHigh, Wisconsin-Milwaukee and Loyola (Chicago).


Copyright © 1999-2000
High School Elite, All rights reserved.